Spaghetti Carbonara, a classic Italian recipe, was created in the middle of the 20th century. Although it's origins are unknown, it first appeared in cookbooks after WW II when many Italians were dependent on foods supplied to them by American troops. But eggs and bacon were plentiful and a constant ration. The thrifty Italian housewives soon realized all that was necessary to create a spectacular sauce for a hearty bowl of pasta were small amounts of cream, butter and Parmesan.
Dorie's riff on Spaghetti Carbonara is this week's FFWD choice, Recipe-swap Onion "Carbonara" and we do know it's origins. This distinctive dish was first created by legendary French chef Michel Richard, with later variations made by American cookbook author Patricia Wells who graciously shared it with her colleague and friend, Dorie.
If you're watching your carbs, here's an Italian dish with none. Zero. While the sauce is the sauce is the sauce, the pasta is replaced by thinly sliced onions, steamed to al dente. This makes an interesting starter or a veggie side to a main course. Steaming the onions is the trick to this dish. Simple. Quick. Tasty.
Since I've never met a carb I didn't love, I tried Dorie's Bonne Idee, adding Spaghetti to the Onions Carbonara. (The first picture shows the onion carbonara as a topping for the spaghetti.)  Man, it was delicious.
Our Camp Hale & Hearty Tour
Dorie doesn't often "do" Italian but her timing was perfect this week. Early last Saturday, my friend, Donna Grauer, and I headed 120 miles east to chase history and pay homage at Colorado's Camp Hale, the training site of the 10th Mountain Division. Located at 9,300 feet, surrounded by the historic mining towns of Leadville, Red Cliff and Minturn, it was placed on the National Register of Historic Places in 1992.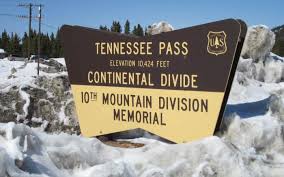 The 10th, created during WW II with 15,000 men in residence, was transformed into an elite high alpine corp – perfecting skiing skills and learning cold weather survival techniques under harsh mountain terrain and conditions.  The training was brutal. Imagine climbing to 14,000' feet on skis or snowshoes while carrying a weapon and 90-pound rucksack on your back.
In January 1945 they were shipped over to Italy to accomplish what other army divisions had failed to do for the previous 6 years – breach the heavily-fortified  German Gothic Line located high in the Apennine Mountains. The force successfully scaled a 1,500' vertical assent at night while under intense German fire, prevailing in the legendary battles of Riva Ridge, Mount Belvedere, and Mont Gorgolesco. Their ability to take the Po River Valley played a vital role in the liberation of northern Italy. Success came at a terrible loss, however with over 4,000 men being wounded and 1,000 killed during the campaign.
Donna and her husband, Bernie, were in Italy this fall and followed the 10th Mountain Division route, climbing both Mt Belevedere and Riva Ridge. While the trip to Camp Hale was moving and thoughtful for me, it was Donna who felt she had come full-circle.
Wherever you live, there is something special to discover, visit, see and learn. It isn't much of a stretch to believe that the 10th Mountain Division helped play a role not only in the liberation of Italy but, as a result of that victory,  in the Italians' creation of Spaghetti Carbonara.
French Fridays with Dorie, is an international cooking group working its way through Dorie Greenspan's latest cookbook "Around My French Table". To see if my colleagues chose to make this week's recipe with or without pasta, go to  our  FFWD link.