For years, as you've heard me say, my cardinal photography rule is to never let a picture get in front of the experience. That's why I missed grabbing a photo of the Mama Bear shepherding her two babies from the Rio Grande Trail recently and the Golden Eagle swooping over Maroon Lake towards the Bells. With this week's recipe, forget the rule. I want you to taste the experience in spite of the photograph.
While there are fresh veggies available in the farmers markets, this Cold Noodle Salad with Spicy Peanut Sauce should become a rest-of-the-season habit. For those of you unfamiliar with Soba, they are Japanese noodles made with buckwheat flour. Despite the fact Soba noodles are healthy and flavored-packed, brown noodles are brown. They don't photograph well nor look particularly appetizing. Since this recipe was one of NYT Cooking's most popular recipes in July, I put together this salad on trust.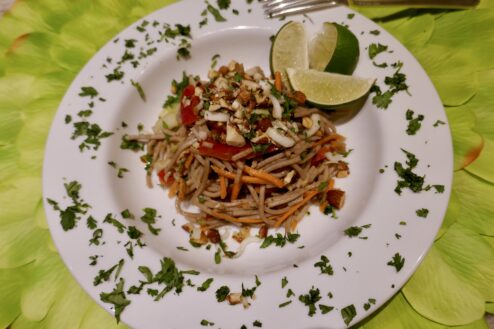 For those of us who have forgotten post-Pandemic promises made during quarantine vowing to slow down and pace ourselves (How's that working out for you?), I also suggested some recipe shortcuts. Start to finish, 20 minutes.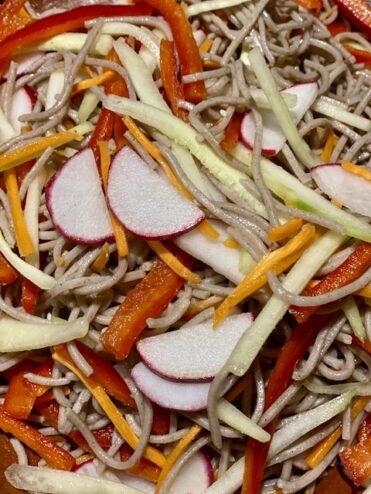 POST-PANDEMIC ADULTHOOD
Post-pandemic adulthood comes with certain small joys that you simply didn't appreciate enough previously. The last two weeks, these are some of mine.
OWLS
Friends of mine live in nearby Woody Creek on an expansive property which is rich with trees, a pond and skirts the Roaring Fork River. That habitat would definitely attract any wise old owl flying overhead in the late Spring. Birding is not my girlfriend's passion and she particularly does not love owls. The owls arrive. The ducks on the pond, fearing for their lives, disappear.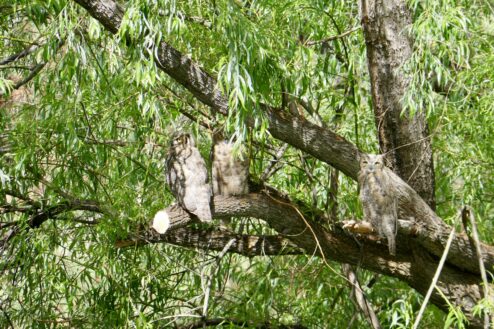 But she does love me. Last year, because of the quarantine, I missed seeing their owls. This year she was determined I get a good viewing. Recently, early one morning, my phone rang, "They're here," she said. I just happened to be an early morning birding field trip. I was off.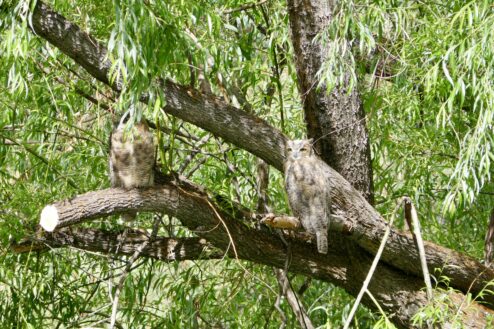 Fifteen minutes later, I was standing on their long, winding driveway, bonding quietly with a family of owls until Papa Owl was done with me. Agitated, he flew near me, settling into another tree. Time for me to exit.
RANGERS
Formally established in 2001 the Forest Conservancy works in partnership with the USDA Forest Service and collaborates with other non-governmental partners to build community, opportunity and awareness of the ongoing challenges facing our 2.3 million acre White River National Forest. Faced with USFS budget cuts, staff shortages and the growing number of tourists, we all are grateful and glad to be back at work this year.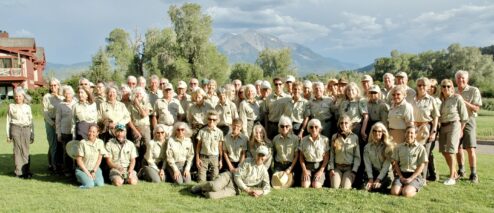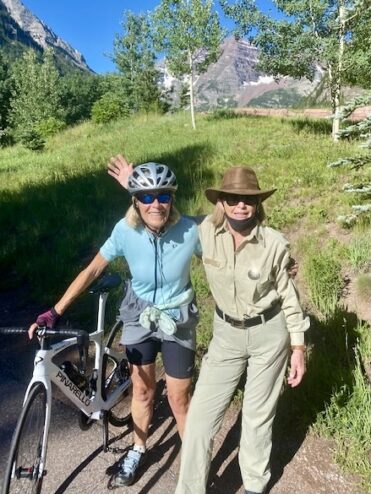 BOOKCLUB
Last week my bookclub met for the first time since February, 2020. We celebrated with a potluck luncheon plus bubbly in a member's gorgeous garden to discuss "Hamnet" by Maggie O'Farrell.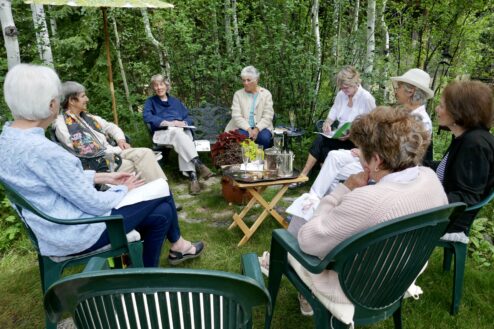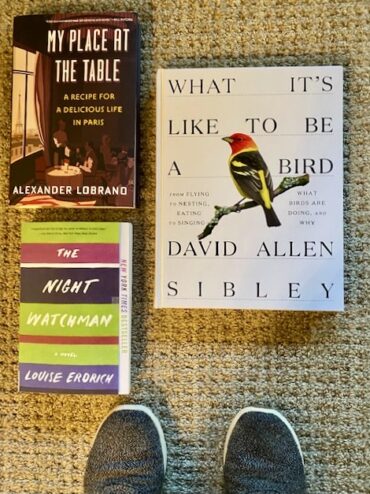 MOTHER NATURE
Mother Nature didn't miss a beat during the Pandemic. The flora and fauna are the better for it.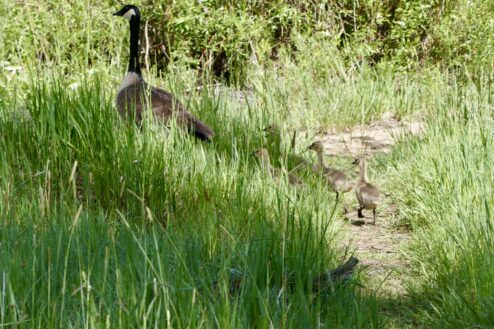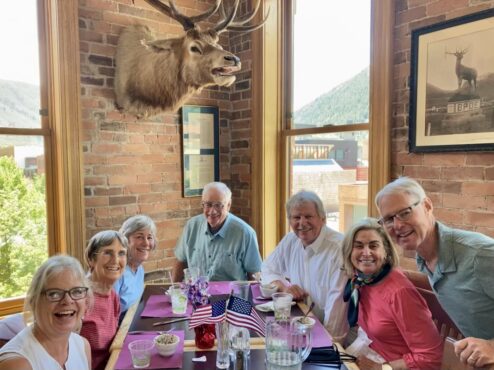 COLD NOODLE SALAD with SPICY PEANUT SAUCE adapted from Hetty McKinnon, NYT COOKING
SERVES: 4 generous servings
INGREDIENTS:
SALAD
8 ounces soba noodles
1 medium cucumber (about 6 ounces)
5 radishes (about 4 ounces)
1 bell pepper (red, yellow or orange)
1 1/2 cups of shredded carrots
1 tablespoon sesame oil
½ cup roasted salted peanuts (about 2 ounces), roughly chopped
2 scallions, trimmed and finely chopped
Handful of cilantro leaves
1 lime, cut into wedges for serving
PEANUT SAUCE:
½ cup smooth peanut butter (not natural)
¼ cup soy sauce
2 tablespoons maple syrup
2 tablespoons lime juice
1 tablespoon sesame oil
2 teaspoons chile oil or hot sauce, plus more to taste (optional)
1 garlic clove, grated
PREPARATION
1. Bring a pot of salted water to the boil. Add the soba, stir to prevent sticking, and cook according to package instructions until just tender. Rinse under cold water until the noodles are completely cold.
2. Make the sauce. In a medium bowl, combine the peanut butter, soy sauce, maple syrup, lime juice, sesame oil and garlic. Add chile oil or hot sauce if you want more spice.
TIP: In A Hurry? There are now good peanut sauces available. You can adjust purchased sauces to your taste. However, this homemade sauce is always a better option.
3. Add 1/4 to 1/2 cup water, 1 tablespoon at a time, and whisk until the sauce is a pourable consistency. Taste and add more chile oil or hot sauce as desired. Set aside.
4. Cut the cucumber in half and scoop the seeds out. Slice vertically into 1/8 inch thick slices and then into matchsticks. Slice the radishes into 1/8-inch thick slices and cut then in half, making half-moons. Slice the pepper in half, remove the seeds/membrane and cut into 1/8-inch pieces. Grate carrots. Place them all in a large bowl.
TIP: Cut, slice and grate the raw vegetables as you wish. You want them thinly cut and small sized. I used a mandoline slicer for some of the process but that is not necessary. This salad needs color, thus the shredded carrots and colorful pepper.
5. If the Soba noodles need to be loosened, run them quickly under some water and allow to drain OR they can be easily separated by hand (gloved). Add the noodles to the vegetables, add the remaining 1 tablespoon sesame oil and toss to combine.
5. When you are ready to serve, mix 1/4 cup sauce into the salad and drizzle a small amount on top for presentation. DO NOT over-sauce this salad. The sesame oil provides flavor as well. Top with the chopped peanuts, scallions and cilantro mixture. Serve immediately, with lime wedges alongside.