"If we don't have a place for nature in our heart, how can we expect nature to have a place for us." ― Abhijit Naskar.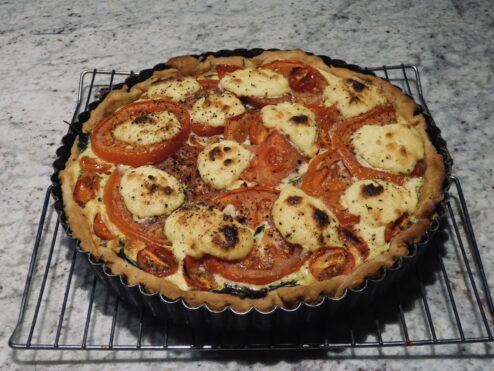 With its 300 days of sunshine, Colorado is a great place to get right with Mother Nature. One word for Springtime in the Rockies? Glorious. This week I'm sharing that glory with you. You'll also find something glorious about my Tomato Tart with Mustard, a French classic. Adding ricotta makes for a milder mustard aftertaste. I've already baked three of these babies. Your turn.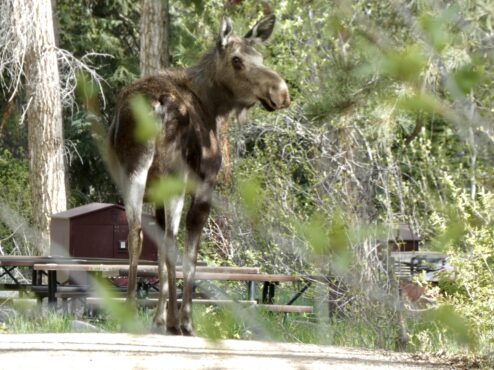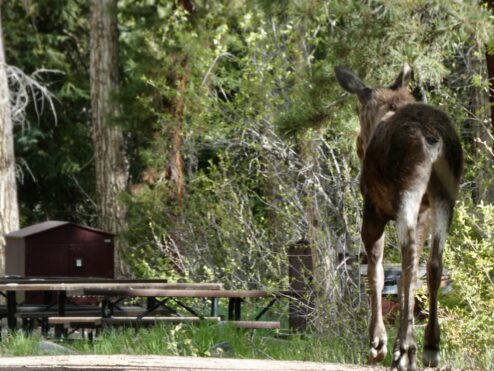 Realizing I'm an amateur photographer just trying my best, here's my one that got away story. When I began taking nature photos, a professional told me to 'never let a photograph get in front of the experience.' Last week I joined two Forest Conservancy colleagues to fill in at the Maroon Bells while the USFS Rangers attended an all-day training session. As we first walked by Maroon Lake, a beautiful bald eagle, backlit by the magnificent Bells, flew out of the nearby trees and soared over the lake. As he came closer – I had a shot – but decided instead on the experience.
TOMATO TART WITH MUSTARD and RICOTTA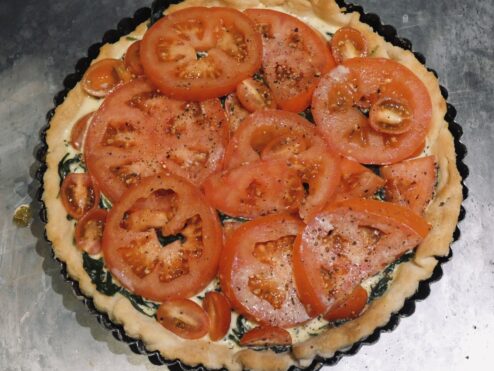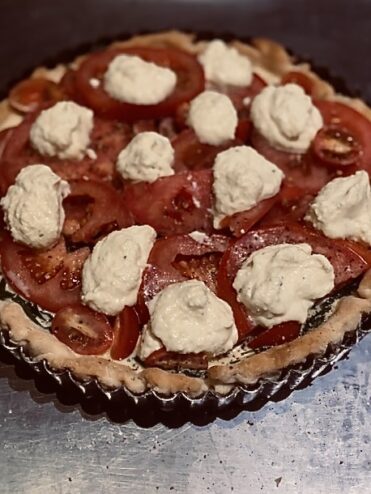 Although this remarkable tart just begs for heirloom tomatoes, they are pricey and often not available. I used one large and 2 medium-sized tomatoes, adding cherry or grape tomatoes for filler. To avoid excess moisture from the watery tomatoes, either follow #3 in my Directions or sprinkle them generously with salt on both sides and lay them in a single layer on a cooling rack for 2 hours to release excess juices.
TOMATO TART with MUSTARD and RICOTTA by Dorie Greenspan, Everyday Dorie, The Way I Cook
Makes 6 Servings
One 9-91/2- inch tart shell made with Pâte Brisée, your favorite pastry recipe or favorite store-bought pastry crust, partially baked and cooled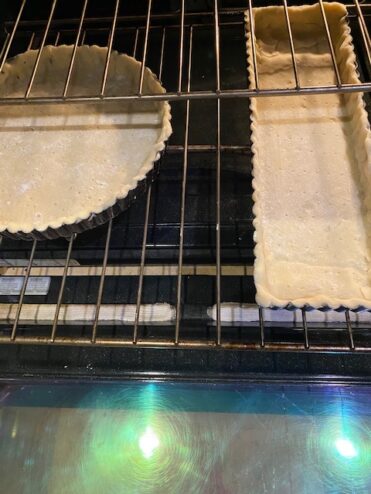 INGREDIENTS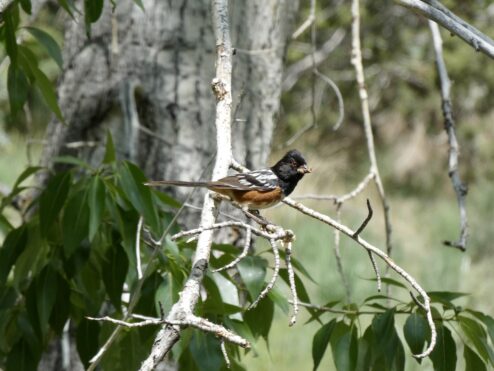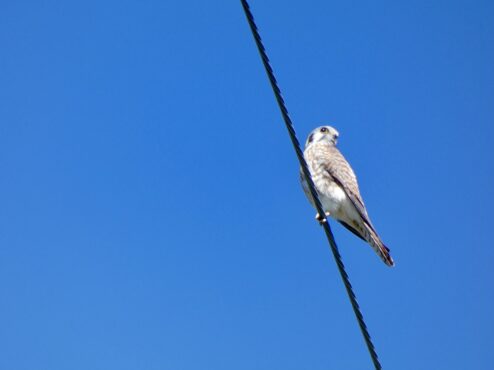 2 tsp olive oil
3 cups packed finally shredded greens such as chard, kale, spinach or arugula (I used 3 cups of baby arugula and didn't cut or shred it at all)
Fine sea salt and freshly ground pepper
About 11/2 pounds of tomatoes, 2-3 large, 3-4 medium or a mix of large, medium and cherry or grape tomatoes
1 cup of whole-milk ricotta
1 large egg yolk
3 large eggs
6 TBS heavy cream
3 TBS grainy mustard
DIRECTIONS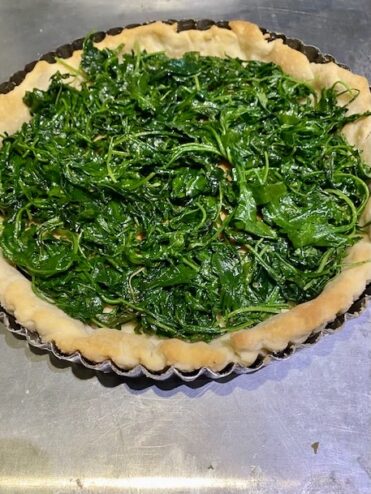 Center a rack in the oven and preheat it to 425 degrees. Place the partially baked tart shell on a baking sheet lined with parchment paper or a silicone backing mat.
Warm the olive oil in a skillet over medium heat. Toss in the greens, season with salt and pepper and cook, stirring, until they wilt and soften, 1-2 minutes. Scrape them onto the pastry crust leaving any oil in the skillet.
Core the tomatoes, if necessary, and thinly slice. If using cherry or grape tomatoes, halve them. Lay the tomatoes out on a double layer of paper towels, cover with more paper towels and pat away the excess moisture.
Mix the ricotta with the egg yolk and season with salt and pepper. (This may be made ahead, covered and refrigerated for up to 6 hours.)
Whisk together the eggs, cream and mustard and season with salt and paper. (This may also be refrigerated up to 6 hours.) Pour onto the crust and spinach.
Add the tomatoes, arranging them attractively but evenly distributed. Don't be afraid to let them overlap with each other. Be generous with the tomatoes. Finish by spooning dollops of the ricotta mixture on the top.
Bake for 30-40 minutes until the filling is puffed and firm in the center. Transfer the baking sheet to a rack and let the tart cool for at least 15 minutes before serving or wait for it to come to room temperature, your choice.
Store any leftovers in the fridge.