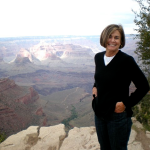 We all have a Yin & Yang about us, don't we?  So it goes, in my family, with this essay devoted to the two Y-genes of my daughter, Melissa, who is still maneuvering through her 40's, and is  a writer, wife, and mother.  Melissa's Yang is that she says Yes to everything she's asked to do.  Her Yin is that she cannot say No.
She seems, however, to have successfully stretched 24 hours into 28-1/2.  How do I know this? In a recent four-day period, counting up all her commitments and deadlines, plus 7-hours for sleep each night, I calculated she needed at least 114 hours from lift-off to completion rather than the Sun-to-Moon's four-day expectation of 96.
And, while I hear that sometimes, just occasionally, this makes her a little grouchy, her family thrives and she's the Princess, if not always the Queen.  Never one to mettle, knowing that it's not my business, and having tossed out "running yourself ragged" and "too much on your plate" much too often, I've learned to just hold on tight, allowing some of her energy, creativity, and passion to filter into my life.
Her latest over-commitment was substitute teaching for several days at her girls' school.  Besides the regular course of study, she also helped direct a school-wide talent show and baked bread. Yes, her class actually baked bread for the entire school.  That exercise whirled somewhere around the curriculum of mathematics, following orders, patience, and butter.
Quite honestly, her forté, writing, is what her students is not. She miraculously has them scribbling down everything from poems to newspaper articles, which were actually published with bylines in the school newspaper. (Don't even ask if she helped with its launching.)
One day she pulled down a map of the United States, told her kids to write down five places they would like to visit, and, then, a paragraph each, explaining, Why. Their answers were varied, their reasons, interesting,  New York City/Statue of Liberty; Washington D.C./Lincoln's Memorial, of course.  But their overwhelming desires were to visit our "outdoors", from the Badlands and Four Corners to Mt. McKinley and the Grand Canyon.
Which got me to thinking about the wanderlust of my generation……. this is dream-fulfillment time, folks, time to drag out that folder brimming with foreign travel clippings, and, make reservations. If not now, when?  Already tucked away in my drawer, carefully considered, are my 7 for-sures and my 2 probably-nots.
1.the Galapagos;
2.the Concentration Camps of central Europe;
3.any unexplored areas of France;
4.an African Safari;
5.Berlin;
6.Petra, located in Jordan, south of the Dead Sea;
7.a cruise through the Panama Canal Lock System; and, the probably nots,
8.the Roman Antiquities in Libya;
9.Easter Island's Moai.
But, Melissa's class enticed me to come back home, to think locally. At this point in our lives, have we forgotten there's no place like home, isn't it where the heart is?  Are there still some gems here for me to discover and enjoy.  Think about it.  Haven't I already got this country covered?
In a word, No.
With a nod to those students, now tucked away in my drawer, carefully considered, are my see-America-first 6 for-sures, no probably-nots, with more to follow:
1.the Presidential Libraries – These are one of our country's underrated, uncrowned glories. Beginning with Herbert Hoover's library in West Branch, Iowa (which I have visited along with Eisenhower's in Abilene, Kansas), there are now 12.
http://www.archives.gov/presidential-libraries/
2.Glacier National Park
3.the Everglades
4.Civil War battlefields trip/tour
5.Birding the Great Texas Coastal Birding Trail
6.San Antonio
God Bless America.
"Travel is fatal to prejudice, bigotry, and narrow-mindedness, and many of our people need it sorely on these accounts. Broad, wholesome, charitable views of men and things cannot be acquired by vegetating in one little corner of the earth all one's lifetime."
– Innocents Abroad,  Mark Twain
Photo: I recently enjoyed late afternoon at the magnificent South Rim of the Grand Canyon, arguably this country's greatest natural wonder.  Flying overhead, at the time, were nine California Condors,  each one a wonder of the feather variety.