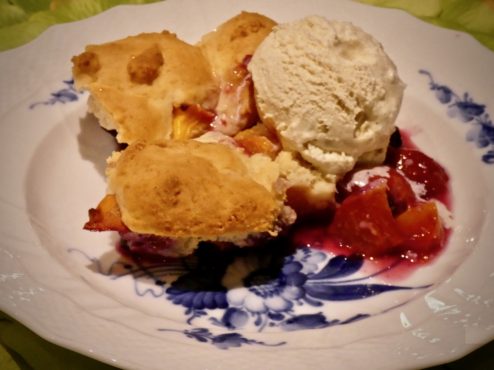 Before today's delightful baking adventure plus a pasta salad like no other make an appearance, I must ask. As we wrap up Week #19 of you-know-what, How Are We? Personally I'm uncertainty-averse but about 5 weeks ago I re-booted from When? to Who Knows? to Not Anytime Soon.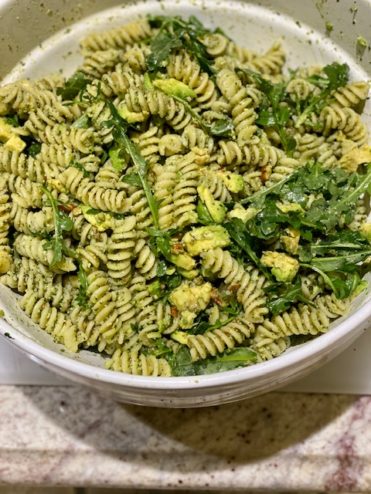 While Joy sits quietly on my shelf, I've settled on This is a one-day-at-a-time, stay in your own lane and make good choices rollercoaster because the only way out is through. I still wake up grateful, go to bed thankful and make the most of each day. It helps.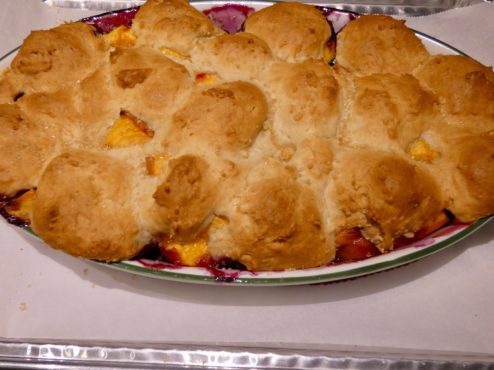 SINCE LAST WE MET …..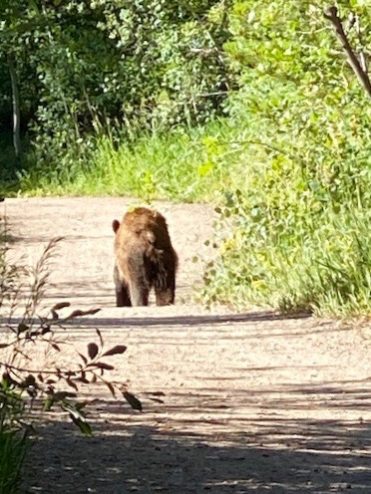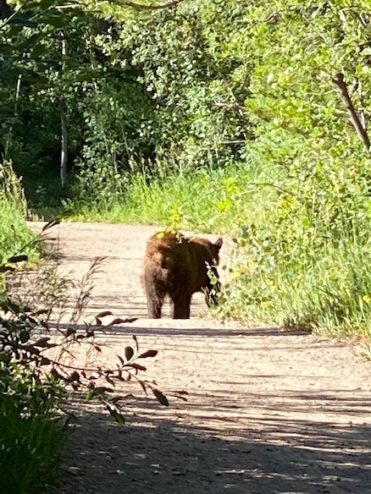 Some great free advice, don't ever rent a storage unit. Whatever your living space won't allow, can't be stowed in your garage, left outside or stashed in your car trunk, needs to go. Sure, a credit card can rent you space 'to be dealt with later.' And yes, it's a great place to pitch snow tires, lawn equipment, luggage and sports paraphernalia. But that's real baggage when later becomes now.
Needing a short-term place for overflow, I rented a large storage space in nearby Carbondale when I returned to Aspen in 2013. That was 8 years (ninety-six months) and you don't want to know how much rent ago. My mild-mannered accountant of 30 years does know. "You getting that storage rental emptied, Mary?" he often asks.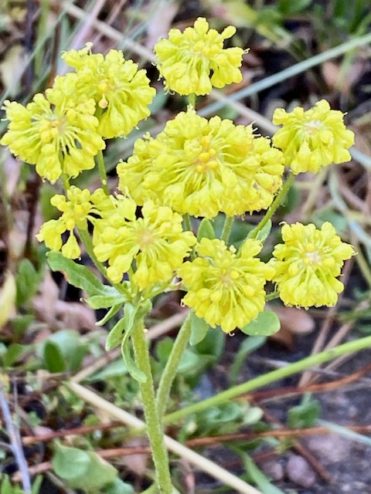 Each summer I'd make the empty storage unit effort but summer activities always won over drudgery. However since my quarantine did allow driving privileges, emptying that unit has become my day job since April. The good news, with primarily Christmas decorations and photographs left, my storage nightmare should be over by September.
There've been road blocks, of course. Those 20 dusty, haggard-looking boxes were stuffed with objects precious to me, not so much to others. I offered, cajoled and begged friends, family and people from off the street (that's an exaggeration) to take my priceless objects. Quite honestly, dear Readers, my friends and my own family aren't even particularly gentle any more about saying, "No."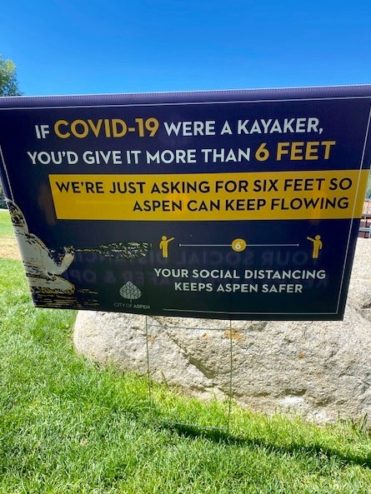 I have stacked up some Wins. I took several large bins of arts and crafts materials to a friend who dispersed them to teachers, artists and grandma's entertaining grandchildren this summer. Here at The Gant a young man with culinary training who cooks for most of the front office crew appreciates my extra kitchen equipment. Of our many employees here, someone always needs dishes/household equipment. My catering friend put my large silver trays to use. A young Aspen Institute friend who's building his library takes my books. And as charity thrift shops re-opened up and down our valley, I added to their inventory.
An empty storage unit. Check. No more whining. Check. The End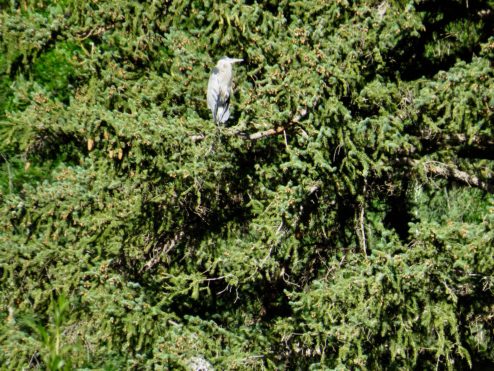 COOK the BOOK FRIDAYS COBBLER
What's not to adore about Cobblers, Crisps and Crumbles? Each involves bubbly, cooked fresh fruit with a tasty topping. The primary difference is Crumbles and Crisps have streusel-like toppings. Cobblers have a dropped biscuit topping which when baked, gives it an appearance of a cobbled road, thus the name.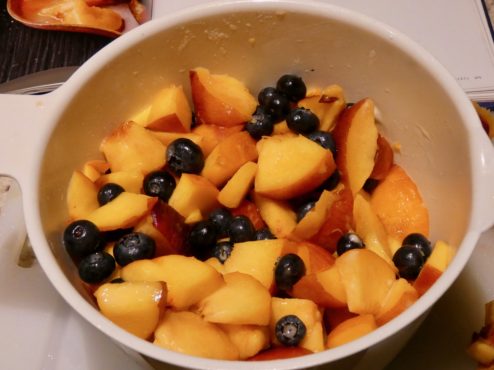 What's so magical about this simply-made cobbler is, well, everything. Pull out a deep dish pie plate, one medium-sized bowl and a 2-3 cup measuring cup. No more equipment needed. Even better, don't peel the peaches. Not necessary. Even, even better, no butter. This biscuit is butter-free.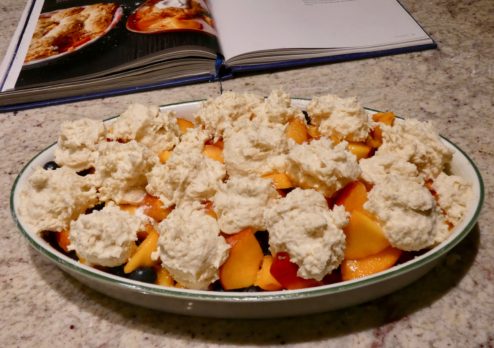 Not in the mood for peaches and blueberries? Try these combos: Any berry/ripe mango; strawberry/rhubarb and plums/peaches or nectarines; Any fruit can stand alone, especially apricots.
A simply made, delicious and elegant dessert.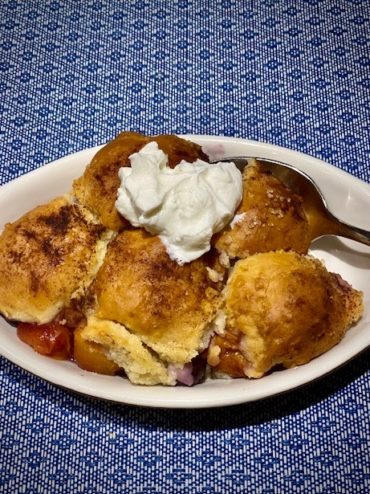 DROP-BISCUIT PEACH/BLUEBERRY COBBLER by Dorie Greenspan, Everyday Dorie, The Way I Cook
Serves: 6-8
INGREDIENTS:
Fruit Mixture:
3 Pounds of Peaches ( 5-8, depending on size)
1/4 Cup sugar, or to taste (NOTE: I reduced to 1/8 Cup)
11/2 to 2 Tablespoons of Freshly Squeezed Lemon Juice)
1 Cup Blueberries
1-2 Teaspoons Cornstarch, for thickening (optional)
Biscuit Topping:
11/2 Cups All-purpose Flour
3 Tablespoons Sugar
2 Teaspoons Baking Powder
1/2 Teaspoons Fine Sea Salt
1/4 Teaspoons Baking Soda
1 Cup Cold Heavy Cream
1/2 Cup Cold Buttermilk (Shake Well Before Measuring)
(NOTE: Are you out of Buttermilk? No problem. Pour 1 Cup of whole or 2% Milk into a Liquid Measuring Cup. Add 1 Tablespoon of lemon juice or vinegar. Stir. The acid will curdle the milk. Voilà.)
Ice Cream or Whipped Cream, for serving (optional)
DIRECTIONS:
Center a rack in the oven and preheat to 350 degrees F.
Line a baking sheet with parchment paper or a silicone baking mat. Butter a 9-inch deep-dish pie plate or container of choice and place on the baking sheet.
Cut your unpeeled peaches into bite-sized chucks or slices and toss into buttered pie plate. (Yes, you don't have to peel the peaches.) Taste before adding sugar (Remember: I used only 1/8 Cup.) Add 11/2-2 Tablespoons of Lemon Juice. Add the Blueberries and 1-2 Teaspoons of Cornstarch.
. Stir together gently and set aside.
BISCUIT TOPPING:
Whisk together the dry ingredients in a medium-sized bowl. Pour the liquid ingredients in a liquid measuring cup or another bowl and whisk together. Pour the liquid mixture over the dry ingredients. Using table fork, stir until the dry mixture is evenly dampened, producing a moist batter.
Using a medium scoop (11/2 TBS capacity) or a Tablespoon , Dollop the topping over the fruit mixture, leaving a small space between each pouf of batter. (Note: If using a scoop, I usually spray it with a minute amount of Pam.)
Bake the cobbler for 45-55 minutes or until the juices are boiling under and maybe a bit over the browned biscuits.
Transfer to a rack and let cool for at least 20 minutes before serving plain, or with ice cream or whipped cream.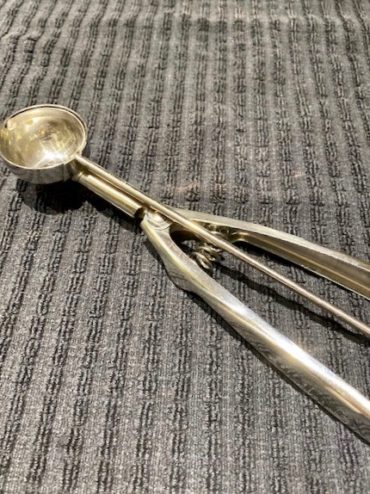 LEMONY PESTO PASTA SALAD with AVOCADO and ARUGULA by Lidey Heuck, lideylikes Blog
Shortly after the July 4th weekend I was surfing the Net for something to fix for dinner. Although I enjoyed my share of holiday fare, I needed a change. Lidey Heuck, a food blogger, posted a recipe that intrigued me.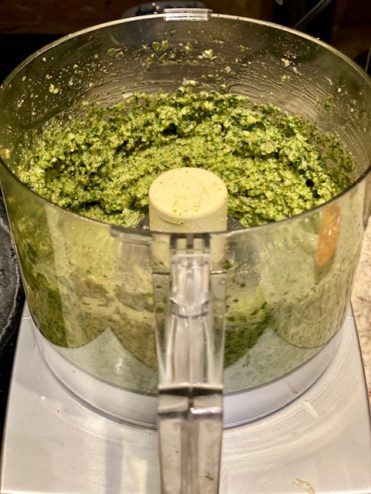 I've found that Lidey's recipes work. Although I needed to sub two cups of fresh parsley for basil leaves, I had the ingredients on hand. What I loved most about this salad is its greenness. That it was so delicious in its greenness made it even better. Cannot wait to share this special dish with others at summer parties (Wishful thinking font).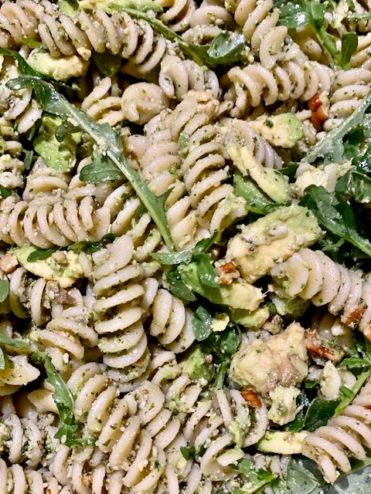 Here's a link to the recipe and Lidey's blog. Don't bypass her post about this salad.
This post follows my progress cooking recipes from
Dorie Greenspan's "Everyday Dorie, The Way I Cook" along with those participating in the online group www.CookTheBookFridays.Wordpress.com
We encourage all our followers to add this book to your cooking library.