TOMATES CONFITES  (SLOW-ROASTED TOMATOES)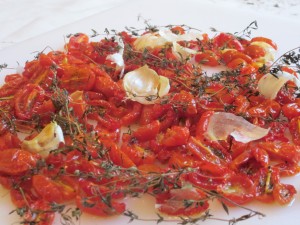 My Sicilian neighbor keeps me supplied me with her family's home-made sun-dried tomatoes. Utilizing Las Vegas' searing sun, they're dried in the time-consuming European-style and are the most delicious sun-dried tomatoes I have ever tasted.  Dorie's Tomates Confites, our recipe of the week,  comes close  to matching their flavor. It's so simple, a no-brainer,  to cut cherry or grape tomatoes in half, throw on olive oil,  salt, pepper, garlic, and fresh thyme from the garden, before roasting in the oven for three hours.
Viola!  A burst of flavor for salads, pasta, spreads and dips. Ladle them over sautéed or steamed chicken, salmon or tuna or  throw some in the belly of a whole fish headed for the grill. For my next pasta dinner party, I'm going to throw them on a  platter,  place it in the middle of the table and let everyone choose themselves whether to add  to the pasta or salad, smother  over some  crusty  Italian bread, or use  as a side dish — whatever smacks their fancy. The tomato-garlic-thyme aroma is  heavenly.
If you aren't using the roasted tomatoes for the day's menu, pack them in a jar along with the garlic and thyme and cover  with olive  oil where they will keep for a few weeks. I intend to start giving them as house gifts or for Christmas to my friends  who love to cook.  Really  flavorful,  for  sure, and useful, any time of the year.