(My daughter Melissa, who is also a writer and has her own site, flyingnotscreaming, wrote this week's French Fridays with Dorie post.)
by Melissa Myers Place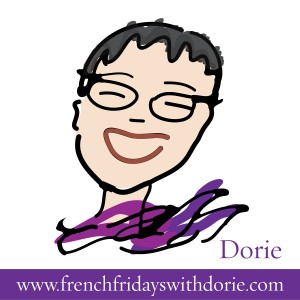 One of the things I admire most about my mother is her unwavering determination. When she sets her sights on a goal, she works steadily and doggedly, looking neither left nor right, until she reaches her destination. So when she called last week to tell me that her husband of twenty-six years died after a decade-long struggle with Alzheimer's, I knew that in the days that followed one of the things we would be doing was a little French cooking. It is with no disrespect to Michael that in amongst making necessary phone calls, discussing future plans, and revisiting favorite memories of the man we both loved, we would be making sure my mother did not miss her French Fridays with Dorie deadline. And Michael, who was always the most proud of Mary, would not have wanted it any other way.
For those of you who don't know, French Fridays with Dorie is an online cooking group. Members are cooking their way through Dorie Greenspan's latest book Around My French Table, and each Friday they post their results on their own foodie site. (All 50 or so members cook the same recipe each week.) It is a Greenspan love fest, and some followers have taken to calling themselves "Doristas."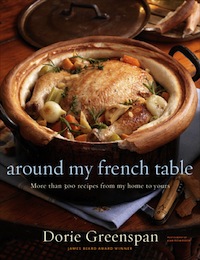 Despite the fact that at one point in my life I earned my living by cooking, I was a little intimidated when my mom handed me Greenspan's weighty volume. I know from following my mother's weekly posts for the past eighteen months that these Doristas are SERIOUS about cooking. And the French Fridays with Dorie commitment is not for the faint of heart. Week after week, these dedicated food enthusiasts fearlessly venture out onto a new cooking limb, and yes, Greenspan has simplified each dish as much as possible, but it is still French cooking for goodness sakes.
"I hope it's an easy recipe," I said, as my mother looked up our Friday cooking assignment. What I meant was I hoped the recipe didn't require the mysterious technique of braising or call for ingredients outside of my comfort zone such as phyllo dough or lamb shanks.
Luckily for me, this week's recipe was Crunchy Ginger-Pickled Cucumbers. I love cucumbers, pickled or not, and had picked up two at the market earlier that day. I skimmed the recipe's preface. Greenspan describes these pickles as a "hotter, hunkier take on traditional thinly sliced cucumbers in vinegar."  The description tickled me.  I haven't heard a variation on the word "hunk" since I was in junior high. I flipped to the back flap and took a good look at the bespectacled Greenspan who the New York Times calls a "culinary guru."  I decided if Greenspan could use the words "hot" and "hunky" to describe a French dish, then I could make it.
As my mother read aloud the ingredient list, I prayed we didn't have to make another run to the store. These days even the simplest errands seem momentous.  "Can you substitute ingredients?" I asked.
My mother looked horrified. "NO!" she whispered, as if afraid the other Doristas could hear.
I realized at that moment that this was even more serious than I previously thought. And, that I would have to be on my best cooking behavior because I tend to be a sloppy cook: I don't measure and I rarely follow a recipe exactly or even closely. I hadn't felt so much pressure since I caught a frying pan on fire during a tryout for a cooking position, but for my mom, I was going to try with all my might to channel the Dorista spirit.
"Are you going to create your mise en place?" She asked as she headed to the other room to sort through some paperwork.
"What does Mikhail Gorbachev have to do with it?" I asked. My mom sighed, and I yet again regretted not paying more attention during my French language courses in college.
"Just take a lot of photos" was my mom's parting advice.
Consulting the Dorista Bible closely, I gathered all the required ingredients, and arranged them carefully on a cutting board. Forty photos and twenty minutes later, I was finally ready to begin.
"How's it going?" my mom called. "It's pretty quiet in there. Are you okay?"
"I'm just about ready to start," I called back. "Could've made this five times by now," I mumbled to myself.
And it was true. As I am committed to avoiding processed food, I have to cook fast to keep up with the food needs of my family of four. But taking the photos and documenting each step on the notepad by my elbow slowed the cooking process considerably. My admiration for Greenspan's followers was growing by the minute.
I was glad I'd happened to purchase seedless cucumbers so I could eliminate a couple of steps, but I had to call my mom into the kitchen to double-check that I was cutting the cucumbers into the correct hunky shape. I carefully salted the cucumbers (holding back a little as I doubled the recipe and a full teaspoon of salt seemed like a lot), and while they stood for the required 30 minutes, I prepped and mixed the remaining ingredients.
I have to confess that I have a love/hate relationship with fresh ginger. I love when it comes to the party, but don't like when it hogs all the attention. I've found in the past that fine grating the ginger helps release the flavor, but eliminates the unpleasant stringy texture. Not able to locate my mom's fine grater, I used her larger-holed grater and then minced the strands finer with a knife, hoping that Greenspan wouldn't mind.
I combined the seasoned rice wine mixture with the drained cucumbers . . . and that was it.  I scanned Greenspan's recipe again to make sure I hadn't overlooked a step. It had been almost too easy. I tasted a hunky cucumber chunk. I was disappointed by the blandness and wondered if I had been mistaken in doubting Greenspan regarding the salt amount.  With a disappointed sigh, I put my Hot and Hunky Cucumbers (as I'd taken to calling them) into the fridge to chill.
Later that night, even though my mother and I were especially missing Michael and feeling pretty low, we headed to a small Fourth of July gathering with a few close friends, pickled cucumbers in hand. We were warmly welcomed by our lovely host and hostess, and each party member bravely took a spoonful of pickled cucumbers onto their plate. And to my great surprise, the cucumbers were good. As Greenspan already knows and I am beginning to learn, sometimes nothing helps like time. It helped my cucumbers, and it will help the grieving, sad hearts of my mom and me.
Although I will be happy to return to posting weekly personal essays on my own site–a much easier feat than the French Fridays with Dorie commitment–I enjoyed my foray into the world of Greenspan. I learned a thing or two, but mostly I discovered what a wonderful group of people you all are. My mother and I have been so grateful for the outpouring of kindness and support from the French Fridays with Dorie community this past week. It has been truly remarkable, and has proven that you Doristas are made of the very best ingredients.