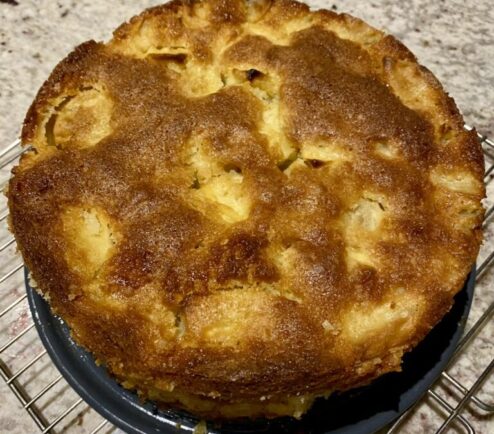 CONNIE & JANE
A decade ago I was inspired by a do-better nudge from a woman I met only once. The memory of that has served me well. I hope my story will inspire you to come up with your own. We all have stories to tell. In this week's blog there are some summer pictures tossed into the mix and after a three-month absence, a recipe. I've been writing this food blog for eleven years, Marie-Hélène's Apple Cake, a Dorie Greenspan-Genius Recipe is the only one I repeat every fall. It's that delicious.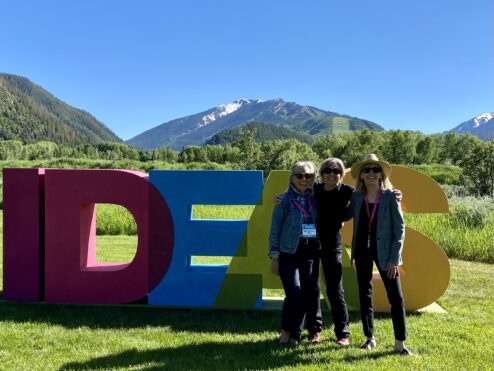 It was in late October 2014 when I first met Connie Harvey. We were in the midst of a group gathered at Aspen's Hotel Jerome to toss a Hail Mary into Colorado Senator Mark Udall's re-election campaign. The numbers weren't good and, as expected, Cory Gardner won easily, upsetting Udall. But that sad morning turned into a North Star moment for me which has pestered and prodded me ever since.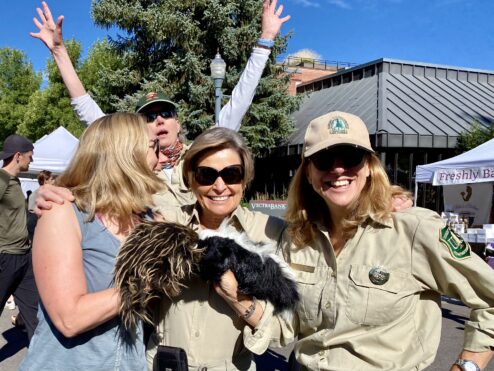 Since the late 1990's when I first became a volunteer wilderness ranger, I've realized it's thanks to three gritty, irritatingly persistent women, Dottie Fox, Joy Caudill and Connie, known as the "Maroon Belles," that this gorgeous place I call my "office" can exist. When I was in college and with the passage in 1964 of the Wilderness Act, these ladies became fierce wilderness advocates and are credited with "doubling the size of the Maroon Bells Wilderness Area and securing protection for the Hunter-Fryingpan, Collegiate Peaks, Raggeds and West Elk wilderness areas."*
Although I never met Dottie or Joy, I did take the opportunity that chilly, blustery October day to thank Connie. As our morning get-together was breaking up, our host started putting together groups of 2 or 3 to go out and canvas Aspen neighborhoods. Whoaaa. Didn't know that was on the agenda. I don't like to canvas at all but especially on cold, windy Aspen mornings. Just as I had 3 legitimate NO reasons ready to roll off my tongue, Connie walked over to a Udall staffer and asked, "Who do you want me to go with?" Keeping in mind that this woman was 83 years old and I was not. I joined a group. That dratted Shame on Me lesson is still my constant do-better reminder.
When we decided to drive up to Independence Pass last August 13th to see the Perseid meteor shower, it seemed like a good idea. At 3am on that bone-chilling, dark Sunday morning, good idea became a bad choice, But we soldiered on, encountering one porcupine and a deer who knew better, stepping back into the bushes. We reached the Pass just at daybreak. It was a perfect place to be. When it was light and the shower over, we flagged down (meaning standing in the middle of Highway 82 waving our arms) two guys in a pick-up truck to take this photo.. It was a fireball of a good time.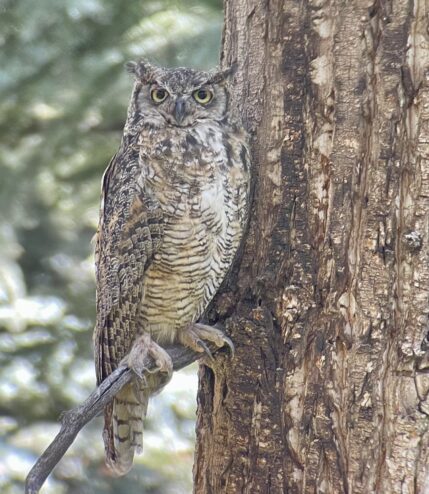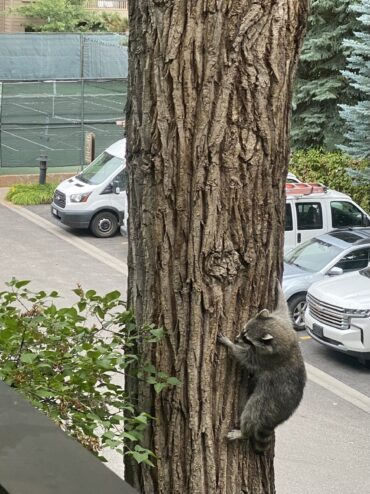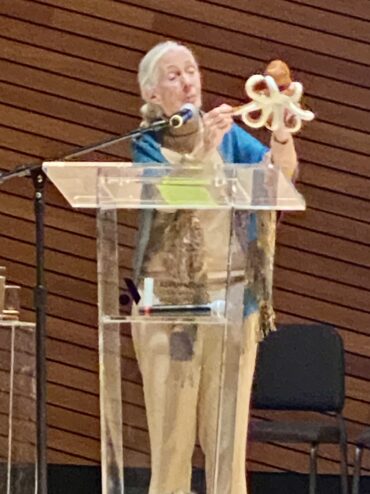 In late September, due to extraordinary support from the Aspen Center for Environmental Studies, renown scientist, conservationist, and humanitarian Goodall, came to our Valley to deliver the ACES Community Youth Lecture and visit local schools. During her Youth Lecture she shared her amazing life story with a quietly attentive young audience. "Every single one of us makes an impact on the planet every single day" she said, "and everybody in this room, we have a choice about what sort of impact we make."
At 89 years of age, she travels throughout the world 300 days a year raising money and environmental awareness. (Please re-read that last sentence.) I will never know the impact she made on those kids but, as a long-time Hero of mine, her presence managed to rock my world in a lovely manner.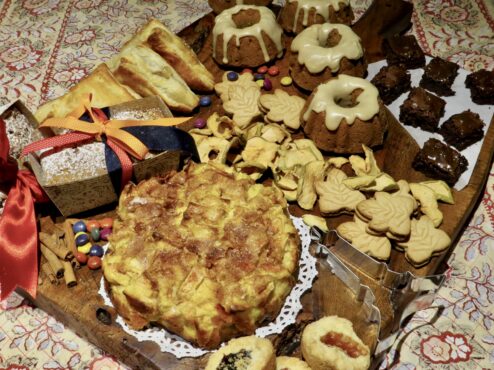 DORIE'S FRENCH APPLE CAKE, A GENIUS RECIPE
If you have ever dreamed of being called a genius (I'm raising my hand.), this is the recipe for you.
I first baked Marie-Hélène's Apple Cake on December 8, 2012 when I was a member of French Fridays with Dorie. Every week we would make a group recipe choice, bake it and write up a post about it on our blogs. Every since then I've baked at least 10 of these cakes each year. This apple cake was my favorite recipe in the book and the favorite of many "Dorista's."

Later it was celebrated in the first of the Food52 Genius Cookbooks, Genius Recipes: 100 Recipes That Will Change the Way You Cook. At the time, one of its editors wrote, 'know that apples cobbled together with gently boozed up, custardy cake are going to be well received.'
MARIE-HELENE'S (Dorie's good friend) FRENCH APPLE CAKE
SERVES: 8 pieces
INGREDIENTS
3/4 cup all-purpose flour
3/4 tsp. baking powder
Pinch of salt
4 large apples (If you can, choose 4 different kinds)
2 large eggs
3/4 cup sugar
3 Tbs. dark rum (optional)
1/2 tsp. pure vanilla extract
8 Tbs. (1 stick unsalted butter, melted and cooled)
INSTRUCTIONS
1.Preheat the oven to 350 degrees F. Generously butter an 8-inch springform pan. If you use a larger pan, it will lose some of its height but it will still be delicious.
2. Whisk the flour, baking powder, and salt together in a small bowl.
3. Peel the apples, cut them in half and remove the cores. Cut the apples into 1- to 2-inch chunks. If possible, use 4 different apples of any kind.
4. In a medium bowl, beat the eggs until foamy. Pour in the sugar and whisk for a minute or so to blend. Whisk in the rum and vanilla. Whisk in half the flour and when it is incorporated, add half the melted butter, followed by the rest of the flour and the remaining butter, mixing gently after each addition so that you have a smooth, rather thick batter. Switch to a rubber spatula and fold in the apples, turning the fruit so that it's coated with batter. Scrape the mix into the pan and poke it around a little with the spatula so that it's "evenish." (Is that a word?) Bang the pan on the counter 2-3 times to remove air bubbles.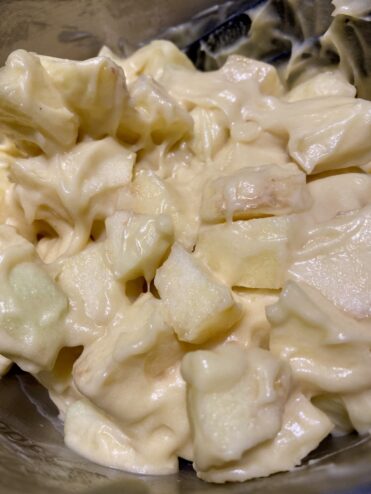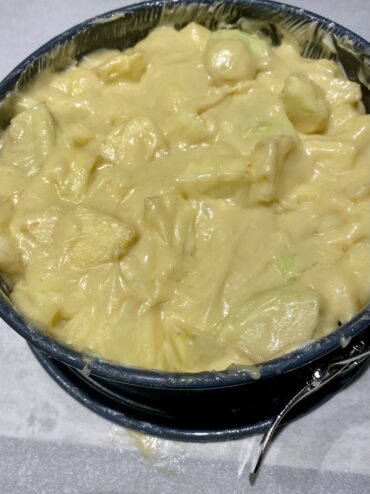 5. Slide the pan into the oven and bake for 50 to 60 to 70 minutes, or until the top of the cake is golden brown and a knife inserted deep into the center comes out clean. The cake may pull away from the sides of the pan. Transfer to a cooling rack and let rest for 5 minutes.
6. Carefully run a blunt knife around the edges of the cake and remove the sides of the springform pan. (Open the springform slowly, and before it's fully opened, make sure there aren't any apples stuck to it.) Allow the cake to cool until it is just slightly warm or at room temperature. If you want to remove the cake from the bottom of the springform pan, wait until the cake is almost cooled, then run a long spatula between the cake and the pan, cover the top of the cake with a piece of parchment or wax paper, and invert it onto a rack. Carefully remove the bottom of the pan and turn the cake over onto a serving dish.
SERVING: The cake can be served warm or at room temperature, with or without a little softly whipped, barely sweetened heavy cream or a spoonful of ice cream. Marie-Hélène served her cake with cinnamon ice cream. It was a terrific combination.
STORING: The cake will keep for about 2 days at room temperature. (It won't last that long.) It's best not to cover it tightly because it's too moist. Leave the cake on its plate and just press a piece of plastic wrap or wax paper against the cut surfaces.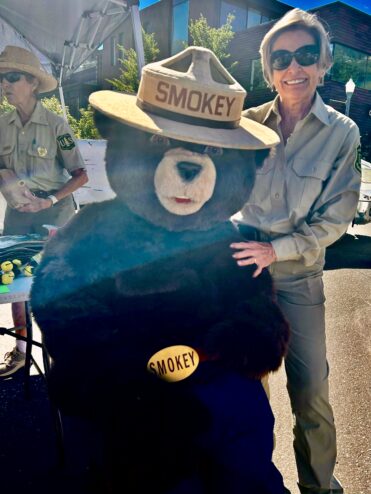 *Harvey information from Aspen Hall of Fame Organization.