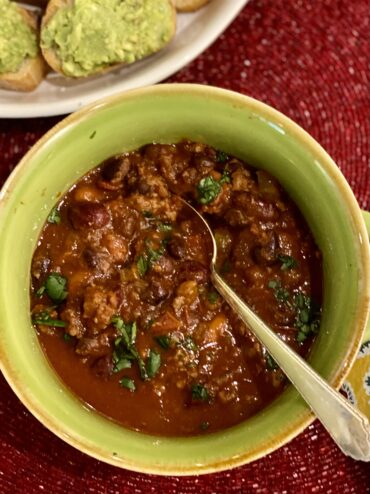 I don't often do whims. Scheduled and organized fit me best. I'm not suggesting that's the way to roll but it's my way. That's why paying $13.13 (senior rate) for a 7pm ticket to Aspen's premiere showing of Taylor Swift's Eras Tour film turned into a last-minute whim moment. I did later discover that the $13.13 price was because 13 is Taylor's favorite number.
Although I knew nothing about the tour, I did understand she'd just wrapped up the U.S. leg of 52 concerts in 19 states. Her upcoming international dates will close in November, 2024.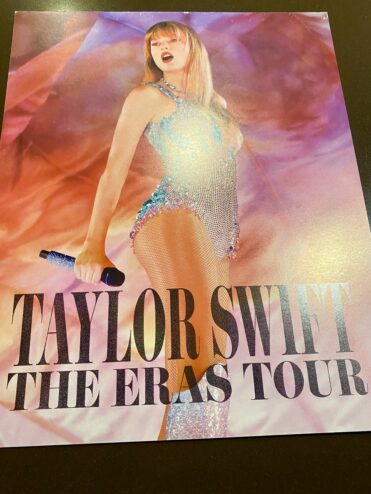 My friend, Sharon, decided to see Taylor also. Since 7p.m. was sold out, she grabbed an 8p.m. ticket and received some advice from the ticket seller. "What's a friendship bracelet?" she called to ask, "I'm supposed to wear one." (I had no idea.)
"What are you wearing?" she wondered. "They suggested I wear sequins."
And then the kicker, "Do you know it's three-hours long?"
Not believing it was 3-hours long, I took my sequin-less self to the Isis Theatre. Everyone else, primarily girls with moms, teenage girl gangs and some couples, were dressed to the nines. I quickly discovered if you want to dress the era, go online and find outfits to fit every genre! American capitalism at its best!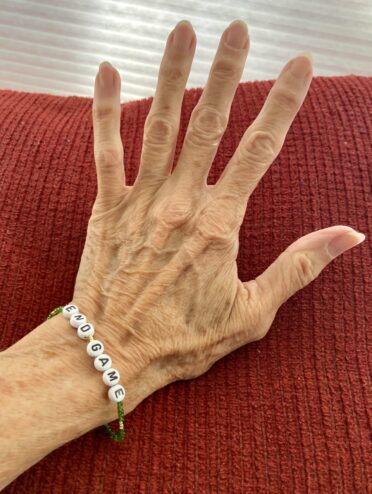 I was lucky with my seat partners though. On my left was a nice guy and his very quiet girlfriend. He was a tall drink of water, stood and swayed throughout the concert and was in and out of his seat all evening. Where did he go? I never asked. On my right were a young woman, mid-20s and her boyfriend.
This young lady had an impressive set of pipes. When Taylor began to sing each of her 40 songs, she did also. The majority of the audience was encouraged to participate but she was, hands down, the blue-ribbon loudest. It wasn't annoying. It was amazing. Throughout the evening she would hear the first few chords and was on it, never missing a beat or conjunction or preposition!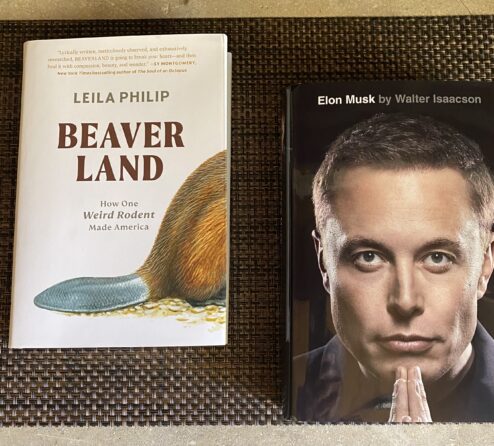 About this production. Taylor Swift is exquisite as is her writing, singing, energy and joy. The fact she's a savvy business women, at 33, who manages herself and her responsibilities well is most impressive. She seems to understand and realize she's a role model for hundred of millions of young women of all ages. She carries that mantle well albeit with glamour and flair. A phenom.
Nice to know you better, Taylor.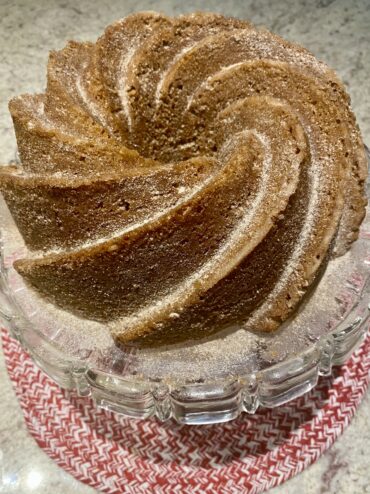 Ken Burns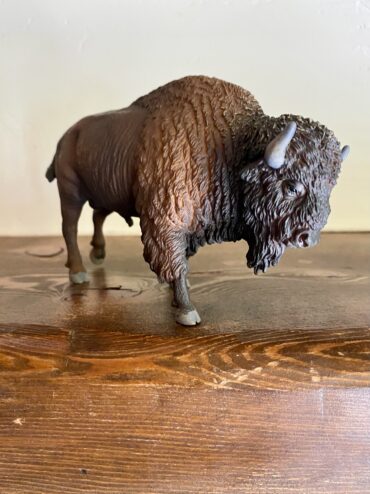 Today's menu choice is to honor "The American Buffalo," Ken Burns newest PBS documentary. Burns calls it 'the continent's most magnificent species, an improbable, shaggy beast that nonetheless has found itself at the center of many of our nation's most thrilling, mythic, and sometimes heartbreaking tales.'
While Burns uses the words "buffalo" and "bison" interchangeably, I would respectfully suggest to him they are not. They are two different animals. He knows that but most Americans do not. I am guessing he made that choice based on clarity. Nevertheless, like all Burns' documentaries, this is well-worth four hours of your time.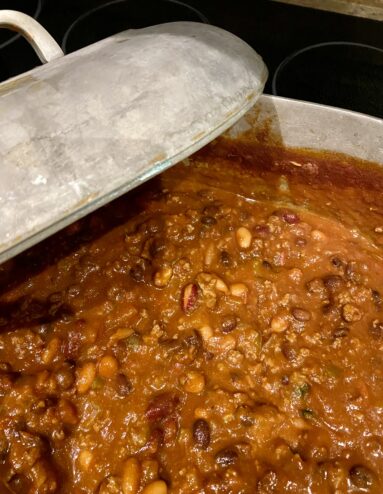 This hearty Bison Chili with Avocado Toast topped off by a slab of Apple Cider Spice Bundt Cake makes for a substantial lunch or soul satisfying dinner. Making this bowl of delicious is as easy as 1,2,3, Sauté, Simmer and Serve.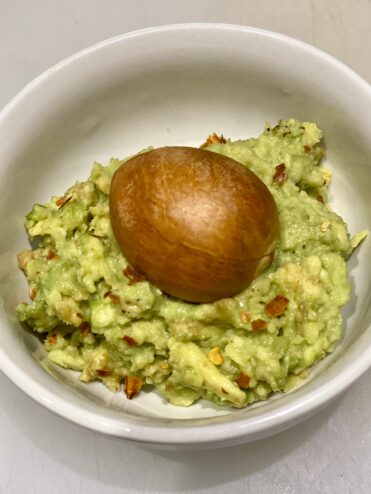 Bison is leaner than beef. If you're looking to reduce your calorie or fat intake it's a healthier choice. Most grocery store chains carry grass-fed lean bison. If available, and it usually is, I always buy it instead of ground beef or ground chuck.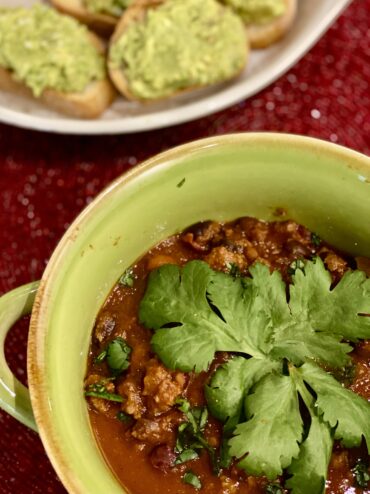 BISON CHILI RECIPE
Servings: 8-10
Adapted from Kim & Kim's Cravings
Ingredients
¼ cup olive oil
1 medium yellow onion, diced
2 garlic cloves, minced
1 green pepper, minced
1 pound ground bison
1 (15-ounce) can pinto beans, do not rinse
1 (15-ounce) can kidney beans, do not rise,
1 (15-ounce) can black beans do not rinse
1 (28-ounce) can tomato purée
1 (28-ounce) can crushed tomatoes
2 cups beef broth
1 tablespoon thyme
1 tablespoon rosemary
4 to 6 tablespoons Hatch Diced Green Chiles, Mild
1 tablespoon cinnamon
1 tablespoon salt, plus more to taste
1 tablespoon pepper, plus more to taste
Cilantro, for topping (optional)
Directions
In a large pot or Dutch oven, heat oil over medium heat. Sauté the onion and green pepper until softened, about 3-5 minutes. Add the garlic and sauté until fragrant, about a minute longer.
Add the bison meat and crumble into very small pieces while it browns. Cook until no longer pink, about 5 minutes.
Add the pinto, kidney, and black beans to the mixture, undrained, then add the tomato purée and crushed tomatoes and stir to combine. Add the beef broth, thyme, rosemary, and chiles, and stir well.
Bring to a simmer, then turn the heat to low and cover. Cook for at least 20 minutes, but ideally cook for up to 2 hours to allow the flavors to meld.
If the chili gets too thick (it tends to do that the next day), add beef broth.
When ready to serve, remove from the heat. Season with salt and pepper to taste.
Sprinkle cilantro on top of each serving if desired.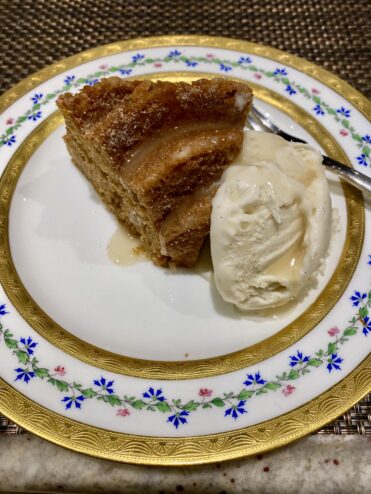 APPLE CIDER SPICE BUNDT CAKE
Adapted from Jennifer Fishkind
Serves 12 (10-inch-12-inch bundt pan)
INGREDIENTS
CAKE
1 box of Duncan Hines Perfectly Moist Spice Cake mix OR 1 box of Betty Crocker Super Moist Spice Cake mix
1 cup apple cider (NOT apple juice)
½ cup apple sauce or cinnamon apple sauce (NOT chunky)
3 large eggs, room temperature
¼-tsp cinnamon
1 tbsp brown sugar
1 tsp vanilla
Cinnamon Sugar Topping
2 tablespoons cinnamon depending on how much cinnamon you prefer
¼ cup sugar
1/4 cup melted butter (to be brushed on cake before sprinkling cinnamon sugar)

Glaze for Ice Cream (OPTIONAL)
1 cup powdered sugar
¼ cup apple cider

INSTRUCTIONS

1.Preheat oven to 350 degrees.
2.In a large mixing bowl, beat the dry cake mix, apple cider, apple sauce, and eggs. Add in the cinnamon (¼ tsp,) brown sugar and vanilla to the cake mix batter.
3. Pour mix into a well greased & floured bundt pan (I spread on soft butter and then lightly use spray Baker's Joy for the addition of flour.
4. Place bundt pan on center rack and bake for 40-45 minutes. Test with a toothpick by sticking into the middle of the cake, if it comes out clean it is ready. Remove from heat and allow to cool on a wire rack for 20 minutes.
5. In a separate bowl, mix cinnamon with sugar.
6. Once the cake has cooled, brush the entire surface with melted butter. Sprinkle cinnamon sugar mixture over the cake until evenly coated.
7.Prepare apple cider glaze if using.. Add powdered sugar and 1/4 cup apple cider to a small bowl and whisk to desired consistency. Drizzle glaze on ice cream.