Cathy O'Connell and I have broken bread in London, Paris, Aspen and El Jebel, sharing wonderful meals and experiences together. But nothing tops the hilarity and merriment of Christmas dinner at her brother Barney's condo in Encinitas (Cali) last Sunday night.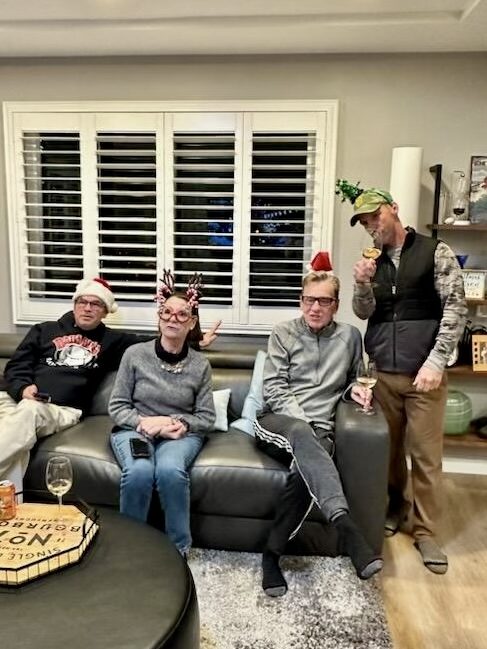 2023, MAKE MEMORIES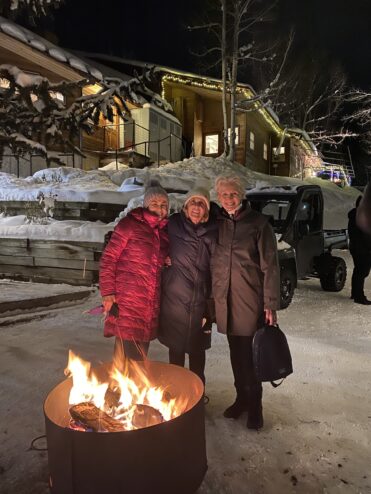 For the past 10 years I've turned my keys over to The Gant and taken a solo winter adventure to parts unknown. I plead guilty to grumbling about the pivot from home to rental each year but have settled into being more streamlined, doing with less. This winter, hoping to begin a writing project, all I needed was a quiet landing in an English-speaking country.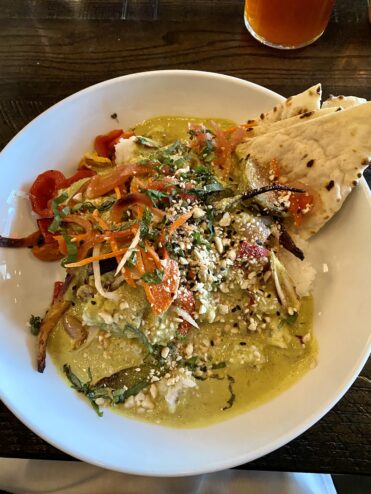 As with everything I do, my family jumped in to make it happen. For Emma, a senior at Point Loma Nazarene U. in San Diego, it was a no-brainer. "Why not move to one of the small beach towns near me," she suggested.
Raise your hand if you ever considered inviting your grandmother to live nearby during your college years! Following Emma's suggestion and after Grandma signed on, her mom (that's my daughter), Melissa, jotted down a few communities they thought I'd like. Recalling that I once almost rented a flat with no kitchen, Missy also pulled up VRBO and began searching herself.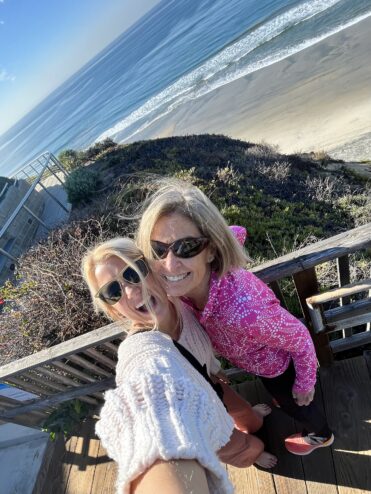 And that's how, following a 1,000-mile drive from Aspen, I just settled into a lovely townhouse, with a fully-stocked kitchen, 80 stair steps from the Pacific Ocean in Solana Beach. What makes it especially fortuitous is Emma was just accepted into the Occupational Therapy Doctoral Program in Duke University's School of Medicine so, like her sister Clara, who is in Terre Haute, both are enrolled in year-round programs. I am lucky to be here with her this winter.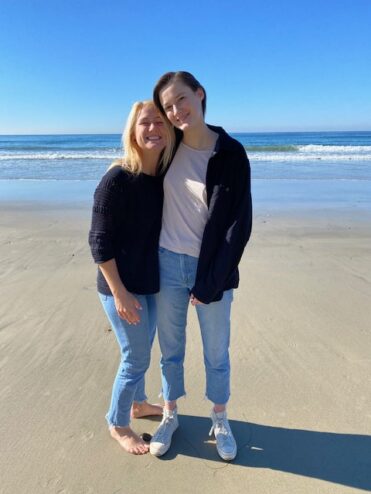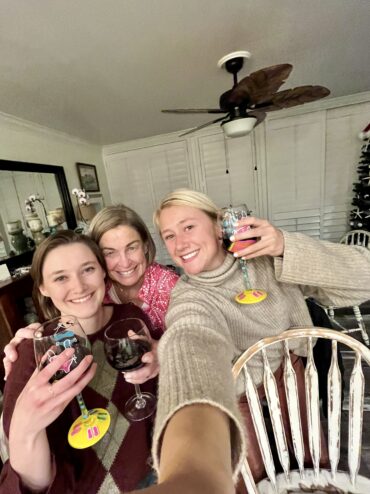 2022, CELEBRATE MEMORIES
Last fall I stopped my world and got off. Many of you will relate to my on-going dilemma. When I moved back to Aspen in 2013 and moved into my furnished condo, I brought with me the contents of two houses. In time I've gotten rid of the furniture but I've always kept my 10'x15' storage unit which is loaded with wall to ceiling boxes.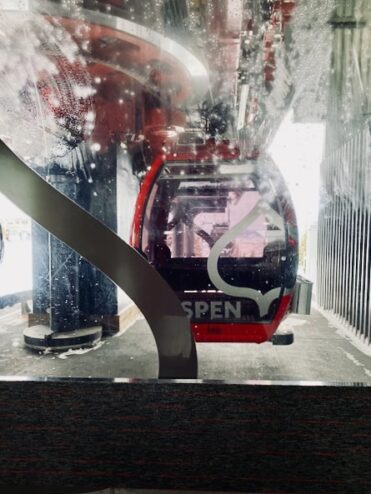 Every year my very able CPA gets more exasperated that I don't deal with this. Early on he was sympathetic, a difficult job, raw emotions. Running out of excuses, four years ago I explained I couldn't bear to get rid of my Christmas decorations. That excuse, which I also used the following year, did not fly. Yes, I could understand his not understanding why I didn't understand the wasteful co$t involved.
Last October, weighed down with too much baggage, I went cold turkey with my storage addiction. For one month I shut down my life. Literally. Four days a week I made the 30-mile commute to forage through boxes packed in 2004 and 2013. Whatever was in them, labeled or not, I obviously hadn't needed. Although my family and friends grew tired and downright rude about my pestering them to take items, most things were too nice to ditch.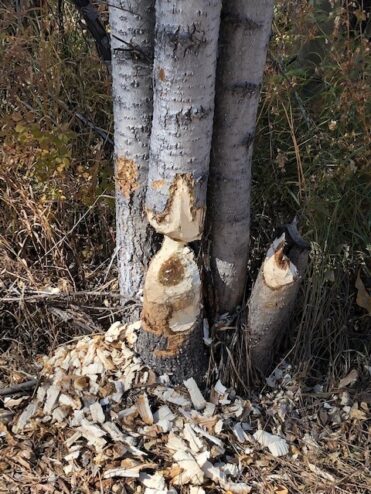 On the days I wasn't in Carbondale at the warehouse, I was dispersing what I'd unpacked to charities, libraries and the like. My favorite stop was the Aspen Thrift Shop managed since 1949 by local volunteers, primarily women who are my friends. This reminded me what I was doing for one month, they do every day.
It was hot and dusty work. Even wearing gloves, brutal on my nails and abusive to my manicure! Paper cuts do hurt. I bruise easily so my arms were a eerie shading of black-and-blue. A time or two there was blood involved. Albeit longer hours/days and fewer breaks or snacks, I wondered, was this a glimpse into life as an Amazon warehouse employee?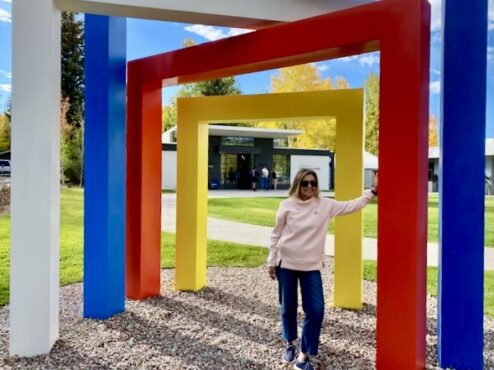 Each box I broke down for recycling was a victory. I thought this would be tough emotionally, it wasn't. I shed a tear every so often but laughed more as I was reminded of silly memories, appreciating a Life well lived and still plowing forward. When I was finished, had swept out my unit and pulled down the folding door, I don't know who was happiest, Me, Melissa or My Friends. Probably, all of the above.
Hugs, Love and Happy New Year, Loyal Readers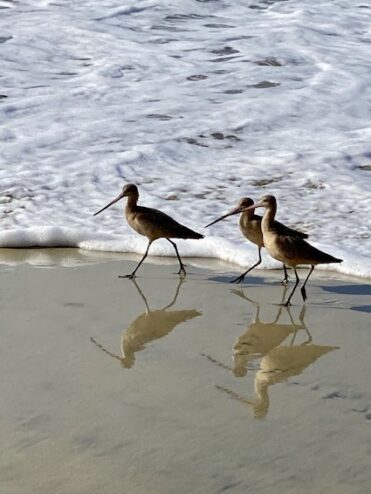 DORIE, ALWAYS AT HER BEST
Perhaps, like me, you've had enough sweets, drink and holiday fare…..until Super Bowl weekend or, perhaps, Valentines Day. While I don't often include meat in my menu, when I do I want it juicy, ultra-flavorful and tender to the max. And, leftovers. A must. This is my go-to recipe for winter. A flank steak is more affordable than most cuts. The marinade is the kicker. It's magic. And, it works with many cuts of beef and chicken cutlets.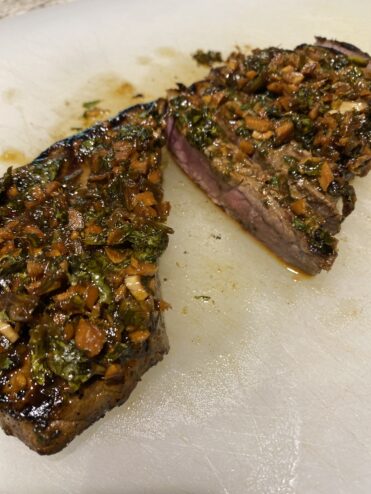 MARINATED, PAN-SEARED FLANK STEAK adapted from Dorie Greenspan, Everyday Dorie cookbook
This marinade, with its 1-2 punch both flavors and tenderizes the steak and then is used to sauce it. (TIP: To have more sauce, I doubled this recipe which keeps nicely in the refrigerator for 4 days.)
This can also be turned into fabulous-tasting sandwiches or a delicious salad

2-4 servings
INGREDIENTS
MARINADE:
Two inches of fresh ginger root, peeled and minced
2 garlic cloves, minced
1 tsp sugar
1/4 cup soy sauce, low-sodium preferred
2 tablespoons olive oil or neutral oil
Finely grated zest and juice of 2 large or 4 small limes
1/4-1/2 cup cilantro (including tender stems), finely chopped
1/2 teaspoon Thai red curry paste
1 flank steak, 18 ounces total (or, 2 skirt steaks or 1 hangar steak or chicken cutlets, if desired)
Kosher or sea salt and freshly ground black pepper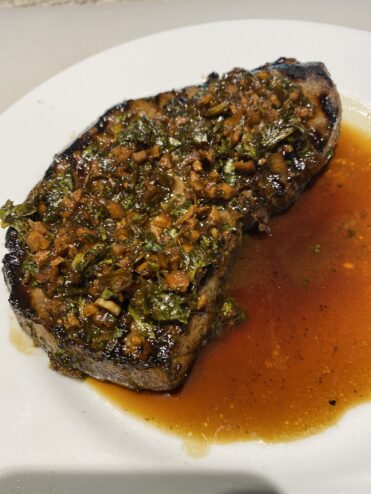 DIRECTIONS:
Put the curry paste in a medium bowl and mash it together with the ginger, garlic and sugar. Add the soy sauce, oil, lime zest and juice and the cilantro, stirring to blend. Taste, and add more curry paste or garlic, as needed.
Place the meat in a dish that will hold it snugly. Pour over the marinade, then rub it into both sides of the meat. Cover the dish and either let it sit at room temperature for 1 hour or refrigerate it for at least 2 hours or up to overnight. (If you're refrigerating the meat, it might be easier to just pack everything into a zip-top bag.) Remove it from the refrigerator at least 30 minutes before cooking.
When you're ready to cook, remove the meat from the marinade, scrape whatever solids may be stuck to the meat back into the bowl and pat the meat dry.
Use cooking oil spray to grease a grill pan or cast-iron skillet and place over high heat. Add the meat. if you're cooking 2 steaks, don't crowd them. Cook for 2 to 4 minutes, depending on the meat's thickness. (A flank steak will cook faster than a skirt or hanger – it may need just 2 to 3 minutes on a side.) Turn the meat over and cook until done just as you like.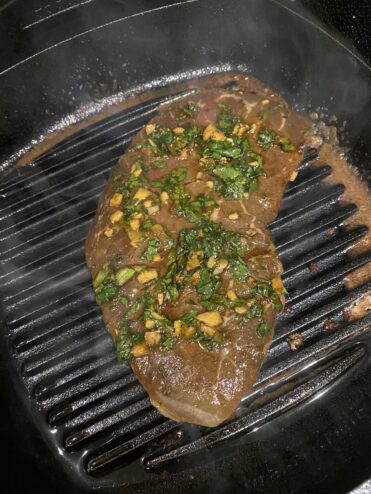 To check on the meat, make a slight cut to the meat and take a peek, remembering that the meat will continue to cook a bit after it comes off the heat.
Transfer to a cutting board to rest. Season with salt and pepper and let the steak sit for a few minutes while you reheat the marinade. Bring the marinade to a boil in a microwave (HIGH) or in a pan on the stove over medium-high heat. Cook for a few minutes, then remove from the heat.
Slice the rested steak as thick or thin as you like, against the grain. Spoon the sauce over the meat and serve warm.
TIP: I suggest serving this with Ina Garten's Sautéed Broccoli
https://www.foodnetwork.com/recipes/ina-garten/sauteed-broccolini-recipe-1944683
"You'll never get bored when you try something new. There's really no limit to what you can do." —Dr. Seuss