MAPLE-BROWN BUTTER-PUMPKIN LOAF with CINNAMON BUTTER
In today's post we're going to skip the tricks, not even begin a conversation and just concentrate on the treat. With apologies to other pumpkin bread recipes, it's time they step aside. Why is this pumpkin loaf so special? What starts with brown butter and ends with slathering softened maple-cinnamon butter on top packs a (pumpkin) punch!
Happy Halloween, Loyal Readers.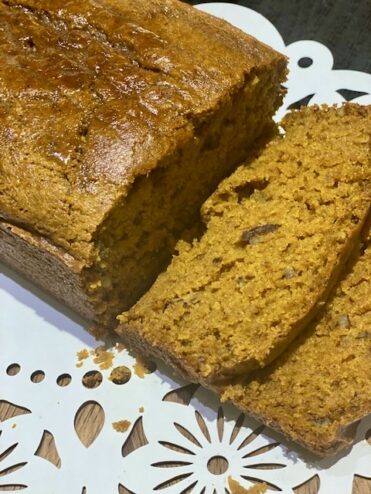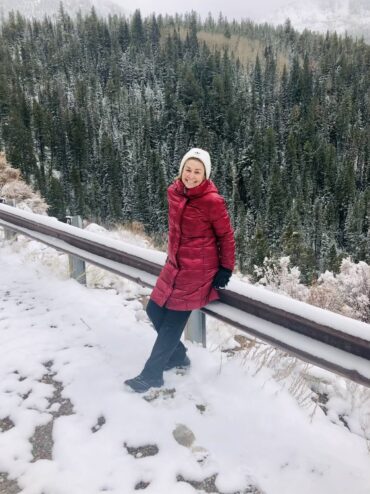 MAPLE-BROWN BUTTER-PUMPKIN LOAF with CINNAMON BUTTER adapted from Kayla, The Original Dish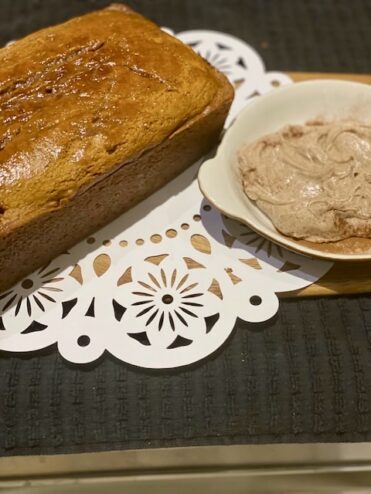 YIELD: 1 10x5x3"Loaf Pan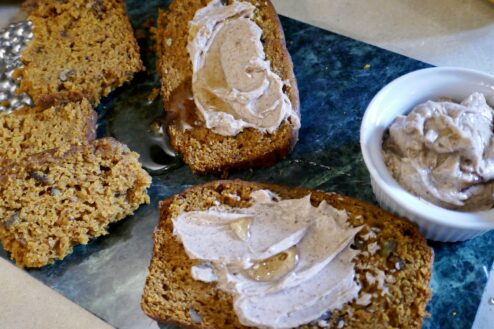 INGREDIENTS
MAPLE-BROWN BUTTER-PUMPKIN LOAF
1 stick (¼ lbs) unsalted butter
1 ½ cups all-purpose flour*
2 tsp ground cinnamon
1 ½ tsp baking soda
1 ½ tsp kosher salt
1 cup granulated sugar
2 eggs, room temperature
1 (15 oz) can pure pumpkin puree
½ cup sour cream
½ cup maple syrup
2 tsp pure vanilla extract
1 cup chopped pecans or walnuts (optional)
CINNAMON BUTTER
1 sticks (½ lb) unsalted butter, softened
1/2-1 tbsp maple syrup with warm maple syrup, for drizzling (optional)
2 tsp ground cinnamon
¼ tsp kosher salt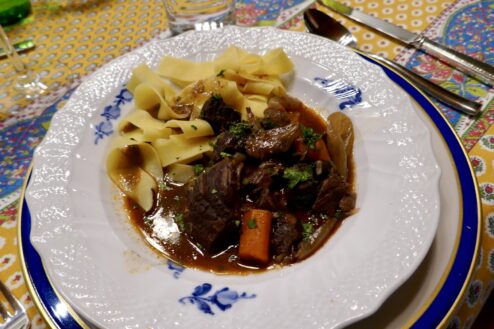 INSTRUCTIONS
Preheat the oven to 325°F. Generously grease a 91/2-10x5x3" loaf pan with butter.
Melt the butter stick to a 2 qt saucepan over medium heat. Turn the heat to medium-low and continue to cook until the butter is browned, swirling often, about 6 minutes. Once deeply golden brown with dark brown speckles running throughout, turn off the heat to let the butter cool for about 5 minutes.
3. Combine the flour, cinnamon, baking soda, and salt in a small mixing bowl. Whisk to combine.
4. Put sugar in a separate bowl. Whisk in the cooled brown butter until smooth. Crack the eggs into the bowl and beat with a mixer or hand mixer well.
5. Add in the pumpkin puree, sour cream, maple syrup, and vanilla extract one at a time, mixing until smooth between each addition. Working in batches, sprinkle in the dry ingredients, mixing gently until smooth. Pour the batter into the prepared loaf pan.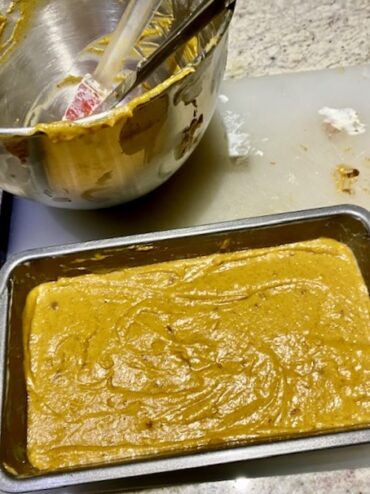 6. Bake in the oven on the middle rack for 1 hour and 10 minutes, or until a small knife inserted comes out just barely dry (there should be no runny batter left, but there should still be moisture). Cover the bread with a piece of foil and let sit for 10 minutes.
7. Remove the foil and allow the pumpkin bread to fully cool in the pan. When fully cooled, run a sharp knife around the edges of the pan and carefully remove. Cut into slices and serve with a swoosh of cinnamon butter (recipe below) on top and an extra drizzle of warm maple syrup, if desired.
CINNAMON BUTTER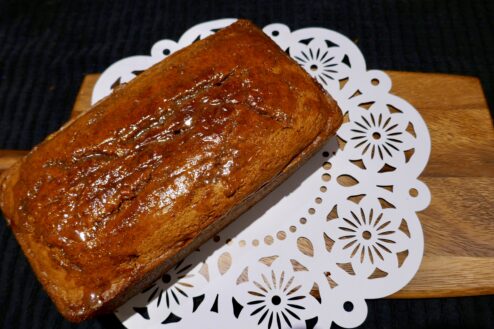 1. Combine the softened butter, maple syrup, cinnamon, and salt in a food processor or mixing bowl.
This loaf tastes (and, cuts) even better the following day. Make the cinnamon butter at your convenience.
Blend until fully incorporated, scraping down the sides of the bowl as needed.
To Serve: You can serve this bread at room temperature or heated for about 10-15 seconds in the microwave.
To Store: Wrap the cooled bread tightly with plastic wrap and store at room temperature for approximately 3-4 days. Store the cinnamon butter in an airtight container in the fridge. Allow the butter to soften at room temperature before serving.
To Soften Butter: Allow the butter to sit out at room temperature until soft to the touch, usually a couple of hours, depending on the temperature of the room.*
*Note: If baking at high-altitude, I recommend using King Arthur or Hungarian High Altitude Flour.