BAKE THIS.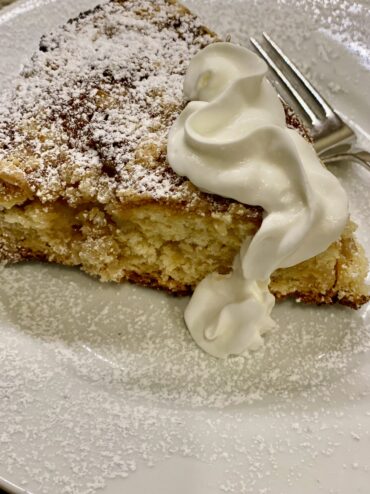 Last week cookbook author Joy the Baker posted a simple one-layer Lemon Crumb Cake recipe she claimed would add a 'sparkle of sweetness to your week.' After spending 4 months in warmer climes I'm just back home in Aspen so Simple + sparkle + sweetness struck a culinary chord with me. Baking is difficult in rental kitchens so I didn't. But my depleted Aspen pantry and fridge yielded almost everything needed for this recipe. I ran to the store for a jar of lemon curd and was in business. Both my and Joy's recipe are below.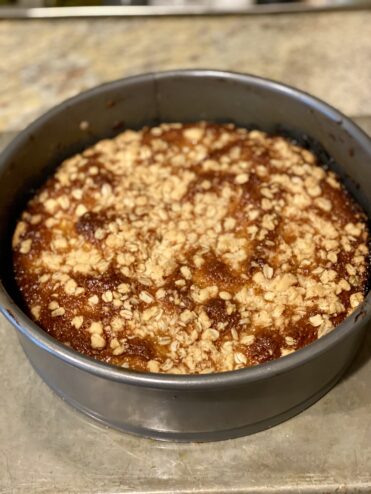 THE GANT GOES GOLD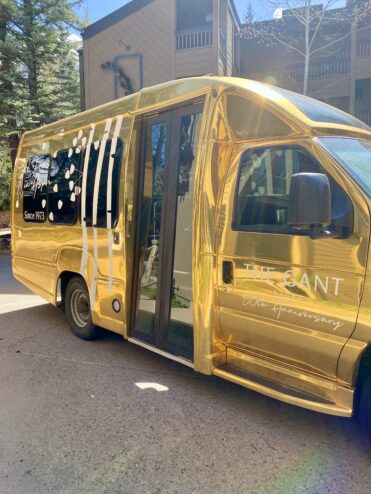 I walked over to the office last Friday morning and this shiny new creature was sitting in the driveway. Whoaaa. What you must understand is The Gant, where I live most of the year, is quietly well-managed, provides first-class service and always, always delivers. It doesn't do gold, glitzy or razzle-dazzle. While I wouldn't call its "Brand" cutting edge, it is comfortable, safe and private. During Covid, the staff were all-stars. They meet the moment whatever it may be. That's why, to commemorate 50 years, these flashy gold chariots are a real surprise. I'm definitely here for it.

THANK YOU, SAN DIEGO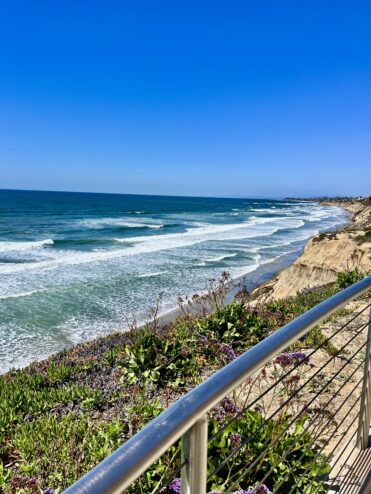 It was a splendid San Diego winter for me. I met old friends I didn't remember lived there and others who made time for me. My townhouse in Solana Beach exceeded expectations. The neighbors were welcoming and helpful. The terrific Pacific, just 100 stair steps down to the beach, was gloriously noisy. One of my last discoveries was a dessert restaurant, Somi Somi, serving a unique Korean dessert called Ah-Boong. It's a sumptuous waffle cone in a shape of a fish, filled with unique, rich fillings. I got a Taiyaki which is a fish shaped waffle filled with Nutella on top of a ube and Thai soft serve swirl with coconut on top.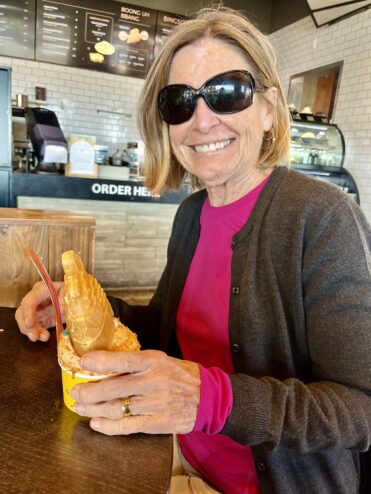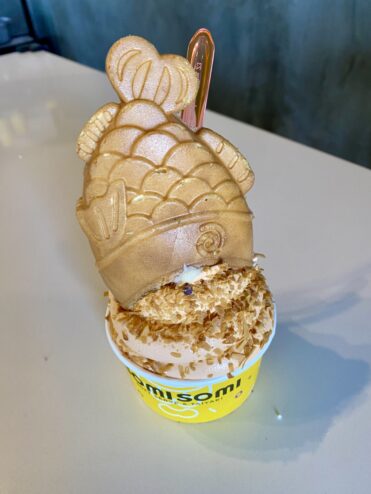 My being in San Diego was Emma's idea. My granddaughter thought I'd like to be nearby during her last semester in college. Even better, Clara, who attends college in Indiana, flew home to California for the holidays. Emma and I orchestrated a birthday weekend for Melissa in February. Realizing those two young women are taking flight, I relished every minute with my family, Emma and her friends. She actually graduated Summa Cum Laude from Point Loma Nazarene University today.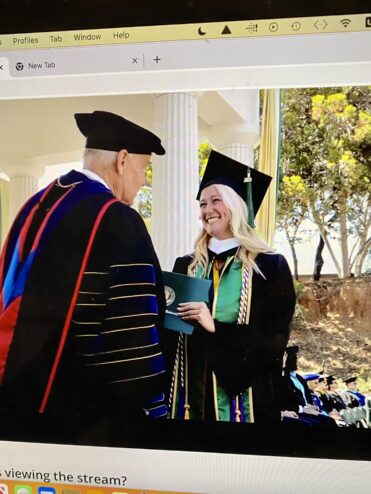 HOME AGAIN
It's every grandparent's wish that their grandchildren thrive. I do want that, I do, but couldn't they thrive closer to home? This summer Clara has an internship in Washington DC. Then, back to Indiana. She'll be a junior. In July Emma will begin an intensive three-year doctoral program at Duke University in Durham, North Carolina.
We all know that sinking feeling, don't we? When I left San Diego to drive to Colorado, it was Stomach-Pit-Knot. One thousand miles later, crossing the state line into Colorado and headed to the mountains, I was winter-grateful but excited to be home again. Driving into Aspen, I spotted a fox standing near the highway on a small hill and a herd of deer grazing in the grassy space at our entrance roundabout. Later in the day, a heron gracefully flew overhead. Despite our recent snowy weather, these Pasque flowers are survivors. Life is going to be fine. May we all live in areas we love where friendships thrive and nature survives.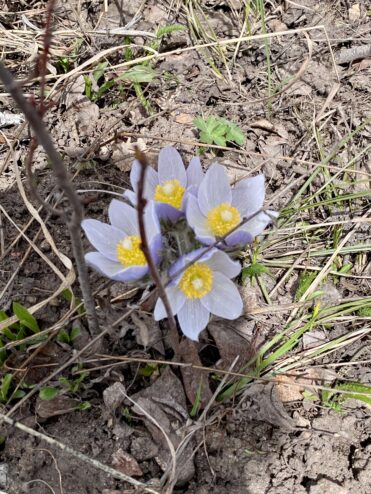 LEMON CURD CRUMB CAKE
The thing about Joy, her recipes are written clearly, easy to follow and always work. She's like Dorie Greenspan in that respect. That's a comfortable and confident mindset to begin with when you're baking. Honestly, this Lemon Curd Crumb Cake may be plain vanilla but those swirls of lemon curd provide an ever so scant touch of sweetness. The streusel, of course, is streusel, always such a show-off and making you wish for more.
Although the recipe is below it's also worth clicking on Joy's link to learn more about this recipe.
https://joythebaker.com/2023/04/lemon-curd-crumb-cake/
Lemon Curd Crumb Cake by Joy the Baker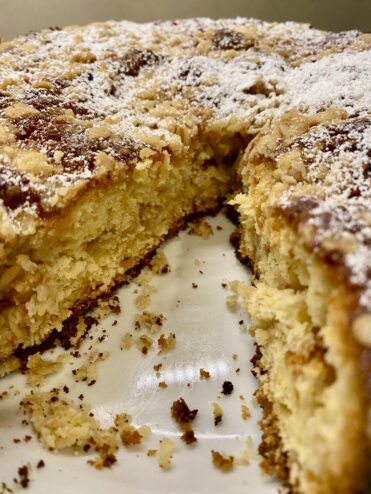 1 9-inch cake
Serves 8-10
INGREDIENTS
For the Cake:
1 1/2 cups all-purpose flour
1 teaspoon baking powder
1/2 teaspoon ground coriander
3/4 teaspoon kosher salt
1/4 teaspoon baking soda
1/2 cup (1 stick) unsalted butter, at room temperature
2/3 cup granulated sugar
2 large eggs, at room temperature
1 teaspoon vanilla extract
3/4 cup sour cream, at room temperature
About 1 cup store-bought lemon curd (8–10 ounces jar would be perfect!)
For the Crumble:
1/2 cup all-purpose flour
1/2 cup old-fashioned oats
1/2 cup granulated sugar
large pinch of salt
4 tablespoons cold unsalted butter, cut into small chunks
Powdered sugar for topping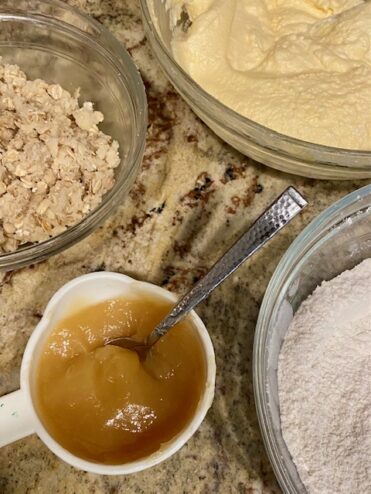 Instructions:
1. Place a rack in the upper third of the oven and preheat oven to 350 degrees F. Grease a 9-inch round  baking pan (or springform pan), line the bottom with a circle of parchment paper and grease the parchment paper as well. Lightly flour the pan and knock any extra flour from the pan.
2. In a small bowl whisk together flour, baking powder, coriander if using, salt, and baking soda. Set aside.
3. In a large bowl with electric hand beaters or the bowl of a stand mixer fitted with a paddle attachment, beat together butter and sugar on medium speed until pale and fluffy, 3 to 5 minutes. Beat in the eggs, one at a time, beating for 1 minute per egg. Beat in the vanilla extract.
4. Stop the mixer and scrape down the sides of the bowl to ensure that everything is mixed in well. Beat in the sour cream on medium speed.
5. Turn the mixer to low and add the dry ingredients, mixing until just combined. Stop the mixer and finish incorporating the batter until well combined. The batter will be thick.
6. To make the oat crumble, in a medium bowl, whisk together flour, oats, sugar, and salt. Add the cold butter chunks and, using your fingers, work the butter into the flour mixture. Quickly break the butter down into the mixture until well incorporated. Some butter bits will be the size of small peas and oat flakes.
7. Spread half of the cake batter into the bottom of the prepared pan. An offset spatula is a great tool to spread the batter. Dollop with half of the lemon curd and sprinkle with just under half of the oat crumble. Lightly swirl the batter. Top with the remaining cake batter, spreading to the edges. Dollop with the remaining lemon curd and sprinkle with remaining crumble. Lightly swirl, leaving generous dollops of curd exposed on the top of the cake. They'll bake to irresistibly jammy.
8. Bake until deeply golden and the sides of the cake are pulling away from the pan. A toothpick inserted in the cake will come out clean or with just a few moist crumbs. This is a long bake cake at 45-55 minutes. Rotate the pan halfway through baking. Remove cake from the oven and allow to rest for 20 to 30 minutes before trying to invert the cake.
9. Run a knife around the inside edge of the pan to loosen the cake from the pan. Place a flat plate over the pan and invert the cake. Peel the parchment round off the cake and gently invert the cake top side up.
10. Serve warm or at room temperature lightly dusted with powdered sugar.