Let's start at the beginning. Several months ago, spotting a cost-friendly Norwegian Airlines package to London/Edinburgh on Travelzoo Top 20, I clicked three times and magically owned an October trip across the Pond. For the past 15 years I've received Travelzoo's weekly "amazing" offers and lived the dreams. Obviously I considered it time to play out my fantasies.
My reality became an international trip by myself on an airline I'd never flown. Buyer's remorse? Uhhh, kinda. For me, whether it's a project, party or voyage, I'm a planner. Realizing this would be the first trip abroad I'd taken alone without Michael or without the destination being the Institut de Francais or meeting a tour group, my motto became Fail to Plan, Plan to Fail. Here's how it rolled…..
BOSTON
Having been in a plane crash, I don't fly well. I short-circuited a long non-stop flight by stopping in Boston to visit my blogging colleague, Betsy Pollack-Benjamin. During my 30 hour-layover we not only cooked dinner together, but also spent the next day visiting the Lexington Community Farm and the Boston Museum of Fine Arts. I walked in to Flour's Bakery & Cafe only to be surprised by Tricia Stormer, our French Fridays with Dorie colleague, who drove from Pennsylvania to see me.
NORWEGIAN AIRLINES
About Norwegian Airlines. NA's twin-engine Boeing 787-8 Dreamliner is modern, beautiful and fuel-efficient. Now I like comfort as much as the next gal but riding in economy with 300 of your new best friends didn't seem a hardship, more of an adventure. Service was spectacular. (Economy does not translate to riff raff on NA.) I had a touch screen that spewed out amenities galore. A cocktail? Screen. Touch. Order. Within 5 minutes a steward was delivering it, with flourish, on a small, white-clothed tray.
LONDON
My London plans revolved around the British Museum and theatre, Harry Potter & the Cursed Child 1 & 2. A home-town bonus was meeting 6 young people from Aspen at a local pub. Gant concierge Wesy Amour-Cook had told me she, Nathan and their friends were also going to London and suggested we meet for a beer. It's not for nothing that Wesy is a great concierge. After I arrived in London, she located a pub near my Tower Bridge hotel, e-mailed me and at 5:30pm one misty London evening, I walked into the pub's noisy bedlam only to be greeted by those 6 smiling Colorado faces.
EDINBURGH
Edinburgh evolved into an unexpected but glorious three days. Prior to leaving Aspen, I contacted Araminta and Charles Ritchie who I only knew virtually. For the past 7 years I occasionally rented their apartment in Sanary-sur-Mer located in southwestern France. I invited them to have dinner with me when I visited Edinburgh. Instead Araminta insisted they pick me up at the airport to stay with them. Hospitality reigns!
Their exquisite historic home, The Grange, is located on the outskirts of Edinburgh. Araminta is a Lady-in-Waiting to the Queen's daughter, Princess Anne who is recognized and admired for her charitable work to over 200 organizations. Being a modern-day lady-in-waiting, which is defined as a personal assistant attending to a royal woman, is a life-long appointment. Princess Anne, who Araminta calls, The Boss, has 11 Ladies and Araminta is one of two women who live in Scotland. Charles retired five years ago as a Colonel after a lifelong military career, being posted throughout the world. As you might imagine, I was full of questions and loved our conversations/dinner table talk.
Recognizing that we had never actually met each other, Araminta got me settled while Charles popped the champagne cork. (Bubbly is a relaxant, don't you think?) Paul, their son who was visiting, withdrew to the kitchen to make a delicious venison pot pie with a homemade pastry crust. Salmon to begin dinner, fruit tart to end it.
Now get this, when the Princess is in Edinburgh unofficially, she often stays in the bedroom where I slept. (I know that because I saw her name in their guest book.) The Ritchie's were amused I loved the idea of that but I suggested it was as close as I would ever get to the Lincoln Bedroom!
I was sorry to leave England. This journey, a mission to broaden my horizons and expand my knowledge also enhanced my desire to 'Be fearless in the pursuit of what sets your soul on fire.' as Frozen's film director Jennifer Lee suggests. That's exactly what I needed to do.
.
PUMPKIN SPICE BUNDT CAKE with BUTTERMILK ICING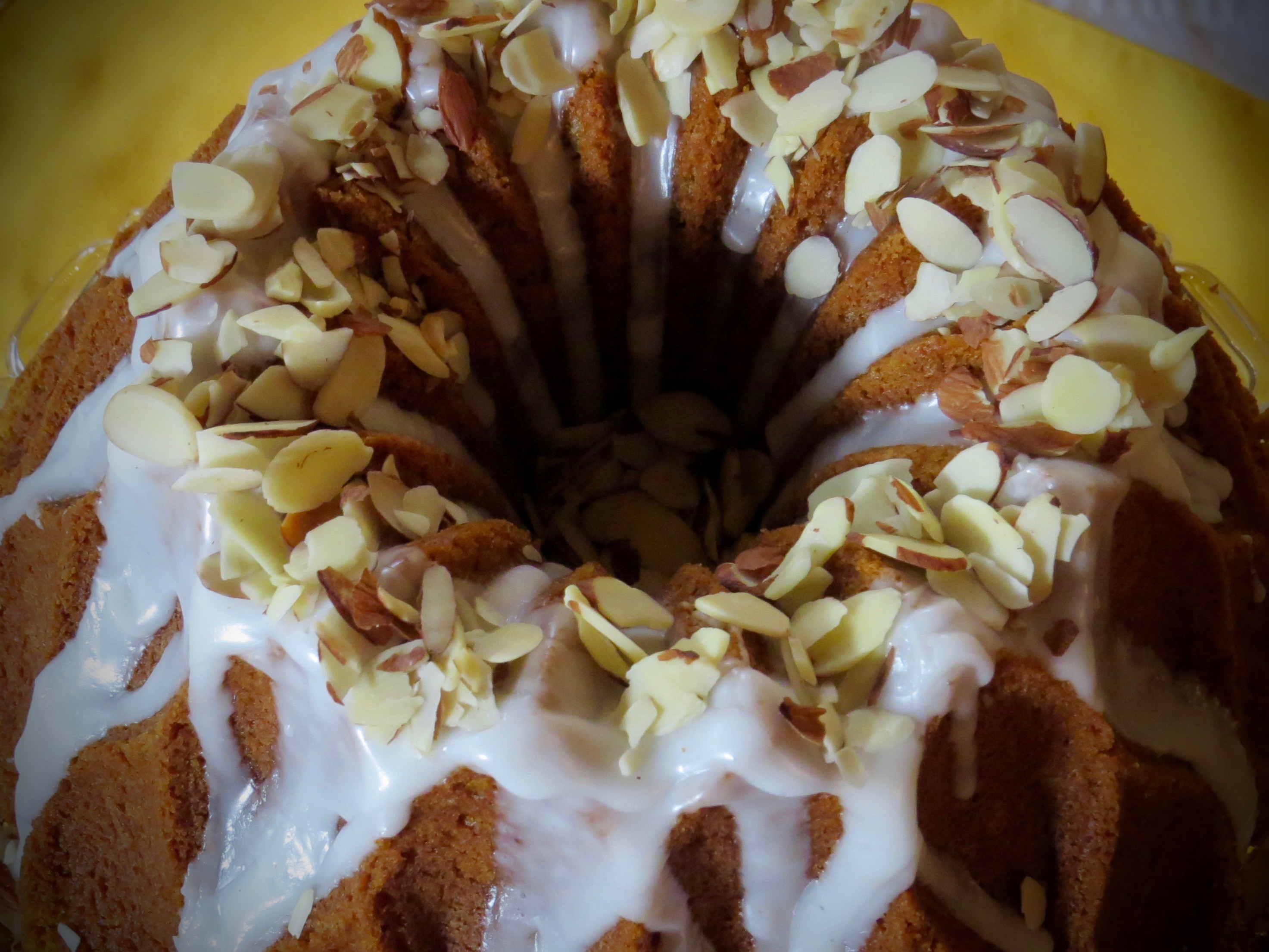 To celebrate my safe arrival home, I baked a sublime pumpkin spice bundt cake. This recipe is from a 2005 issue of Gourmet Magazine. Being a loyal subscriber I faintly recall making this recipe. My memory suggests I didn't realize at the time that canned pumpkin pie filling and canned pumpkin (pumpkin puree) are two different animals! Please dear Readers, canned pumpkin, please.
PUMPKIN SPICE BUNDT CAKE with BUTTERMILK ICING, GOURMET MAGAZINE, 2005 via Epicurious.com
12 servings
EQUIPMENT: 10-inch nonstick bundt pan (3 quart)
INGREDIENTS
CAKE
1 1/2 sticks (3/4 cup) unsalted butter, softened
2 1/4 cups all-purpose flour
2 teaspoons baking powder
1 teaspoon baking soda
1 teaspoon cinnamon
3/4 teaspoon ground allspice
1/2 teaspoon salt
1 1/4 cups canned solid-pack pumpkin puree
3/4 cup well-shaken buttermilk
1 teaspoon vanilla
1 1/4 cups granulated sugar
3 large eggs (room temperature)
ICING
2 tablespoons plus 2 teaspoons well-shaken buttermilk
1 1/2 cups confectioners sugar
PREPARATION
1. Put oven rack in middle position and preheat oven to 350°F. Butter bundt pan generously, then dust with flour, knocking out excess.
2. Whisk together flour (2 1/4 cups), baking powder, baking soda, cinnamon, allspice, and salt in a bowl. Whisk together pumpkin, 3/4 cup buttermilk, and vanilla in another bowl.
3. Beat softened butter (1 1/2 sticks) and granulated sugar in a large bowl with an electric mixer at medium-high speed until pale and fluffy, 3 to 5 minutes. Add eggs and beat 1 minute. Reduce speed to low and add flour and pumpkin mixtures alternately in batches, beginning and ending with flour mixture and mixing until batter is just smooth.
4. Spoon batter into pan, smoothing top. Softly band your bundt pan against the counter to eliminate air bubbles. Bake until a wooden pick or skewer inserted in center of cake comes out clean, 45 to 50 minutes. Cool cake in pan on a rack 15 minutes, then invert rack over cake and re-invert cake onto rack. Cool 10 minutes more.
5. While cake is cooling, whisk together buttermilk and confectioners sugar until smooth. Drizzle icing over warm cake. Sprinkle chopped nuts over the top, if desired. then cool cake completely. Icing will harden slightly.
TIPS:
1. I spray my bundt pan with Pam's Baking Made with Flour just before pouring the batter into the pan. This eliminates the spray from pooling at the bottom of the pan. It also allows your batter to "rest" a few minutes.
2. Cake may be made 3 days ahead and kept in an airtight container at room temperature.
3. For a variation to the pure pumpkin taste, add 1/2 cup of chopped walnuts and 1/2 cup of chopped dried cranberries. (Do NOT use Cranraisins.)