It seems rather bizarre that my grocery list for this week's French Friday with Dorie recipe had me scrambling for cellophane noodles, Chinese tree ear mushrooms, Asian toasted sesame oil and Chinese five-spice powder. Ms. Greenspan even urged us to pull out our woks.
I wonder if Joel Robuchon, Alain Ducasse or Guy Savoy even own woks? I spent hours in Julia's kitchen at the American History Museum at the  Smithsonian. Cannot remember a wok. That's why I love Dorie – she crawls out on a limb, never glances back and successfully coaxes us along.
This week,  Shrimp and Cellophane Noodles is the FFWD recipe choice. If you'll remember, early last year I joined Wok Wednesdays, a group that cooks from Grace Young's cookbook, Stir-Frying to the Sky's Edge. Although the food was delicious, I was a Wednesday wonk. To my mind, wok cooking is a mad dash to the finish. I enjoy the prep but having to make it all happen so quickly, for a tasty result, makes me crazy.
But, for the sake of Dorie, I made friends with my banished wok, tossed together a batch of Shrimp and Cellophane Noodles and washed it down with a bottle of Tsingtao. Well, maybe two bottles.
Truthfully, perhaps the French should leave these one-dish wok meals to the Asians. The soft, slippery noodles mixed with Asian toasted sesame oil could have stood alone. They were delicious. Who doesn't love ginger, cloves, cinnamon, pepper and star anise blended together into aromatic Chinese five-spice powder? That spice, along with a few other ingredients, helped the shrimp be mighty tasty.
Then along came the two cups of tomato puree. Say, what?  Even the second bottle of beer couldn't make that combination work for me.  Je suis désolée, Dorie, but this week's recipe gets a thumb down from this household. (A first for me.)
While this week's recipe might not have been successful, the week was. I wasn't sold on Shrimp and Cellophane Noodles à la français, but I was deliriously happy to hang a SOLD sign on my Nevada house. Yep, this week I signed, sealed and delivered my Henderson house to a happy buyer and will be moving back to Aspen, to live full-time, by early Spring.
Aspen has been our home since 1988 and, during this year of healing, adjustment and change as well as those that follow,  it's where I want to be. After being in Henderson eight years, I will be leaving wonderful friends, but there's not a one of them who isn't, for my sake, happy to see me Colorado-bound.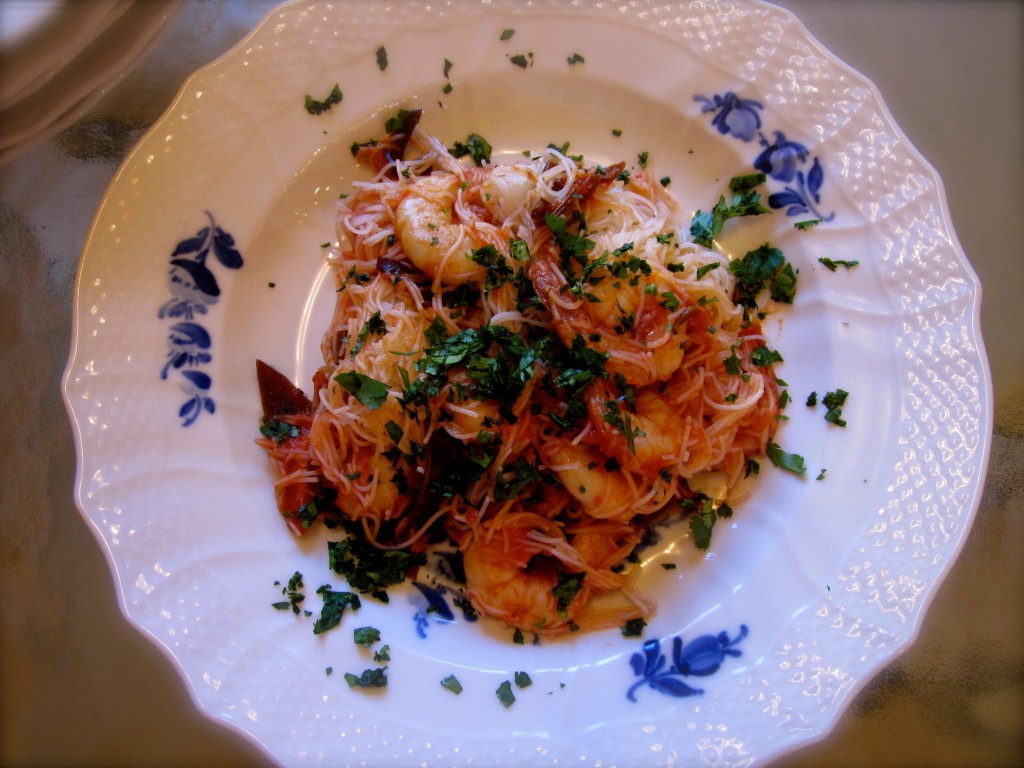 I hope my colleagues had a better experience with this recipe than I. Go here to see another point of view. Next week we're doing a vegetable combo "en papillote". Sounds good.  The French being French.