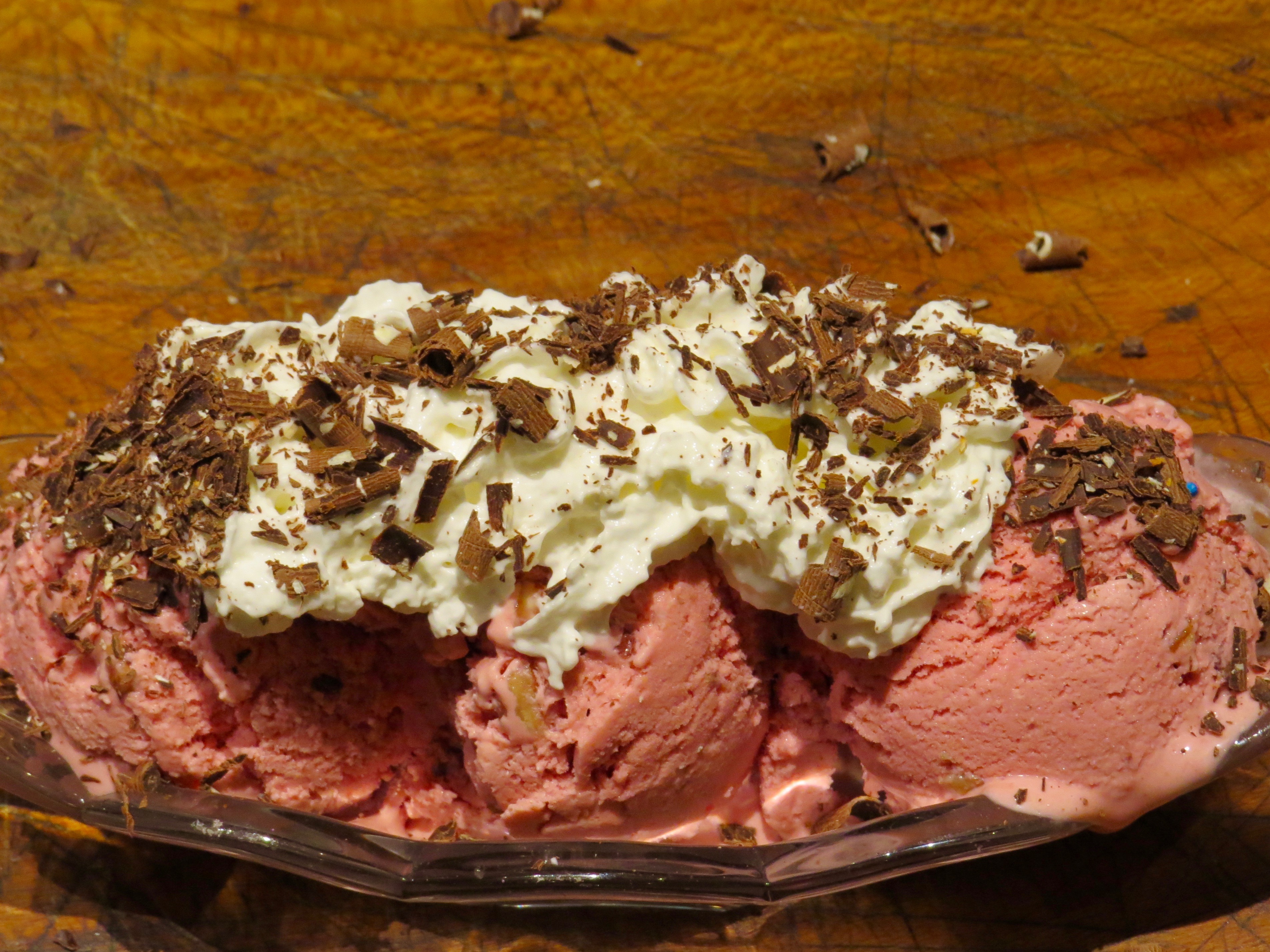 Since the mid-1990s, with a time out for Michael-care, I've been a volunteer wilderness ranger in the Colorado Rockies. During those 25-some years my life has changed dramatically but the one constant has always been my ranger gig.
Hitching myself to Smokey Bear's wagon was a bit of a stretch. Never considered a rough-and-tumble outdoorsy girl, our 1988 move to Aspen was a reach beyond my bubble. What I soon developed, however, was an affaire de coeur with these mountains that's never waned.
Today's post is an abridged answer to the question I'm most often asked, "What do you really do?"
BUT FIRST, IS ANYONE HUNGRY?
This week's recipes, UDON NOODLES, ARUGULA & RED PEPPER SALAD and RASPBERRY ICE CREAM with TOASTED WALNUTS, could be your summer menu's superstars.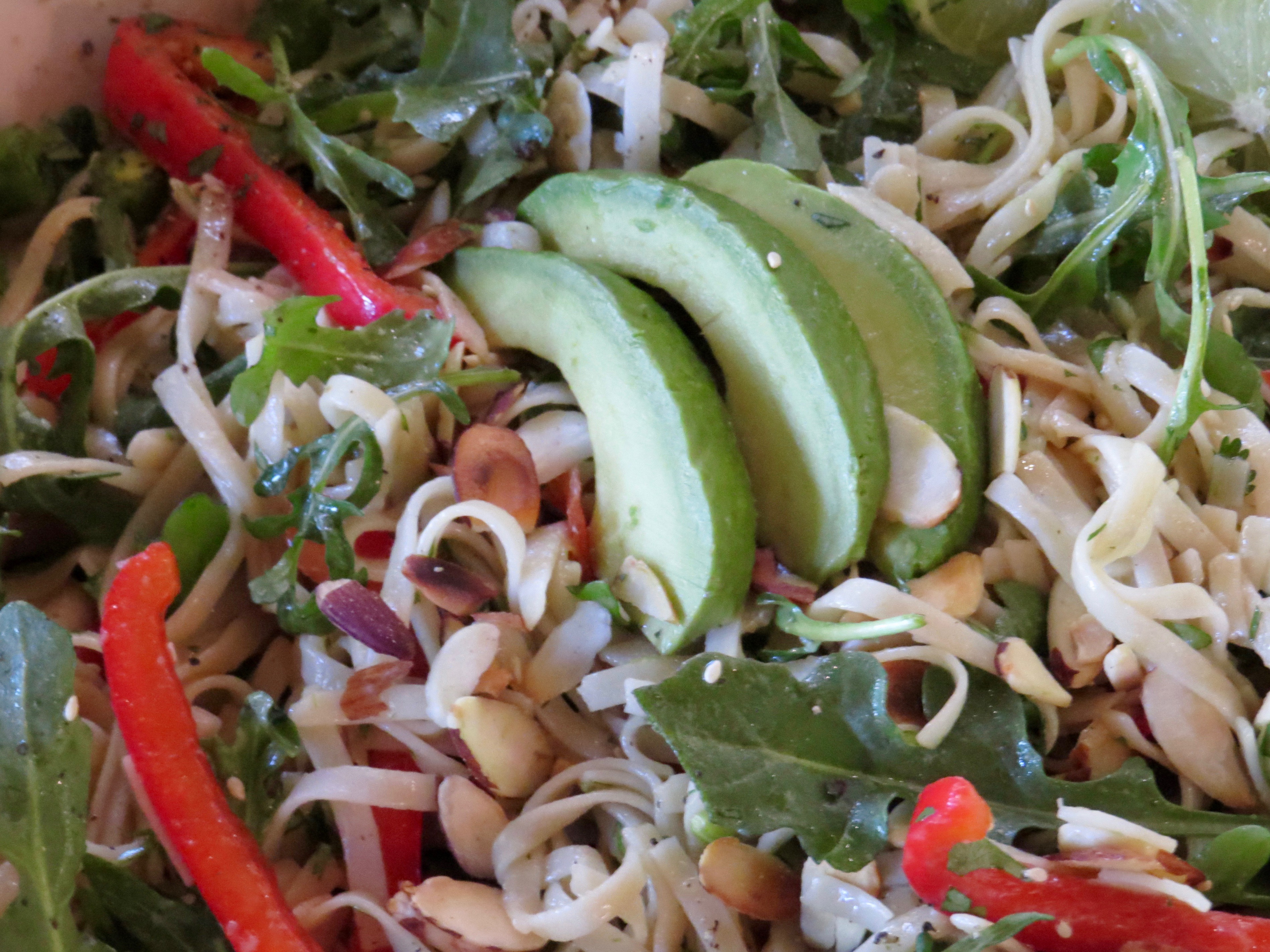 I'm planning to share this Udon noodle salad at two upcoming summer potlucks. What works with this recipe is anything. Most veggies on hand will play well in this salad. Don't forget to change up your noodles. Soba noodles (buckwheat) and Udon noodles (wheat) offer two distinct taste experiences. The constant here is the citrus Ponzu sauce used in the dressing.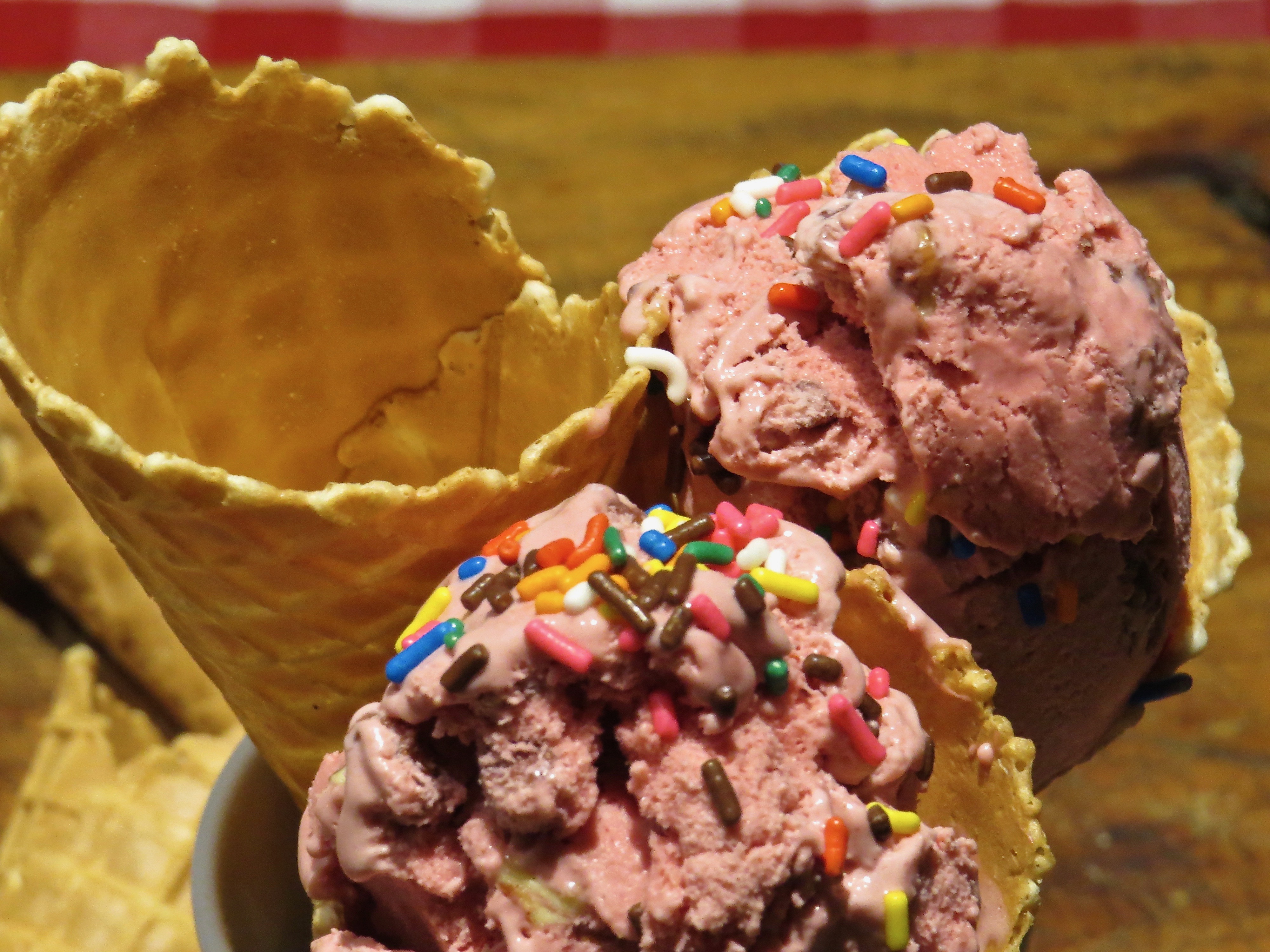 Serving homemade ice cream to your family/guests speaks volumes: "You are special." Today's ice cream maker is not your grandparents' cranky relic. Ice cream is easily pulled together. Even recipes for sorbets and granitas are simple to follow. Don't let summer fly away without dusting off your ice cream machine. (Both recipes are below.)
GET YOUR SMOKEY ON
Let's start at my story's finale. Last year, through the efforts of 40-50 dedicated volunteer rangers, our Forest Conservancy contributed 10,685 service hours which translated to an in-kind donation value of more than $278,000. We interacted with more than 60,000 trail users and 320,500 visitors to the Maroon Bells Scenic Area. That's our job. That's what we do.
To keep updating our skills, every summer the Conservancy, a non-profit partner to the USFS, brings in experts from our Colorado universities/government agencies/NPOs to teach courses on flora and fauna, geology, life zones, and the like. When I'm not hiking, I'm often in the classroom or field attending these sessions. We all maintain First Aid/CPR certification but every year, like many other volunteers, I take a refresher course.
By mid-June, however, it's time to get online and begin scheduling patrols to cover the 102 official trails located in our Ranger District. We communicate throughout this busy 4-month period via our website which is our lifeline to all ranger-related information, updates, bulletins and trail reports.
Although I patrol alone on nearby trails, we pair up for wilderness hikes. Our main responsibility is to maintain a safe, friendly environment for visitors and our wildlife residents. Of course everyone hopes to spot a moose or bear. In an odd twist, it's often most difficult to protect the wildlife from the tourists.
If there are illegal fire rings, we dismantle them. Signs or trees down? We report it. Trash? We carry it out. With full-on fire restrictions already in place, we'll be on the lookout. Our backpacks are always loaded with equipment and materials to cover all possibilities. (We have a must-carry checklist.) In fact, we're trained to do everything but law enforcement. It's a responsibility. I'm always wary.
When the day is done, we file a comprehensive online report which not only goes to Marcia Johnson, our executive director, but also to the USFS and our colleagues. Then it's homeward bound to my next major activity: Good Night!
UDON NOODLES, ARUGULA & PEPPER SALAD adapted from Jessica Merchant, How Sweet Eats
Serves: 4-6
INGREDIENTS:
Dressing:
1/3 cup Ponzu sauce
1/4 cup sunflower oil or vegetable oil of your choice
1 clove garlic, minced
1/2-1 tsp kosher salt
Salad:
8oz. Udon noodles (options: Soba or rice noodles)
2 cups sugar snap peas, cut into thirds
1 red bell pepper, julienned
1/3 cup toasted slivered almonds
2 tablespoons toasted sesame seeds
3 green onions chopped, both white & green parts
3 cups arugula
1 heaping cup chopped cilantro
Serving Toppings:
toasted sesame seeds
fresh lime
toasted slivered almonds
1 avocado, cut in slices
DIRECTIONS:
1. Mix dressing ingredients together in a large bowl and set aside. Dressing can be refrigerated overnight.
2. Cook the udon noodles according to the package. Add noodles to an ice bath to chill. Then drain.
3. Toss the red pepper slices and green onions in the bowl of dressing. Add the noodles, sugar snap peas, almonds, sesame seeds, arugula and cilantro. Toss until well combined.
4. Serve cold (refrigerate for at least 30 minutes) or at room temperature with additional toasted sesame seeds and slivered almonds and freshly cut limes and avocados.
Tip: 1. For more heat, mince a small Fresno pepper into very small pieces and add to the salad ingredients.
RASPBERRY ICE CREAM with TOASTED WALNUTS, by David Lebovitz, The Perfect Scoop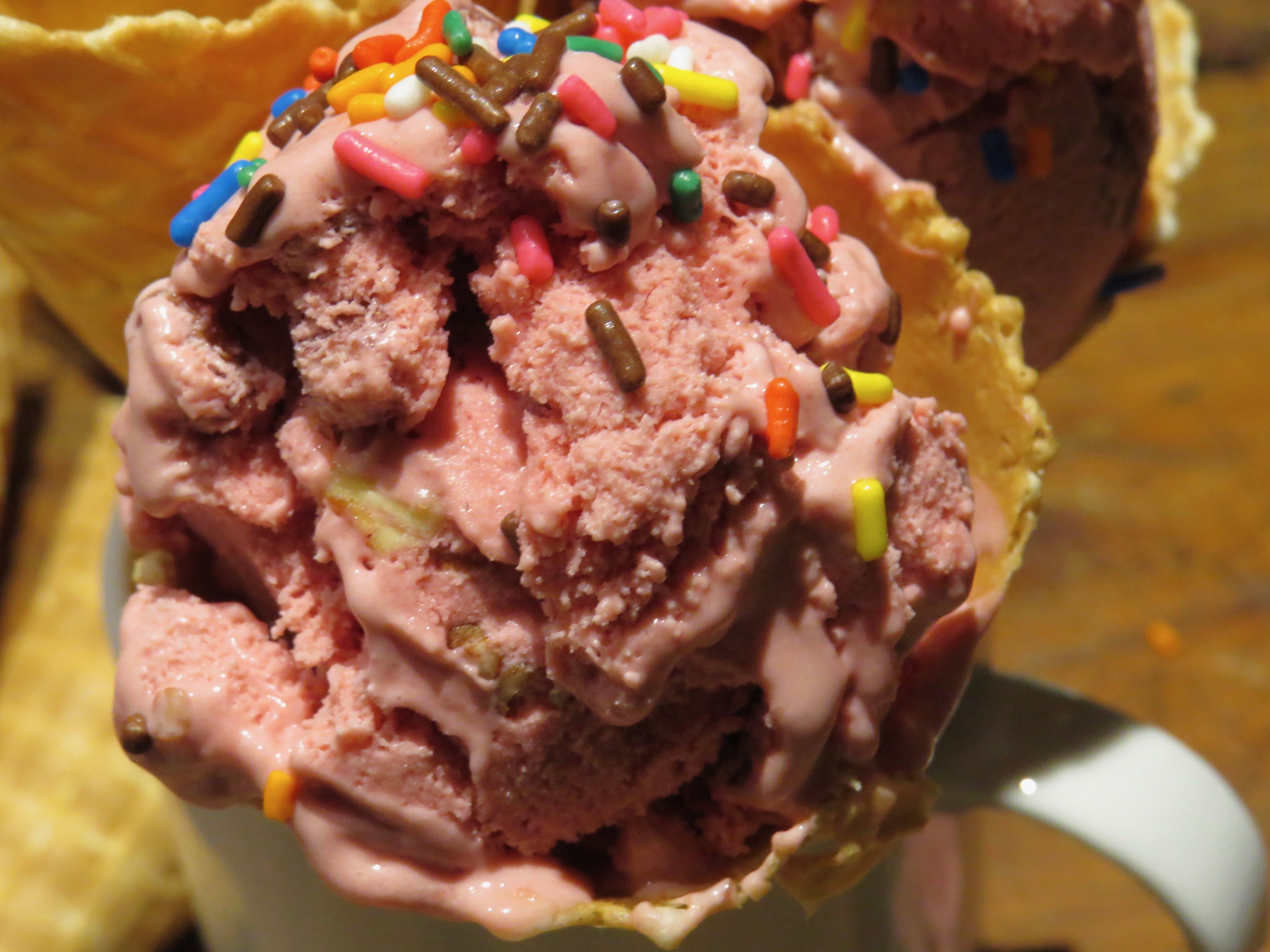 Makes 1 Quart
INGREDIENTS:
1 1/2 cups half-and-half
1 cup sugar
1 1/2 cups heavy cream
4 large egg yolks
1 1/2 cups strained raspberry puree (directions below)
1 tablespoon freshly squeezed lemon juice
DIRECTIONS:
1. Raspberry purée: Purée 6 cups of fresh raspberries or 6 cups of defrosted frozen raspberries in a food processor. Press them through a mesh strainer with a flexible rubber spatula, or use a food mill. Set aside.
2. Pour the cream into a large bowl, set a mesh strainer over the top and set aside.
3. Warm the half-and-half and sugar in a medium-sized saucepan.
4. Whisk together the egg yolks. Slowly pour the warm half and half/sugar mixture into the egg yolks, whisking constantly. Then, scrape the warmed egg yolks mixture back into the saucepan.
5. Stir the mixture constantly over medium heat with a heatproof spatula, scraping the bottom as you stir, until the mixture thickens and coats the spatula.
6. Pour the custard through the strainer and stir it into the cream. Mix in the raspberry puree and lemon juice, then stir until cool over an ice bath.
7. Chill the mixture thoroughly in the refrigerator.
8. Pour it into your ice cream freezer and make it according to the manufacturers directions.
9. After making the ice cream, mix the roasted nuts into the raspberry mixture before placing it into your freezer to harden.