It's been 5 weeks since I arrived in Paris with 2 small suitcases, keys to an Airbnb rental (first time ever) and a blank slate. Albeit unnerving, the onus on me, there's freedom in that. If my friends and family questioned the sanity of this adventure, I didn't know it. That was truly a gift. When I asked them, a time or two or three, "Have I lost my mind?" No one said, "Yes."
I arrived with the wind of their optimistic wishes at my back. This trip has been truly magical. Although I'll wring every ounce of joy possible out of these last few days in Paris, going home is definitely on my radar.
Meanwhile, here's a look at Paris Week #5, best yet.
FRENCH THURSDAY with DORIE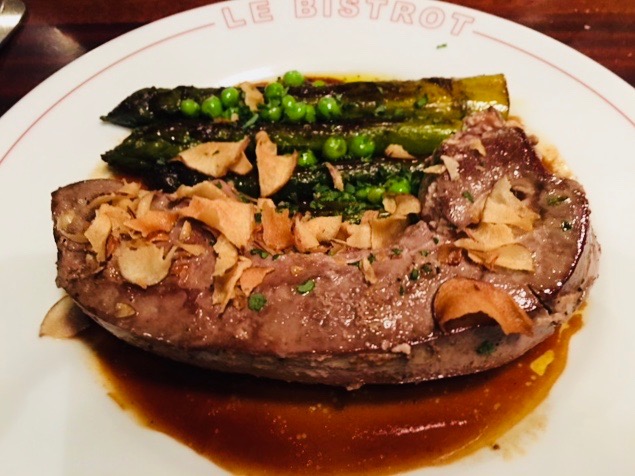 As many of you know, my blog began eight years ago with French Fridays with Dorie, an international group which connected virtually to cook the book, Around my French Table. The cookbook, newly published by the James Beard award-winning author Dorie Greenspan, contained 300 recipes.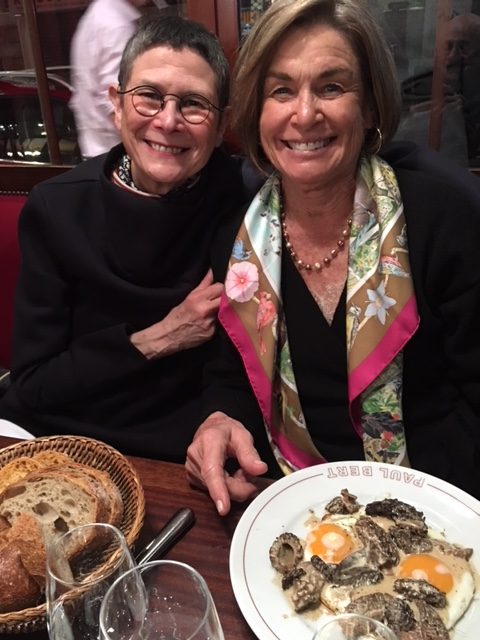 Over the next 5 years, with Dorie's friendship, encouragement and mentoring, we made them all. And we now look forward to cooking from Everyday Dorie, The Way I Cook, which hits the stands October 23.
Dorie and her husband, Michael, who have an apartment in Paris, arrived unexpectedly a week ago and asked me to join them for dinner. (My social calendar, of course, was blank.) Before dinner Michael took me out on their balcony where, starting with the Tour Eiffel and moving left, I could see every major Parisian landmark. I've archived that unforgettable moment.
ANGELINA, MS. BELLE ÉPOQUE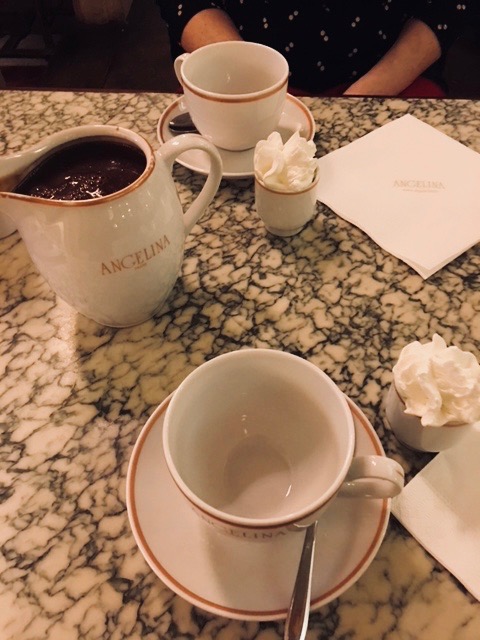 Several weeks ago I enjoyed a memorable dinner at Susanna and Philippe Saint-Loubert's home. Susanna called last week with two questions: 1) Did I like chocolate? (Yes), and 2) Had I been to Angelina's Tea House? (No).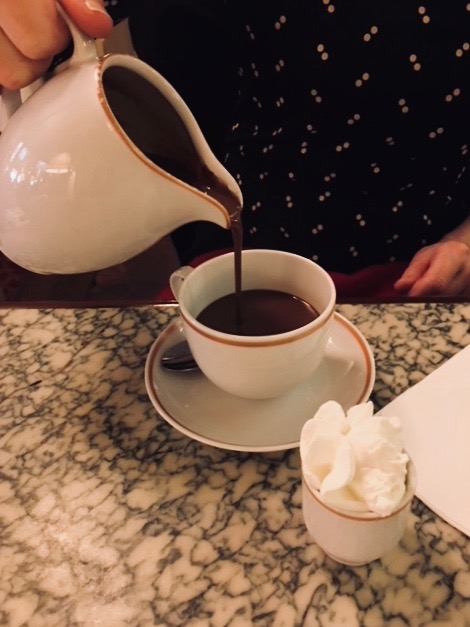 "I know it's touristy, Mary," she admitted, "but you must go once and have their hot chocolate."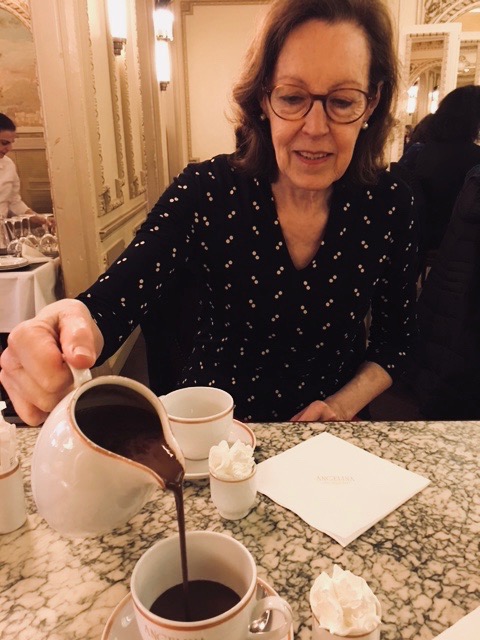 I was game so Saturday we met at the famous Angelina's on Rue de Rivoli. Established in 1903 by Antoine Rumpelmayer and named for his granddaughter, Angelina's is a Parisian institution. It was designed by French architect Édouard-Jean Niermans in the Belle Époque style and retains that gorgeous interior to this day. Its fame derives from its almost pudding-like hot chocolate. We happily piled on the Chantilly cream and enjoyed.
FAMILIAR FACES
This is the week that my home away from home included Aspenites. So thrilled to see them.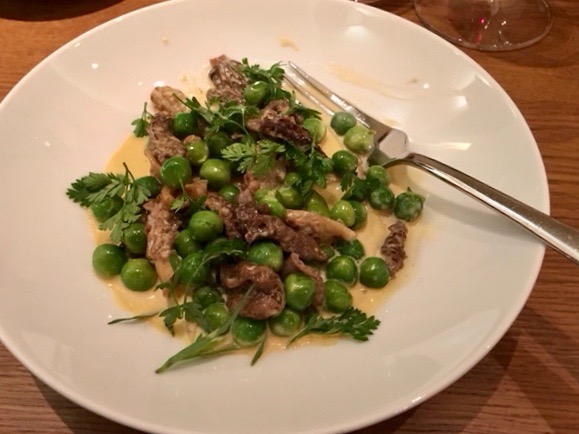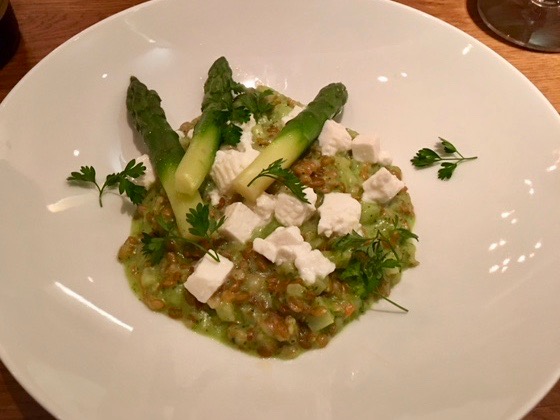 On Sunday Cathy volunteered to take Karen and me on a sightseeing stroll. Karen and I envisioned a 2-3 hour walk especially since Cathy had hip replacement surgery 10 weeks ago. What began at 11:30am didn't end until 5:30pm, 7 miles later. Karen and I staged a sweet sit-in and were rewarded.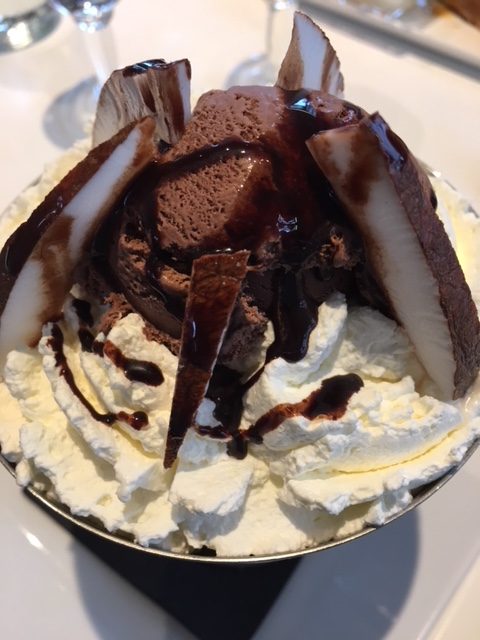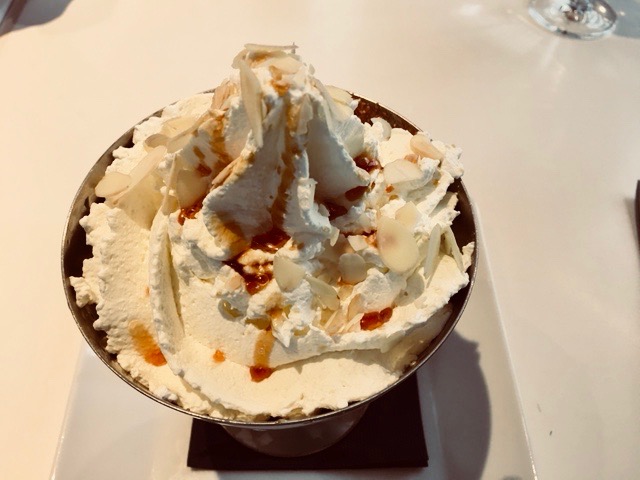 BONSOIR de PARIS.