When I was in second grade my teacher had us raise our hand if we wanted to be a nurse, fireman or fill-in-the-blank, when we grew up. She never asked if anyone wanted to be a juggler. Yet most of our lives have probably been a juggling act. How well do you juggle? These days I'll admit to dropping a ball or two every so often. Is it just me or are the balls coming at us more rapidly?
Each year, returning to Aspen after a 5 month winter absence, I put together a summer schedule. Long ago the school of trial and error taught me having it all is a myth. Balance. To my mind that's what gets us into 'summertime, and the livin' is easy' territory.
Realizing my planning/prioritizing is simpler now because it's just all about me, there still are tricks I find useful to remain sane. Most importantly, if you want to stay off the Meds, learn to manage that FOMO gene. (Do not get discouraged. It took me 30 years to mellow my fear-of-missing-out.) 'You can't ride every wave that comes along without eventually going under.'
Now that I have your attention, try this. Put together a summer calendar and dilute it down to monthly, weekly and daily elements. Don't pass go until you block out your constant Non-Negotiables. (For me, that's 1. My blog post; 2. USFS volunteer ranger work; 3. AM Yoga; and 4. Colorado Mountain College music class.)
Then it's up to us, realizing when we can't do it all. Here's a thought. You are not responsible for others' happiness or saving the world. Sure, do your part, step up to the plate, love your family and be devoted to your friends. But stick to your calendar and prioritize your competing interests. Be willing to step back and say no.
For example, I know the greatest gift of love I can offer my family is to stay healthy, engaged and happy. When my daughter Melissa doesn't worry about her mother, our whole family wins. My four Non-Negotiables push all those buttons.
The brutal honesty of aging enforces new energy boundaries. I'm accepting those borders while kicking and screaming all the way. Ironically, that sometimes is a good thing. Last year, feeling a bit sorry for myself, I complained to my doctor at the end of our appointment that I couldn't keep up with my hiking buddies. My doctor, having just read my excellent health chart, wasn't having it. No sympathy whatsoever. "Try harder," she said, as she left the room.
While you try harder on your 90-day summer calendar, I'll prattle on about Yotam Ottolenghi, his imaginative cookbooks and delicious recipes. The best way to cook Ottolenghi is to read his recipe carefully, break it into parts and decide what can be done easier. For example, in this recipe I bought roasted peppers (Mezzetta Roasted Bell Peppers, Multicolor) and used pre-made pie dough (Pillsbury). Since I made an unexpected quick trip to Phoenix to help a friend, I needed to shorten the process.
Mise en Place, assembling and prepping all your ingredients, is key. Ottolenghi introduced me to unfamiliar spices I didn't own but easily found to purchase. After prepping the ingredients, you'll find his directions clear and easily followed. The result is a
Wow. Check his cookbooks out at your local library.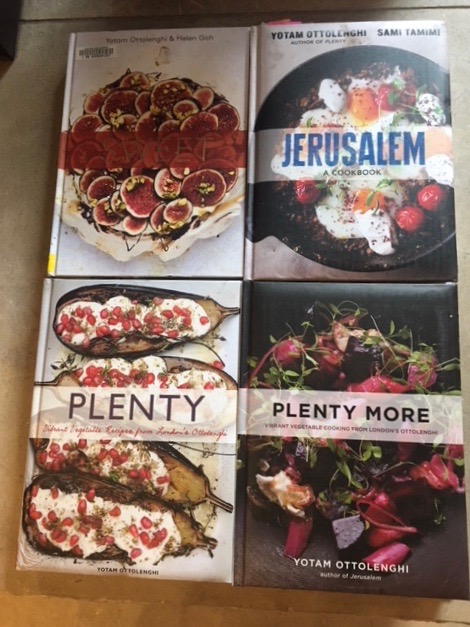 VERY FULL TART by Yotam Ottolenghi, PLENTY
Serves: 4-6
INGREDIENTS:
1 red pepper
1 yellow pepper
6 TBS olive oil
1 medium eggplant cut into 2-inch dice
1 small sweet potato peeled and cut into 1-inch dice
1 zuchinni diced into 2-inch pieces
2 medium onions, thinly sliced
2 bay leaves
salt and pepper
8 thyme sprigs, picked
Your favorite savory tart or pie crust dough recipe
1/3 cup ricotta
41/2 oz feta
7 cherry tomatoes, halved
2 eggs
1 cup heavy cream
DIRECTIONS:
1. Preheat oven to 450 degrees.
2. Remove the pepper stalks and seeds, place the peppers in an oven tray, drizzle with oil and roast.
3. Mix the eggplant with four tablespoons of oil and season with salt and pepper. Spread into an baking tray and roast on the shelf below the peppers.
4. After 12 minutes add the sweet potato, stir and roast for 12 minutes more.
5. Add the zucchini, stir and roast for another 12 minutes.
6. Once the peppers are brown and the vegetables cooked remove them all from the oven and turn the heat down to 325 degrees.
7. Cover the peppers with foil and leave to cool, once cool, peel off the skin and tear the peppers into strips.
8. Meanwhile heat two tablespoons of oil in a frying pan on medium heat. Cook the onions with the bay leaves and some salt for 25 minutes stirring occasionally until brown, soft and sweet. Discard the bay leaves and set aside. (I needed to add another TBS of olive oil.)
9. Grease a 9-inch loose-bottomed tart pan. Roll the pastry to a 1/8 thick circle large enough to line the pan with some overhang. Press it into the edges and line with baking paper and fill with baking weights or rice. Bake blind for 20 minutes, carefully lift out the weights or rice and bake the tart for a further 10 minutes or until golden brown.
10. Remove the tart from the oven and spread the onions over the bottom. Spread the roasted vegetables on top. Scatter half the thyme, dot with chunks of both cheeses and then the tomatoes, cut side up.
11. Whisk the eggs and cream with some salt and pepper and carefully pour into the tart. The top layer of tomatoes and cheese should remain exposed. Scatter the remaining thyme on top.
12. Bake for 35 – 40 minutes, until the filling sets and turns golden.
13. Rest for 10 minutes, release the tart and serve.
TIP: Just add a leafy green salad and this is lunch or supper.
Thanks to the Forbes Magazine's communication council for some organization suggestions