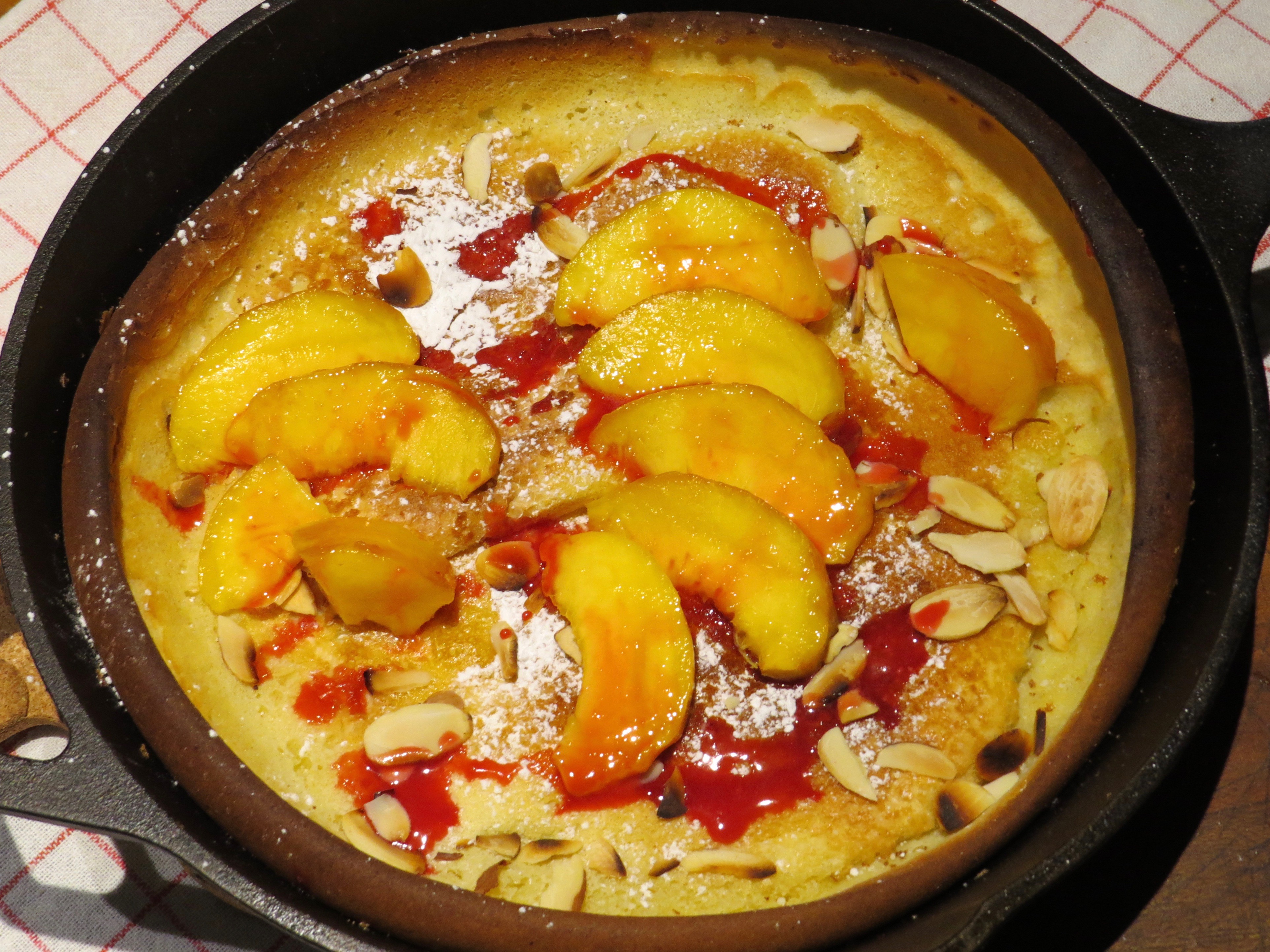 Call me crazy, but I'm wondering if the 24-hour day has declined into 21- sixty minute cycles. The world's in a twirl, spinning a bit faster, can't you tell? If Jupiter can claim ten more moons, bringing its number to 79, I can suggest each day seemingly three hours shorter.
Now this isn't a whine nor am I complaining. Summer has been kind to me. I'm grateful for every moment, relish the opportunities I'm offered and grateful for the many friends who share my passions. While I don't know all you readers personally, I have to believe and hope your hearts beat with that same gladness. However, there's no harm in wishing each day was a bit more elastic, stretching to fit our needs, plans and desires.
FOOD
This week's blog not only features photos fueled by those passions but also gives you a terrific you-can-absolutely-not-fail recipe. It's fun to bake, and can adjust to any scenario – breakfast, lunch, dinner, snack or just because. You'll recognize the "framework" as a Dutch Baby, an American creation of a batter-driven cross between a pancake and a popover.
Although I've made Dutch Babies before, they've always been a bubble off – not enough pouf, too much puff, soggy bottom. For whatever reason, the recipe for this Baby responds to those risks and provides a structure to build your flavor. The recipe is below.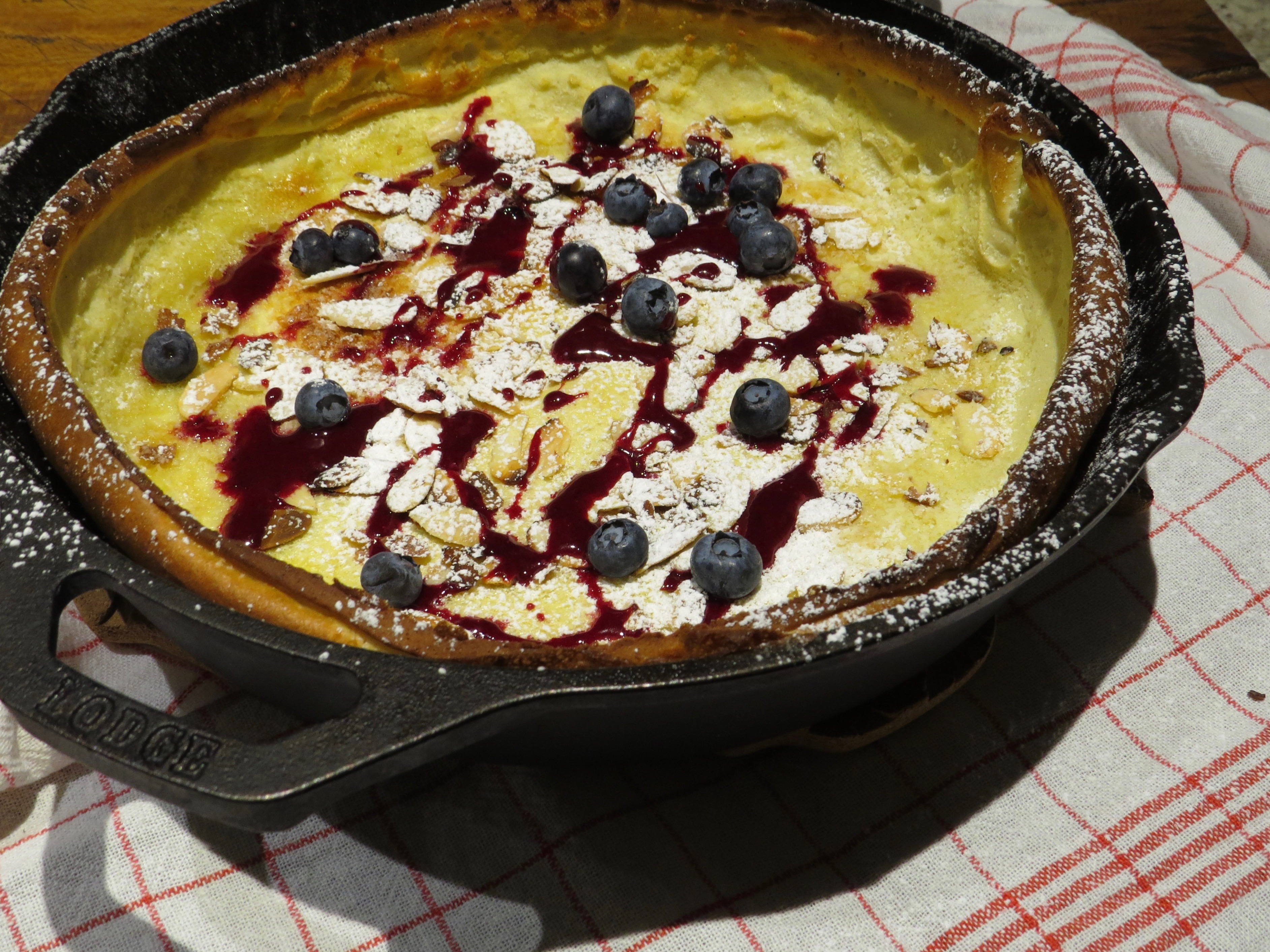 FRIENDS
We moved to the tiny town of Aspen more than thirty years ago and I've been fortunate to collect a wonderful group of friends. Last week Dale Hollinger and I took lunch out to one of my "first" friend's, Frances Ginsberg, who is finally on the road to healthy. It took years of Frances' grit and determination coupled with medicine's miracles to get there. Those smiles are genuine.
For 27 of the past 30 years that Linda and David Stein have summered in Aspen, the "Delta Girls" have been spending a week here each summer. Linda and all these women, who now are scattered throughout the country, worked for Delta Airlines. For many of those years, Luky Seymour, the first person we met after moving to Aspen, and I have been invited to spend an evening with the Delta Girls.
FACTS
The Aspen Insitute, an international nonprofit think tank founded in 1949, is a nonpartisan forum for values-based leadership and the exchange of ideas. This week has been the Aspen Security Forum, an annual affair convened to discuss the key security issues of the day. In the past these forums have been quiet affairs. This year with Dan Coats, director of National Intelligence, Deputy Attorney General Rod Rosenstein and FBI Director Christopher Wray on the docket, it was not. After listening to these men it's my opinion that they are pretty straight shooters who believe in the rule of law and keeping Americans safe. Very reassuring.
FEATHERS
Although we do get some smoke from the fires here in Aspen, our birds seems to be flourishing.
FIRE UPDATE: While all the evacuees of the 6,283-acre Lake Christine fire which was 43% contained returned to their homes, they were cautioned to 'keep their bags packed.' As I write this the fire has flared again in a particularly northern steep section of the backcountry to 8315 acres and forced pre-evacuation notices to down valley residents.
NOTE TO READERS: I understand my Subscriber Button does not subscribe properly. As I work through this issue with my web tech, please contact me at hirs[email protected] if you wish to subscribe and receive my blog.
ALMOND DUTCH BABY adapted from Erin, The Almond Eater.com
You can just sprinkle almonds and powdered sugar on your Dutch baby or you can add any combo of fruit and sauce and even ice cream to the shell.
INGREDIENTS:
Dutch Baby:
2 tbsp butter
1/2 cup all purpose flour
1/2 cup whole milk
2 eggs
1 tsp almond extract
3 tbsp sugar
1/2 tsp salt
1/3 cup of toasted or roasted sliced almonds
Compote: (using blueberries)
1/2 cup frozen blueberries
1 tbsp lemon juice

Glaze/Sauce:
2-3 tbsp blueberry "juice"
1/2 cup powdered sugar
DIRECTIONS:
1.Preheat oven to 450°.
2. While oven is heating, combine all dutch baby ingredients EXCEPT the butter in a blender or food processor and blend until smooth.
3. Once oven is heated, add the butter to a 10″ cast iron or oven-proof skillet and place the skillet in the oven. As soon as the butter has melted, remove the skillet from the oven, brush butter evenly all over the skillet including the sides, then pour the batter into the skillet.
4, Bake dutch baby for approximately 20 minutes, or until it has puffed up and is golden brown on the edges/top.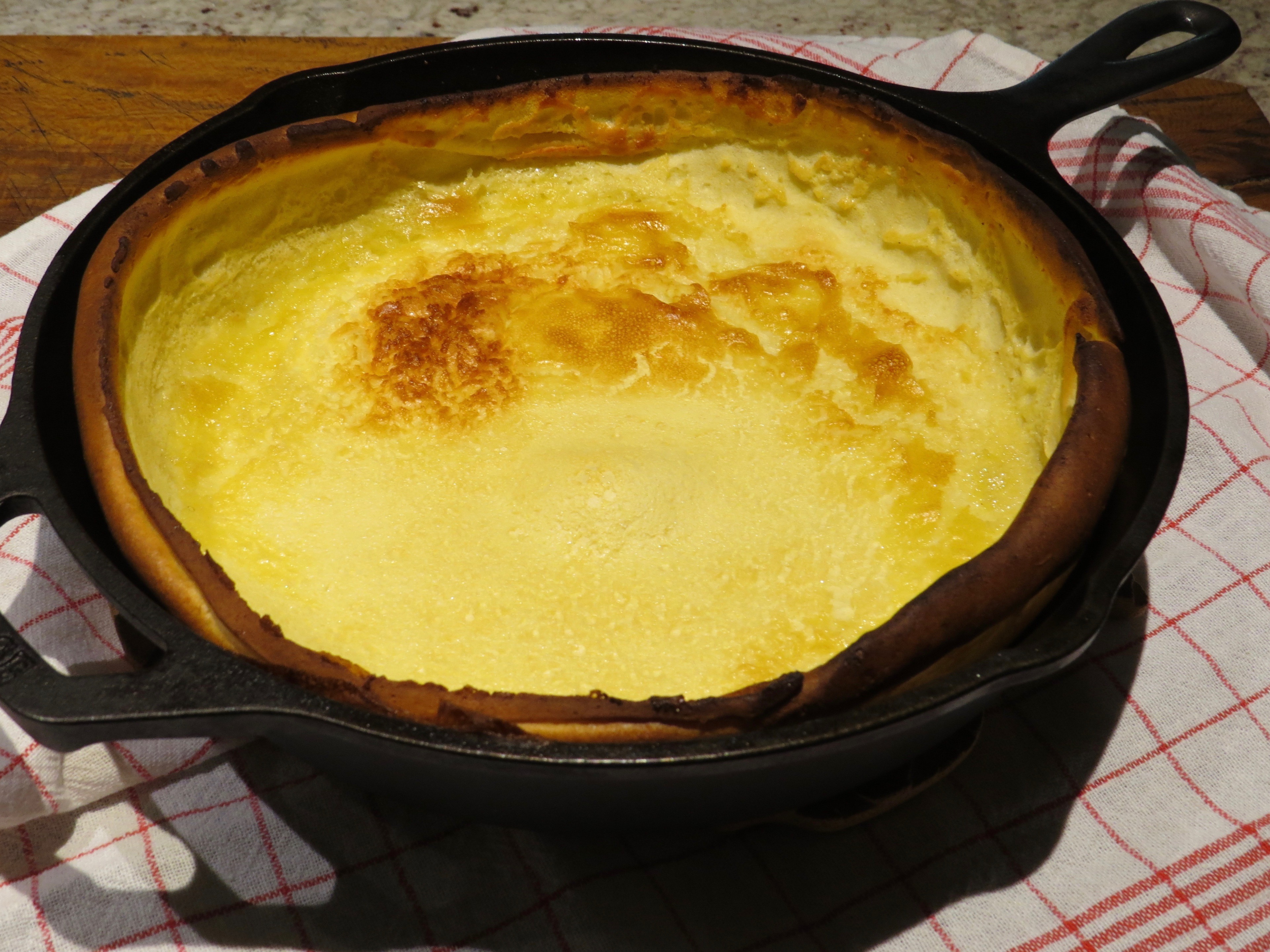 5. While dutch baby is baking, make the compote and glaze/saucesauce. Heat blueberries (of, fruit of your choice) and lemon juice in a small saucepan over medium heat, using a wooden spoon to break down the blueberries. Simmer on low for 5-10 minutes, then pour mixture through a fine mesh strainer, removing any blueberry chunks. You should be left with just the liquid.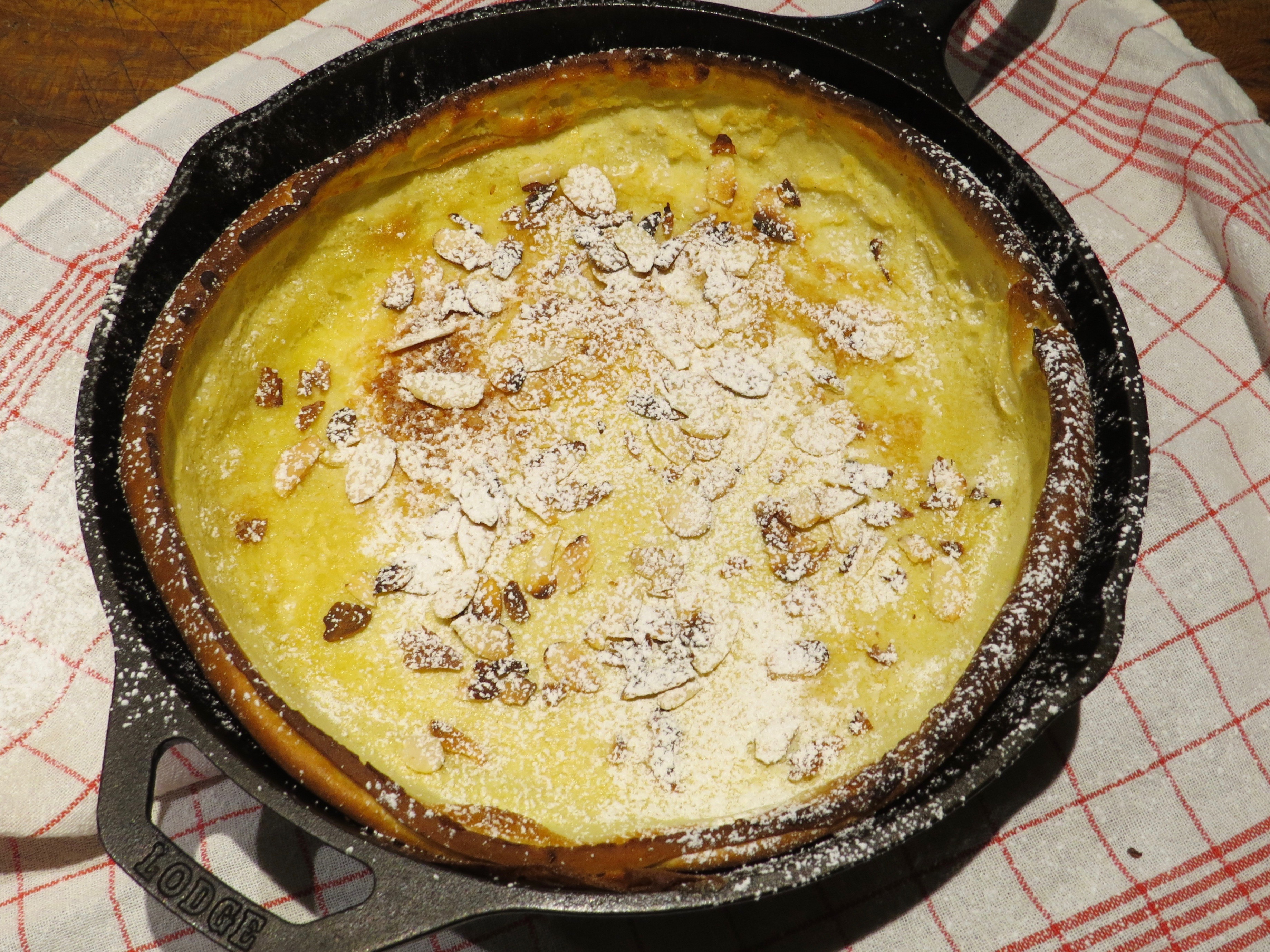 5. For the glaze/sauce, add 2 Tbsp blueberry juice and powdered sugar to a bowl and whisk. If you prefer it to be thinner, add an additional 1 Tbsp blueberry, and if you want it thicker, add 1/4 cup powdered sugar.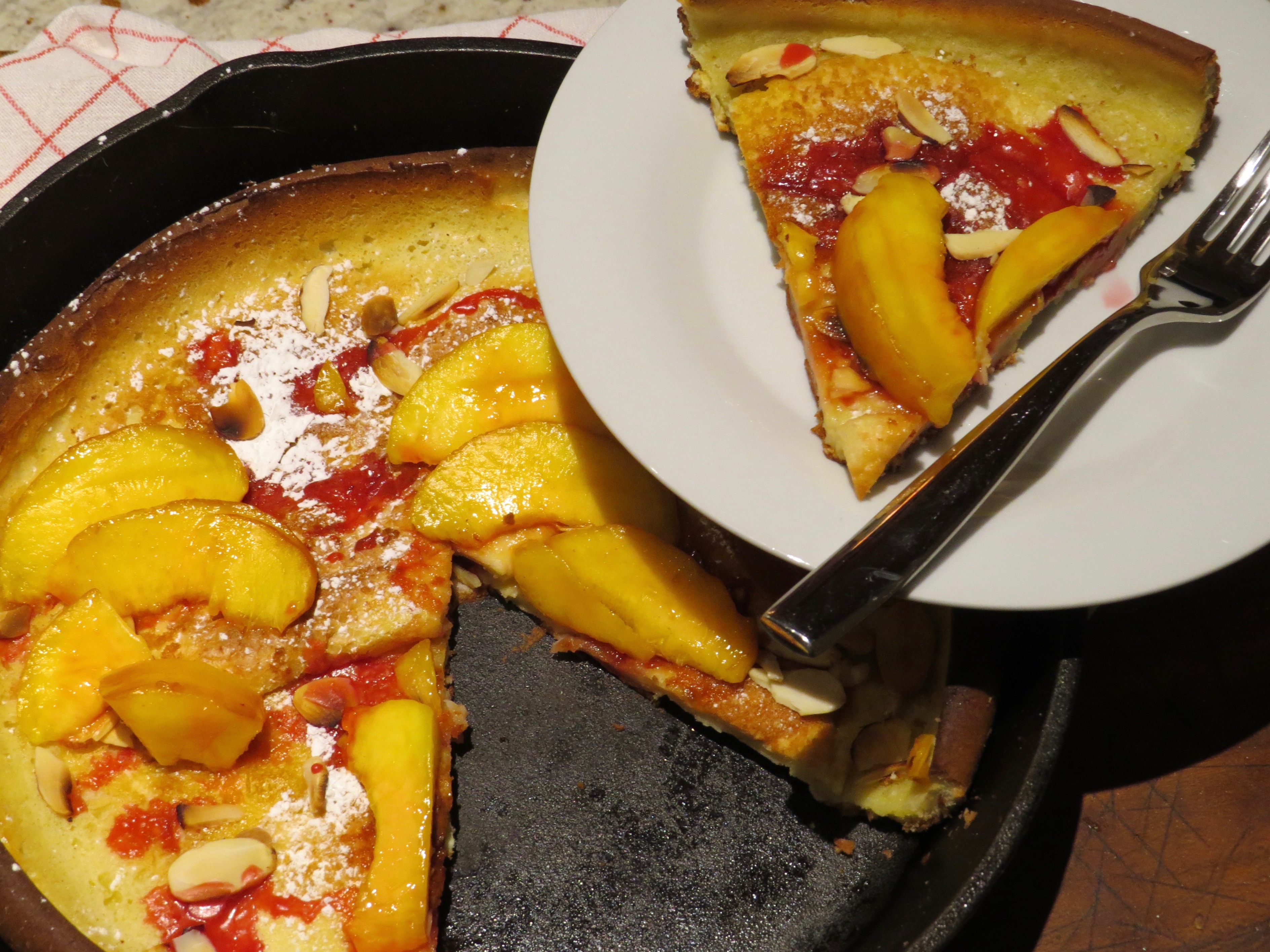 6. After taking the dutch baby out of the oven and letting it cool a bit, sprinkle on powdered sugar and sliced, toasted almonds before adding fruit and glaze/sauce.