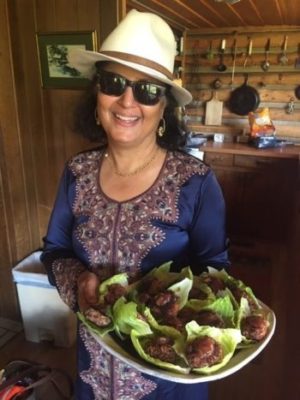 Let's be clear. Blogs are blogs. Power Point Presentations are not. According to my more seriously-minded techie pals, PPP are something else entirely. They are more, well, seriously minded. Humph!
After watching a PPP listing ten potential benefits of them, we seemed almost on the same page. I especially honed in on (1) Broadening visual impact; (2) Improving audience focus; (7) & (8) Building Spontaneity & Interactivity and (10) Increasing Wonder.
Call me crazy but I think it's all about those Bullet Points. This week's post screams for bullet points, emoji style. So let's do it. Give it a read… seriously.
👩‍🍳  GRAND RAPIDS was GRAND
Shortly before Thanksgiving, as usual, I bid farewell to Colorado. While it's a 650-mile drive through Utah and Arizona to Henderson, Nevada, where I'll be for the holidays, it's no chore. The iconic landscapes of sandstone buttes, arches and mesas visible throughout my drive are gloriously breathtaking.
After arriving in Henderson, I grabbed my bag, boarded an Allegiant jet and flew to Michigan. Where. It. Was. Snowing. Gerald Ford's Presidential Library is located in Grand Rapids. His was the last of the thirteen libraries administered by the National Archives for me to visit. It's been a five-year project which has taken me and friends accompanying me to California, Missouri, Kansas, Arkansas, Texas, New York, Massachusetts and Michigan. (Hoover. West Branch, Iowa 1962.)
Suffice it to say, it was thrilling to visit Ford's museum, not only to reach my goal but also because in 1976 I attended the Republican Convention in Kansas City when he was nominated. Even better, the Library's staff supervisor and her cohorts were excited for me.
I am the 75th person to visit all 13 libraries. There were gifts,  an engraved crystal paperweight with a commendation to follow from the Archives. Who knew? Next stop: Chicago, 2020
👩‍🍳 EYE SPY the INTERNATIONAL SPACE STATION
The small white dot you see below is the 360' International Space Station that was launched in 1998. Since Year 2000, 230 astronauts have flown in this habitable artificial satellite. Only the moon and Venus are brighter in the night sky. NASA  has a free App, Spot the Station, showing when it will pass over your location.
During the Thanksgiving holidays, in Bishop with my family, we saw a video of the three ISS astronauts wishing Americans "Happy Thanksgiving."  So our family (three generations)  was ready, willing and looking to return those wishes when the ISS flew over at 6:04 pm last Friday evening.
Melissa spotted it first. Sounds crazy but we hollered and waved. In 1961 I remember Alan Shepherd being the first American to fly into space. He flew 116 miles high before safely returning to earth. The flight lasted 15 ½ minutes. I can only imagine what Clara and Emma will see during their lifetimes. Thanks, Jane Carey, for introducing us to this App.
👩‍🍳 TABBOULEH & the INCREDIBLE LEBANESE BOWL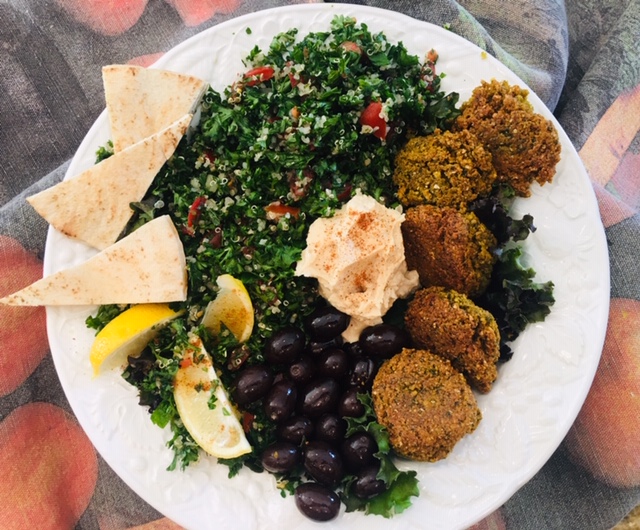 David Lebovitz's idea of Tabbouleh is a 'bowl heaped with fresh herbs, a few tomato chunks, and very, very few bits of bulgur (cracked wheat.)' He's borrowed this recipe, our CooktheBookFridays choice this week, from highly acclaimed Lebanese chef Anissa Helou. David claims it's not only authentic but highly addictive. I agree. Recipe below.
I substituted 1/2 cup cooked Quinoa instead of bulgar to make it gluten-free. Click this Link for the many ways to serve or enhance Tabbouleh.  Using  inspiration provided by the Minimalist Baker, I created this Incredible Lebanese Bowl.
TABBOULEH by Anissa Helou, from A Paris Kitchen cookbook
Serves 8-10
(TIP: This is a large amount of Tabbouleh. I halved the recipe and adjusted the other ingredients to my taste. Even so, I added a 1/2 to 2/3 cup of Quinoa, more than the recipe specified.)
INGREDIENTS:
1/3 – 1/2 cup of fine bulgur (I used Quinoa but any grain will work))
3 medium firm ripe tomatoes, diced into small cubes
2  spring onions or scallions, trimmed and very thinly sliced
14 ounces flat-leaf parsley, most of the stalks discarded, leaves washed and dried
2 cups mint leaves, washed and dried, no stems
1/4 teaspoon ground cinnamon
1/2 teaspoon ground allspice
1/4 teaspoon finely ground black pepper
salt to taste
juice of 1 lemon, or to taste
1/3 to 1/2 cup extra virgin olive oil
DIRECTIONS:
1. Using a grain of your choice, prepare it according to its directions.
2. Put the diced tomatoes in a bowl to drain and set aside while you prepare the herbs.
3. Using a sharp knife, grab as much of the prepped parsley and mint as you can handle in a bunch, and slice them very thin, to end up with nice, crisp slender strips.
4. After draining the tomatoes of their juice, put in a large bowl. Add the spring onion or scallions and herbs.
4. Sprinkle the bulgur all over. Season with the cinnamon, allspice and pepper. Add salt to taste.
5. Add the lemon juice and olive oil and mix well. Taste and adjust the seasonings (you may need more) if necessary.
6. Serve immediately. (I ate this salad for 3 days. Of course, "immediately" is the best.)