Can you handle a How-To List? Realizing you're involved in your own lives, I can hear heavy sighing. Take a deep breath. Grab that leap of faith. Today's post is loaded with gems of wisdom. Lifesavers. For you. And, loved ones.
It's also CooktheBookFridays. Our recipe is Fattoush, David Lebovitz's ingenious salad loaded with 'a jumble of ingredients.' This healthy Middle Eastern dish was the opening act of a recent dinner which included Baked Salmon with Parmesan Herb Crust, Sugar Snap Peas, homemade bread and fresh Blueberry Pie. Get this. The blueberry pie is magical and doesn't seep. No oozing issues.
Let's get started. First, Life on the Safe Side.
Automobiles have never mattered to me. Cars were to go and return. Michael handled the family vehicles. Several years ago the chore became mine. Ignorance is not bliss. My Henderson neighbors helped me purchase cars. The Gant guys showed me how to raise my hood to add window washer fluid. That they did this repeatedly without a smirk, I will always be grateful.
This past winter I took a 5-month solo road trip, traveling 7,500 miles in a 2008 Lexus. My entire trip was accident free, no police encounters and no on-the-road unpleasantness. Chalk that up to first-timer's luck but also preparation and a vehicle that purrs.
My car now matters to me. Since purchasing it I have methodically maintained 5,000-mile maintenance check-ups. Everything that's ever happened to my Lexus is paper-filed in a folder underneath the driver's seat. My Life on the Safe Side List begins with confidence in your transportation. Whether a new or experienced driver, traveling alone or on long road trips with others, here are safety reminders to enhance your ride:
1. Be sure your car is ROAD READY. Check your glove department for up-to-date documents, Swiss Army knife, flashlight, power bar, pen, paper and meds, if necessary.
2. For emergencies, think about buying a AAA 76-Piece Excursion Road Kit (my choice) which includes car and first aid needs. Add a blanket. My hiking backpack includes survival gear.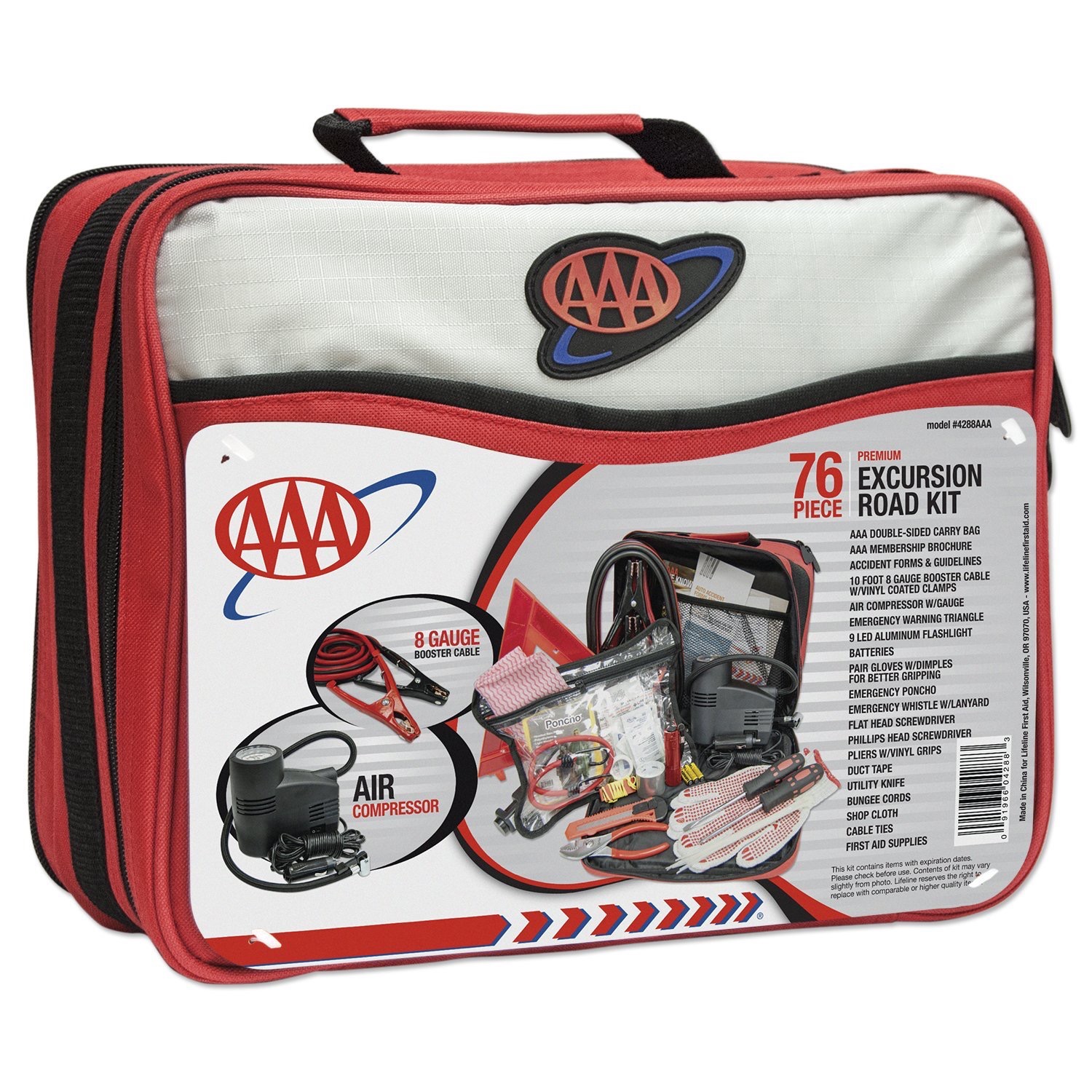 3. Buy a can of Fix a Flat Tire Aerosol. If you are not comfortable with a donut tire, throw a spare in your trunk.
4. Pack water, snacks and foods of choice. A cooler, if you wish.
5. Join AAA or another road assistance program.
6. Wanderlust is romantic but planning and mapping your travel, especially if alone, is responsible. I own a Garmin. I program it, mark a map and also print out directions.
7. AAA's planners helped me plot my presidential library research trips. They will assist with your journey and send you TripTiks, free personalized itinerary books.
8. Two-digit Interstates often go directly through cities. Three-digit Interstates go around them. Odd-numbered highways run north to south and even-numbered ones run east to west. (Go Nomad)
9. If your gas tank is 1/2 full, think about a fill-up. Never go below 1/4. Every night fill your tank, clean your windshield and toss any accumulated trash in your car. Just do it.
10. When driving, lock your car. Fasten your seatbelt. Drive only 5 miles over the speed limit, no more. Do not drink and drive. Not one drop.
11. Charge your cell phone at night and keep a car charger available. If you must text, pull over. When I'm on the road, I text my daughter 3 times a day.
12. I just started checking in with a "Guess where I am now?" cell photo text. Even if she cannot guess the locale, she knows I'm safe.
13. I do not have Satellite radio so entertain myself with Book CD's. The downside is I become too engrossed. On a recent drive, I was fighting the 1781 Siege of Yorktown, pitting George Washington against General Cornwallis, and completely missed an exit. That added 28 additional miles to an already weary day.
14. Don't neglect the many signs noting nearby photo opportunities, historical sites and important places. Every state is proud and touts them. Keep your phone and camera handy for an unexpected adventure.
15. I start early in the morning, about 7 or 8am, and stop in late afternoon. Keep track of pesky time zones. No to night driving.
16. I always have a destination in mind and make reservations. Try to choose motels/hotels in safe, secure locations. Park your car near lights. Rely on the clerk and on-line assistance for restaurant choices.
17. Remember where you park. Whether at a mall, tourist attraction, hotel or parking garage, recognize where you've left your car. Take a picture as a reminder.
18. Notify your credit card companies of your travel plans.
19. Do not overpack (my downfall).
20. This year why not leave your political bumper stickers at home. Especially when traveling alone, you don't want to attract attention nor court comments.
(Thanks to Solo Traveler, Road & Travel and Go Nomad for on-going road trip advice.)
When making this salad, don't leave out the ground sumac, a tart spicy powder used in Middle Eastern cooking. If you can't find it locally order it from Pensey's, The Spice House or other on-line sources.
FATTOUSH by David Lebovitz, My Paris Kitchen cookbook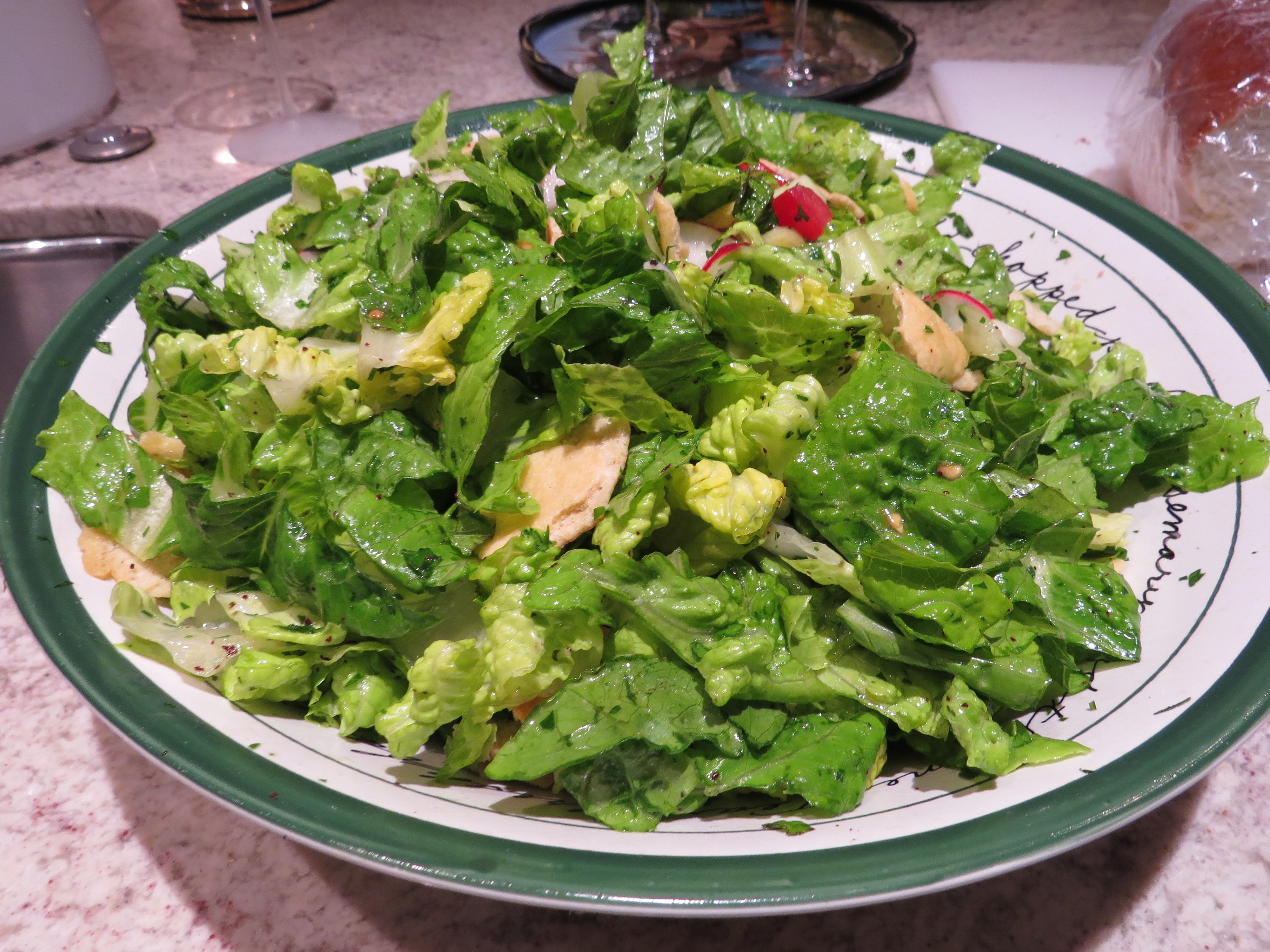 Makes 6 servings
INGREDIENTS:
2 large or 4 small rounds of pita bread
1/2 cup olive oil, plus extra for brushing the pita
1/3 cup freshly-squeezed lemon juice
1 teaspoon sea salt or kosher salt
2 cloves garlic, peeled and minced
1 teaspoon Dijon mustard
8 cups torn or wide-cut ribbons of romaine lettuce
4 scallions, white and tender green parts, thinly sliced
1 cucumber, peeled, seeded and cut into large dice
20 cherry tomatoes, halved
1/2 cup coarsely chopped fresh flat-leaf parsley
1/2 cup coarsely chopped fresh mint
1/2 bunch radishes, thinly sliced
1 1/2 teaspoons ground sumac
Freshly ground black pepper
DIRECTIONS:
1. Pre-heat the oven to 350 degrees.
2. Put the pita breads on a baking sheet, brush them evenly with olive oil, and toast for 10 to 12 minutes or until crisp. Remove from the oven and let cool completely.
3. In a large serving bowl, whisk together the lemon juice, salt, garlic and mustard. Whisk in the 1/2 cup of olive oil.
4. Add the lettuce, scallions, cucumber, tomatoes, parsley, mint and radishes. Toss the salad, adding 1 teaspoon of the sumac and a few generous grinds of pepper.
5. Crumble the pita into irregular pieces that are slightly larger than bite-size and gently toss until the pieces of pita are coated with the dressing. Sprinkle the salad with the remaining 1/2 teaspoon of sumac and serve.
TIP: I only used half of the lemony garlic dressing.
FRESH BLUEBERRY PIE by Rose Levy Beranbaum, from
FOOD52 Genius Recipes cookbook
INGREDIENTS: (little sugar and thickeners are used in the filling)
1 tablespoon egg white, lightly beaten
4 cups blueberries, rinsed and dried
1/2 liquid cup and two tablespoons water, divided
2 tablespoons cornstarch
1/2 cup sugar
2 teaspoons freshly-squeezed lemon juice
Pinch of salt
1 1/2 cups whipped cream or vanilla ice cream (optional)
DIRECTIONS:
The PASTRY
1. Preheat the oven to 425°F at least 20 minutes before baking.
2. Make your crust of choice or buy a pre-made product. Roll the pastry to fit into a pie or tart pan. Cover it loosely and refrigerate for a minimum of 1 hour and a maximum of 24 hours. To bake it, cover with parchment so it fits and fill it with rice or dried beans. Bake for 20 minutes. Carefully lift out the rice or beans with the parchment. With a fork, prick the bottom and sides, and bake 5-10 minutes more, or until the crust is pale golden. Check after 3 minutes and prick any bubbles that may have formed.
3. Cool the crust on a rack for 3 minutes, so it is no longer piping hot, then brush the bottom and sides with the egg white — this will help keep the bottom crust from getting soggy.
The FILLING
1. Measure out 1 cup of the blueberries, choosing the softest ones. Place them in a medium saucepan together with the 1/2 cup water. Cover and bring them to a boil.
2. Meanwhile, in a small bowl, whisk together the cornstarch and the remaining 2 tablespoons of water. Set it aside.
3. When the water and blueberries have come to a boil, lower the heat and simmer, stirring constantly for 3 to 4 minutes or until the blueberries start to burst and the juices begin to thicken. Stirring constantly, add the cornstarch mixture, the sugar, lemon juice, and salt. Simmer for a minute or until the mixture becomes translucent. Immediately remove it from the heat and quickly fold in the remaining 3 cups of blueberries.
4. Spoon the mixture into the baked pie shell and allow to sit at room temperature for at least 2 hours before serving. When set, the berries will remain very juicy but will not flow out of the crust.
5. Serve with whipped or ice cream if desired. This pie can be stored at room temperature for up to 2 days.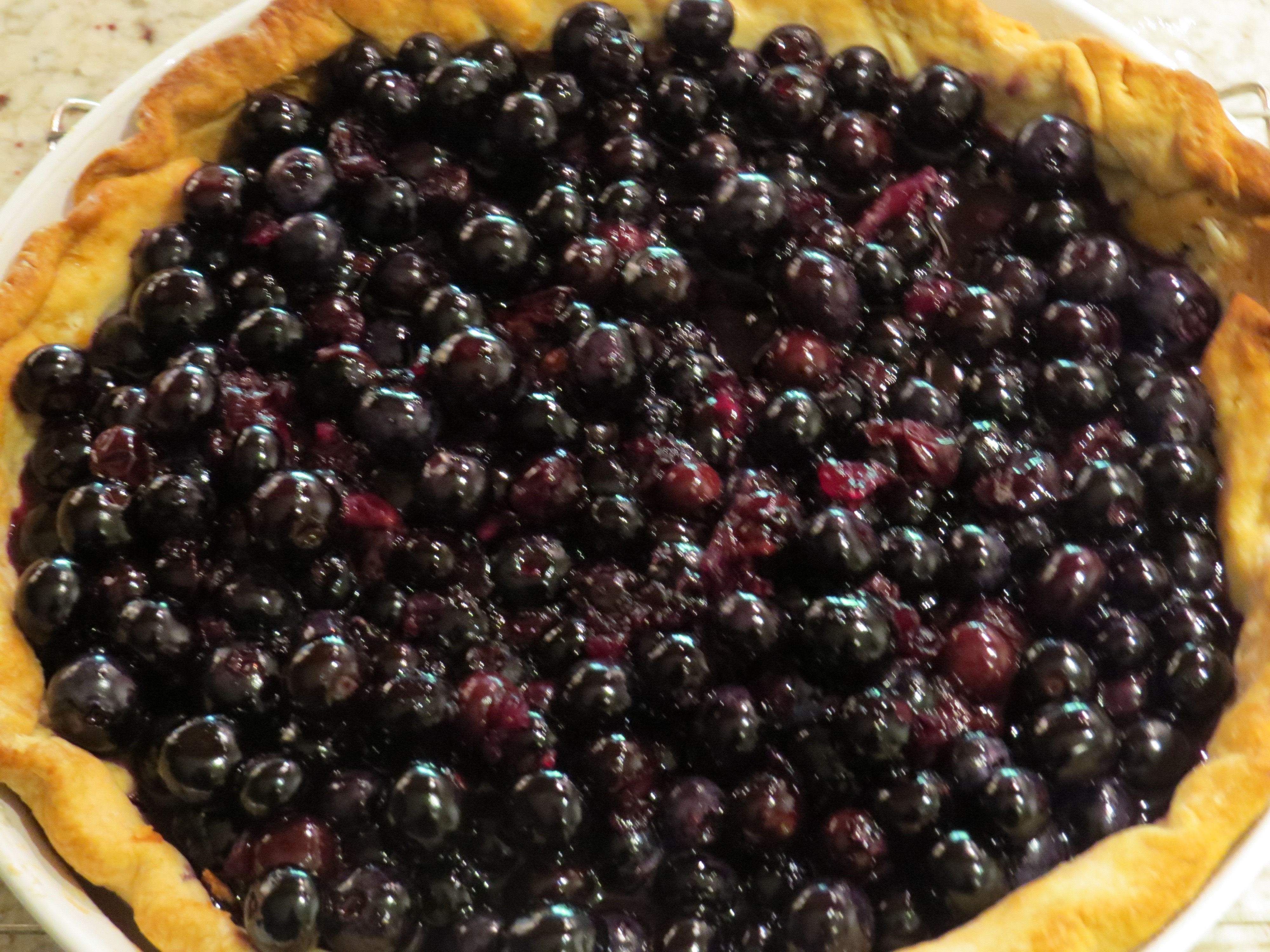 Baked Salmon with Parmesan Herb Crust by Add a Pinch (linked here)
Ida Garten's Sugar Snap Peas (linked here)
CooktheBookFridays is a virtual international group making their way through David Lebovitz's My Paris Kitchen cookbook.To see what others have mixed up this week or to join our group (it's fun), go here.