Ever feel the urge to celebrate, throw a last-minute wine and nibbles soirée? Something, you know, not so fancy-schmanzy. I nominate this week's recipe, Tuna Rillettes, a pâté made from canned tuna, seasoned and combined with fat (creme fraîche), as your star appetizer.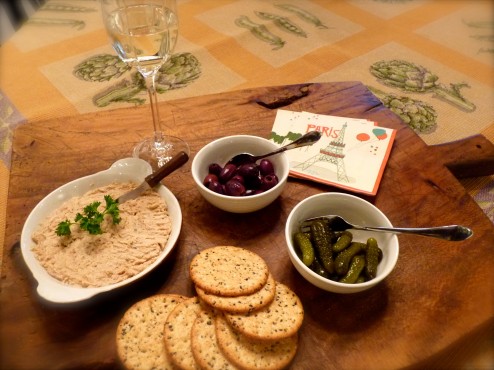 Luckily this French Fridays with Dorie choice dovetailed neatly into what I needed to pull out of my back pocket last night. The past several days I've been in Denver to take a Bells-and-Whistles-Tutorial from Zoe Zuker, the president of the company that redesigned my blog.
Since my new blog went live last month,  Zoe's been in hand-holding mode until I could get to Denver for some hands-on instruction. We've danced through the "Don't panic, Mary," and "I've got your back." routine. When I messed up, she steered me back on track. We each made our punch lists. Ready. Set. Go.
The four hour drive to Denver was dicey. When the Chain Law is in effect for trucks, you know that Vail Pass at 10,662 feet will be ugly. Howling winds provoked the falling snow, creating slippery roads and visibility problems. I turned off my audiobook, tightened my seatbelt, murmured "Blizzaks, don't fail me now," and eventually arrived in the mile-high city.
After that drive, Zoe-instruction seemed like a walk in the ballpark. Go Rockies!
When I arrived home last night, I was bone weary and mentally fatigued but exhilarated by this whole blog accomplishment. I needed to honor that…thus, the party. I would be both the host and the guest of honor.
Are you with me? After throwing my bags on the bed, I took a can of tuna, one shallot and lemon from the pantry. Creme fraîche from the fridge. And, curry powder, allspice, pepper and salt from my spice drawer. I blitzed the ingredients together, transferring the mixture to its serving bowl before slipping it into the fridge for some all-important flavor-blending.
I opened a bottle of Côtes de Paso Blanc from Halter Ranch Winery, dished some cornichons and Kalamatas into bowls and pondered my cracker assortment. Sorta Meh. Aw, well. Cocktail napkins? Check. By the time I changed my clothes, the rillettes was ready. Dorie is spot on. "This is soft, spreadable, and just a tad rich, and it's also quickly made," she says.
As many of you readers know, my blog began three years ago as a tool for me to insert structure, organization and some pleasure back into my Life. If that was the goal, it's been accomplished. Although it seems like yesterday, my husband, Michael, died almost two years ago. Since then, and three self-diagnosed nervous breakdowns and a cancelled trip to Europe later, I've put my Life back together.
In doing that, Lights has taken on a Life of its own. The question I'm now most often asked is, "Where do you want this blog to go? Where are you taking it?"  My answer to that is no answer at all. I'm willing to let this creation of mine lead me.
In the past three years this blog has enriched me with new relationships and experiences, professional and personal. I've had to re-sharpen my writing and cooking skills. The journalist in me can now add embellishment, exaggeration and humor to my stories. It's my blog, after all. And, technically? The phrase, "I'm too old for this, Zoe" is not allowed. If Ms. Zuker can successfully run her own company, she seems to feel she's up to the task of handling me!
My Lights will stay on bright as long as I believe I have something worthwhile and positive to share with you readers. I appreciate beyond words your allowing me to do that. At my last night's party I toasted my blog and myself (first glass of wine). The second toast was to all of you who read it (second glass of wine). And, then I went to bed!
French Fridays with Dorie is an international cooking group working its way through Dorie Greenspan's Around my French Table. You can grab the recipe for your back pocket here.  While I suspect some of my colleagues also enjoyed a glass of vino with this week's recipe, you can check out our FFWD site to see. If you want a wonderfully delicious breakfast, go to Fooducopia in Denver.