Soupe au Pistou is as close to the south of France as one can be without actually sticking a big toe in the Mediterranean. Grab a big dose of imagination, polish up your bonjours and mercis and follow me through a recipe we Americans call Provençal Vegetable Soup. This week French Fridays with Dorie celebrates summer, that glorious few months when Farmers Markets strut their stuff and tout their wares.
Although this soup is jam-packed with vegetables, it's broth is fragrantly light and airy. By itself, it's a light lunch. With a green leafy salad and a warm baguette, it's supper on the patio. If you've grown fond of Rosés, pull out your nicest bottle.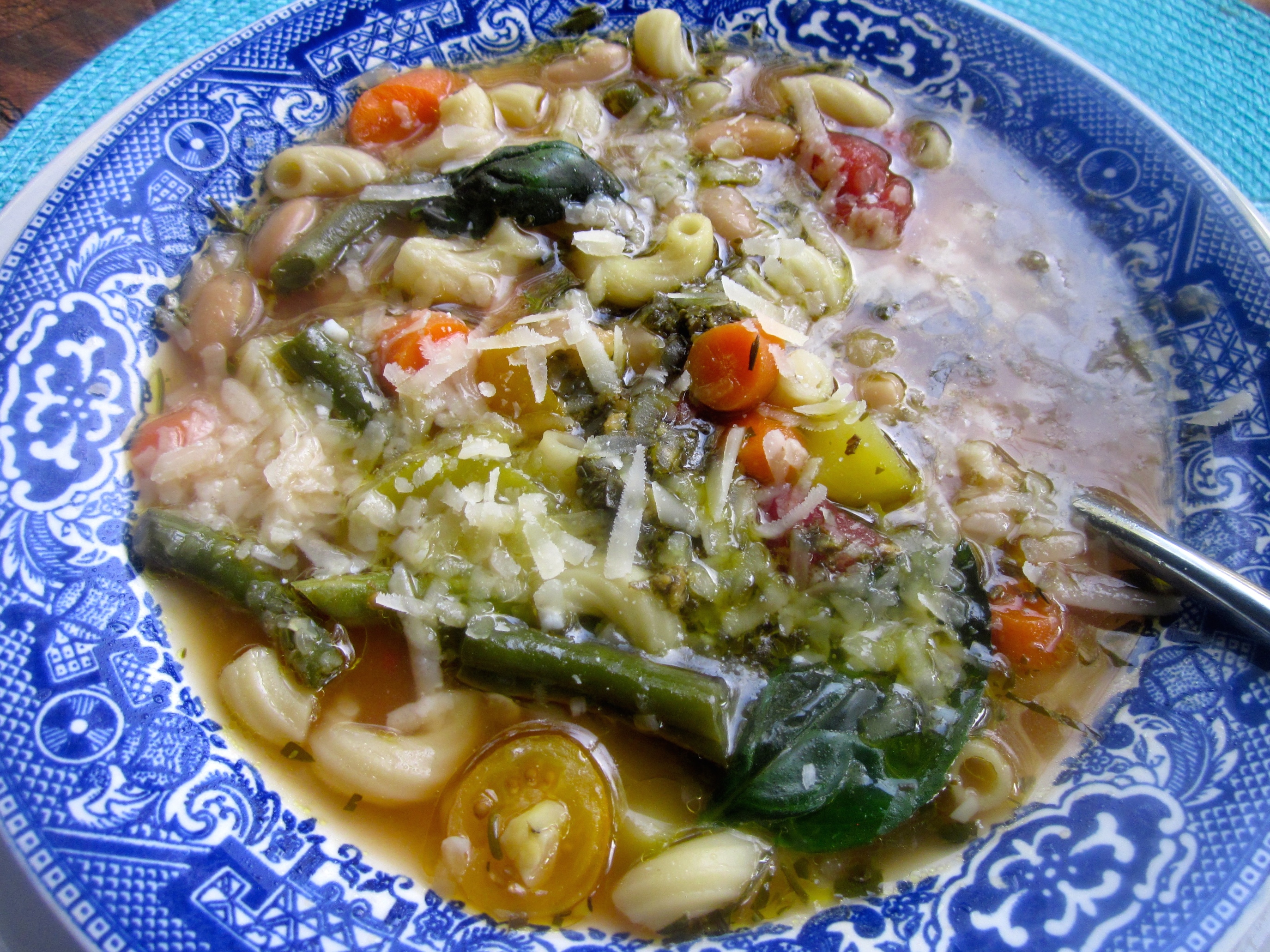 The veggies – carrots, potatoes, green beans, zucchini, tomatoes and corn, onions and garlic – grab the spotlight. Hovering nearby are an abundance of fresh herbs – parsley, thyme, rosemary, basil and bay. Salt. Pepper. Depending on your audience, use vegetable, chicken broth or, water as your moisture base. Dorie's version also includes 1/3 cup of tiny pasta and a can of cannellini beans.
To my mind, what makes this soup très spécial is its lah-de-dah finale. After ladling the liquid into individual bowls, add a healthy dab of basil pesto, drizzle a stream of olive oil over that (not much) and top everything with shredded basil leaves and grated Parmesan. Can't you just visualize those bowls marching out of your kitchen in lockstep with the proud chef?
The most challenging but important preparation in this recipe is adding the vegetables in proper order. Now is the time for Mise en Place – have all your ingredients prepped, lined up and ready to go. Tip One: when making this again, I will eliminate the 1/3 cup of pasta. The pasta becomes soft and mushy after a day or two. Tip Two: it's perfectly acceptable, if you're pressed for time, to buy your pesto in a jar.
This summer I've been eating lunch and dinner on my tiny balcony. It's fun, my mountain view is glorious and, it seemed to me, my Soupe au Pistou just tasted better en plein air. A little white-breasted nuthatch is often working his way down the nearby cottonwood tree and an amazing number of Anna's and Broad-tailed Hummingbirds visit my two feeders everyday. These beautiful little creatures are fascinating to watch, making me laugh. Unfortunately this blissful scenario of joy ended abruptly recently. I've been kicked off my own balcony by a belligerent bully who is 3.75" long, weighs 3.4 grams, has a wingspan of 4.5" and doesn't even speak English.
Last Sunday a male Rufous Hummingbird (now named Rusty) spotted my two nectar-filled feeders and decided to claim the territory. He quickly chased off the others and torpedoed any newcomers who ventured by for a sip. Rusty, who is often caught flashing his iridescent gorget (throat) while vigorously moving his head from side to side, is obviously looking for chicks. The more, the better. He is not a monogamous guy.
Rusty sits in a nearby bush, guarding, what he now claims as his feeders, chasing off those who venture near. That includes Moi. Sometimes there are 5 or 6 hummers circling the feeders with a frenetic Rusty, darting to and fro. The chattering racket and loud wing-beating sounds have become annoying. The paying guests who are renting the condos surrounding mine are very good sports but we're all pulling for Rusty to get lucky, eventually lose interest and move on. The sooner, the better, so peace can be restored at The Gant.
Whether you enjoy your Soupe au Pistou inside or outside, you will find the recipe here. To see what my colleagues cooked up this week, go to our French Fridays link. French Fridays with Dorie is an international cooking group working its way through Dorie Greenspan's Around my French Table.