Cambria, California
This week's French Fridays with Dorie recipe choice is Moules Marinière. It proved to be the perfect anchor to my celebratory feast after settling into my new California digs.
Living in the Colorado Rockies is a privilege, my idea of paradise. But it's that 4-month window of snow, cold temps and icy footpaths that, well, leaves me cold. I learned to ski at Snowmass Mountain in the late '70s and buckled up my last boot in the late '90s when my knees began sassing back at me. This month, after two loopy falls on the ice, I escaped in search of a winter paradise. My first stop was Cambria, a drowsy, seaside village of 6,000 people located on the spectacular central coast and plopped among a native stand of Monterey pines.
It's a good choice and here's why. To my thinking, winter shows off Cambria at its finest. It's off-season, that fleeting moment when locals reclaim their community. Think quiet, quaint and a well-kept secret. But here's the thing, what surrounds this tiny town is just flat-out noisy in the friendliest of ways. Besides a number of migrating species, elephant seals, whales, birds and butterflies, there's a castle to visit and an ocean to enjoy.
Added perks are the vineyards, olive tree farms, goats (think chèvre) and farmers markets. These aren't the vineyards of boxed wine and Two-Buck Chuck.  In fact Wine Enthusiast magazine just named the surrounding Paso Robles area as the 2013 Wine Region of the Year. In all the World!  More than 200 wineries here plant and pick over 40 wine grape varieties. It's also reasonable to assume that marching in lock step with these wine producers is a food culture of  innovative chefs  offering seasonal, farm and ocean-to-table cuisine. For a food writer like me, I've landed in an edible feast of experiences.
In a salute to where I landed, I made this week's FFWD menu a true farm & ocean – to table meal. My  two-pounds of mussels came from Pier 46 Seafood, my favorite fishmonger located in nearby Templeton. To make the mussels, I used Pasolivo Olive Oil made with olives grown on their Paso Robles ranch's 45 acres of trees.
The best baguettes on the central coast are made at Hoppe's Bakery in picturesque Cayugos, a 15-mile trip and soooooo worth the 20-minute drive.  If you stop by at 8am, the baguettes will be warm, the coffee, piping hot, and the almond croissants……… well, you know. I bought out Sarah's basket and delivered two of those beauties, wonderfully warm, to my Realtors, Heidi and Janet. Since those two ladies were already having a prickly morning, the baguettes were welcomed.
For wine, I turned to my favorite vineyard at historic Halter Ranch, and chose, at their suggestion, a fruity-tasting Sauvignon Blanc. Besides pouring superb wine, I am partial to Halter Ranch wines because of its owner, Hansjörg Wyss, a Swiss-born, billionaire businessman who donates generously to various conservation efforts in the Rockies. He also walks the walk at the 960-acre Ranch with its state-of-the art and environmentally-sensitive winery.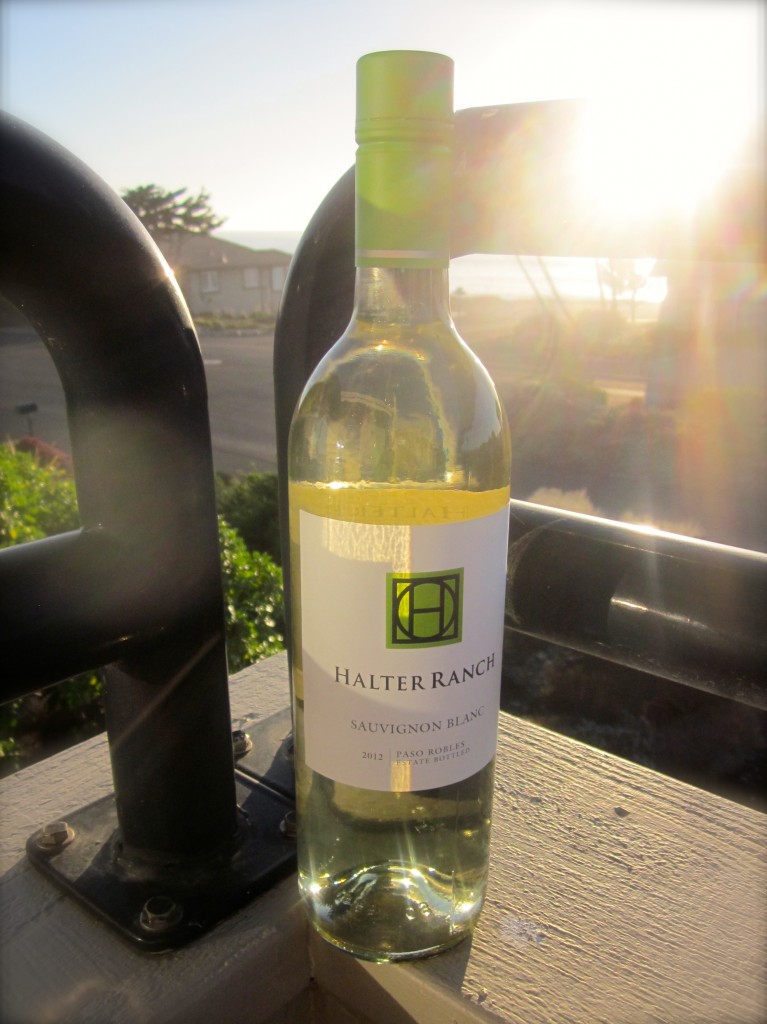 There is no downside to this meal. Chop an onion, 2 shallots and 4 garlic cloves and throw into a Dutch oven filled with a tablespoon or two of olive oil. Toss some salt and pepper into the pot and soften the mixture for 3-5 minutes until it glistens. Pour in a cup of dry white wine with a chicken bouillon cube, springs of thyme, parsley, bay leaf, and lemon zest strips. In another 3 minutes add 2 pounds of mussels. After bringing this to a boil, cover the pot and steam for another 3 minutes or so, until the mussels are opened. Serve immediately with a hot baguette and toasty french fries (mine are from the local Trader Joe's.)
A tip or two. I cranked up the broth's flavoring by doubling Dorie's suggested ingredients portions. What I used for my 2 pounds of mussels, she used for 4 pounds. Also, try this when eating Moules Marinère. Break the shell at its hinge and use one half as a scoop to detach the mussel and spoon it in your mouth. Really, no utensils are needed. As Dorie mentions, "You're talking about an elbows-on-the-table meal and messy fingers." 
To see how these mussels opened for my colleagues, go to our group link here. For this week's recipe, go here. French Friday's with Dorie is an international cooking group working its way through Dorie Greenspan's "Around my French Table, more than 300 recipes from my home to yours."