Who doesn't keep some kernels of wisdom tucked into their hip pocket to pull out when needed. For me, my pocket runneth over with pithy tips. Here are just two:
1. PEOPLE LIKE TO BE THANKED. (My mother) While growing up, I knew whenever someone gave me a gift, a thank you note was to follow and I was going to write it. That has trickled down through three generations. My teenage granddaughters have yet to persuade their mother that e-mails count.
My parents, generous to a fault, were simply teaching me gratitude and appreciation. Ingrained in my DNA is knowledge my father, a kid of the Great Depression,  got to college because of a baseball scholarship. He had no money, an athlete's appetite and was kept fed only through the generosity of a local Catholic family who lived near campus. He never forgot that nor do I.
2. After giving the keynote address at a Seattle food blogging convention and being asked the secret of her success, she replied, "I AlWAYS SAY YES." (Dorie Greenspan)
Several years ago I was sitting in the audience with many of my French Fridays with Dorie blogging colleagues when Dorie answered this question. It was a shocker for me because I had always believed there was great value and discipline in being able to say, "No."
This was an uncomfortable moment. Having just lost a husband who suffered through an unforgiving disease for eight years, I was trying to redefine my Life. Dorie, who I had grown to admire and respect, was suggesting my "rules of engagement," might need tweaking.
You know what I did, Readers? I began to tweak, deciding to keep the good guys, Strength and Resilience, while shelving the more negative "No."  By paying attention I soon realized the charismatic Dorie's "Yes," is more a compromising Getting-to-Yes. Now that philosophy was explained in the innovative 2011 book "Getting to Yes: Negotiating Agreement Without Giving In."  Ironically Dorie's built her phenomenal 40-year career by saying, "Yes," but left it to authors Fisher, Ury and Patton to write a book explaining it.
That's why we're here today. Seven years ago, merci to an Oprah's article, I joined French Fridays with Dorie, an international group devoted to cooking through Dorie's Around My French Table cookbook. Many of you subscribers know my oft-repeated story about connecting to this group and committing to a weekly blogging schedule. That provided me with structure and a social community, props to re-build a lifestyle.
Our FFWD group retired two years ago, after cooking 300 recipes together. Some of us continued blogging. Many pursued other interests. The one thing we did, however, was keep in touch with each other. We clearly could not break up the group. Nor did we want to lose touch with our Dorie, the author of 13 cookbooks, winner of five James Beard and two IACP Cookbooks of the Year awards, who had showered us with interest and support.
When Dr. Katie Baillargeon, a FFWD alum and administrator of our Cook the Book Fridays blog, discovered Dorie was writing another cookbook, she asked if we could cook through it like before. Dorie was delighted. As were we. Can you hear the drumrolls? This is our first post from her amazing new "Everyday Dorie, The Way I Cook."  Gougères are a classic French appetizer. We chose this recipe because Gougères were the first recipe we posted from AMFT in 2010.
Readers, I promise you are going to love this new adventure showcasing Dorie's recipes. Yes. Yes. Yes.
RECIPE
MY NEWEST GOUGÈRES
 by Dorie Greenspan, Everyday Dorie, The Way I Cook
Makes about 60 gougères
From Dorie: "Gougères are French cheese puffs based on a classic dough called pâte à choux (the dough used for cream puffs). It's a testament to their goodness that I'm still crazy about them after all these years and after all the thousands that I've made. Twenty or so years ago, when my husband and I moved to Paris, I decided that Gougères would be the nibble I'd have ready for guests when they visited. Regulars chez moi have come to expect them."
INGREDIENTS:
1⁄2 cup whole milk
1⁄2 cup water
1 stick (4 ounces) unsalted butter, cut into 4 pieces
11⁄4 teaspoons fine sea salt
1 cup all-purpose flour
4 large eggs, at room temperature
1 large egg white, at room temperature
2 teaspoons Dijon mustard (preferably French)
2 cups coarsely grated cheese, such as Comté, Gruyère and/or sharp cheddar
2⁄3 cup walnuts or pecans, lightly toasted and chopped
DIRECTIONS: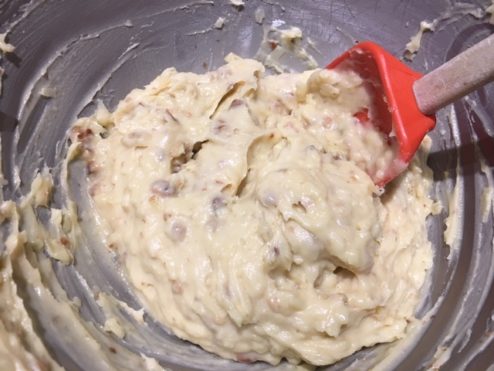 From Dorie: My secret to being able to serve guests gougères on short notice is to keep them in the freezer, ready to bake. Scoop the puffs, freeze them on a parchment-lined baking sheet or cutting board and then pack them airtight. You can bake them straight from the oven. Just give them a couple more minutes of heat.

1.Position the racks to divide the oven into thirds and preheat it to 425 degrees F. Line two baking sheets with parchment paper or silicone baking mats.
2. Bring the milk, water, butter and salt to a boil over high heat in a medium saucepan. Add the flour all at once, lower the heat and immediately start stirring energetically with a heavy spoon or whisk. The dough will form a ball and there'll be a light film on the bottom of the pan. Keep stirring for another 2 minutes or so to dry the dough. Dry dough will make puffy puffs.
3. Turn the dough into the bowl of a mixer fitted with the paddle attachment (or work by hand with a wooden spoon and elbow grease). Let the dough sit for a minute, then add the eggs one by one, followed by the white, beating until each egg is incorporated before adding the next. The dough may look as though it's separating or falling apart but just keep working. By the time the white goes in, the dough will be beautiful. Beat in the mustard, followed by the cheese and the walnuts. Give the dough a last mix-through by hand.
4. Scoop or spoon out the dough, using a small cookie scoop (11⁄2 teaspoons). If you'd like larger puffs, shape them with a tablespoon or medium-size cookie scoop. Drop the dough onto the lined baking sheets, leaving about 2 inches between each mound. (The dough can be scooped and frozen on baking sheets at this point.)
5. Slide the baking sheets into the oven and immediately turn the oven temperature down to 375 degrees F.
6. Bake for 12 minutes, then rotate the pans from front
to back and top to bottom. Continue baking until the Gougères are puffed, golden and firm enough to pick up, another 15 to 20 minutes. Serve immediately—these are best directly from the oven.
S T O R I N G: The puffs are best soon after they come out of the oven and nice (if flatter) at room temperature that same day. If you want to keep baked puffs, freeze them and then reheat them in a 350-degree-F oven for a few minutes.
Excerpted from Everyday Dorie © 2018 by Dorie Greenspan. Photography © 2018 by Ellen Silverman. Reproduced by permission of Rux Martin Books/Houghton Mifflin Harcourt. All rights reserved.