Last summer when we finished cooking through Dorie Greenspan's Around My French Table, I seriously considered signing off. The major reasons I began LightsonBright. as I've often said, were not only to bring structure to a chaotic time but also to chronicle the journey of rebuilding a life. Besides completing the cookbook, I also felt I'd accomplished my task and brought order, stability and balance to myself. I was unsure if I had anything left to say.
Okay, hold on. I already know that with that last sentence many of my dear friends who loyally read my post every week just fell on the floor laughing. Now get up, compose yourselves and let's be serious.
The conclusion I finally reached is that this lifestyle I've structured will never again be as orderly or constant as it was for most of our 25-year marriage. It will invariably need tweaking. Compromises will be required and trade-offs made. Michael was the guy who kept my playing field level, always steady-eddy, unruffled and calm. I've had to jump into those voids plus all others now to keep the Hirsch household humming.
So, surprising as it may be, perhaps I have more to say! It's also true that I eat well because of this blog. Why mess with that? Since February 2011, I've tried a new recipe every week. Hits and Misses. The two recipes for this week, Radicchio with Pine Nuts, Currants, and Aged Balsamic and Roasted Acorn Squash with Garlic Butter and Burrata are definite HITS.
What I know for sure is if I wasn't writing this blog, that wouldn't happen. I love to cook but who really enjoys the alone part of mealtime? For me, cooking has become purposeful. That's why it works. This whole blog thing brings me Joy. My web host provider who sends me weekly e-mail updates on site visits reported last week's post climbed to a 4-year high for Hits. Clunk my head with the Joy Bar.
About those tweaks. My December Galapagos trip is still a GO although I've hit a snag with the swimming/snorkeling challenge. I've nailed the snorkeling (thanks Carol Kurt) but learning to swim may be more difficult. Last Monday the local newspaper reported that our INDOOR community pool is closed for renovation. Say what? I was all set to move indoors and learn to stay afloat. Not happening: Snorkeling, check; Wetsuit, check; Floaty, available onboard the Integrity; Swimming, progress halted. Whether I succeed or not, I think I am brave to try.
Last December was snowy, cold and icy in Aspen. Perfect for this skiing resort community but I found myself wary of driving or falling. A broken hip and my life changes forever. While accidents can happen anywhere, I am gaming Mother Nature by leaving Aspen earlier, at Thanksgiving and returning later, in May. It's Plan A and I'll be telling you all about my upcoming adventures. As my daughter, Melissa, my wingwoman for the past 12 eventful years, always reminds me, "If Plan A doesn't work, Mom, we'll go to Plan B or C." (Love that Lady.)
This week's recipes are too simple, require too few ingredients and are too delicious. Radicchio with Pine Nuts, Currants and Aged Balsamic is another favorite from Jody Williams' Buvette cookbook. Radicchio, which is a leaf chicory, has a bitter and spicy taste but mellows in the oven. That's what happens here. We braise it in olive oil and water, making it soft and supple. After then adding roasted pine nuts, currants and balsamic, it's good to go.
It's squash season. Tell me something better than Roasted Acorn Squash with Garlic Butter and Burrata by Food & Wine magazine's Chef Dave Beran. According to The Kitchn blog, 'Burrata cheese takes the mozzarella one step further — it's mozzarella that's formed into a pouch and then filled with soft, stringy curd and cream.'

While Chef Beran insists it is 'fantastic with a lush Chardonnay', I found it quite tasty with an Octoberfest beer.
ROASTED ACORN SQUASH with GARLIC BUTTER and BURRATA, adapted from Chef Dave Beran, Food & Wine magazine
YIELD: Serves Four

INGREDIENTS:
4 tablespoons unsalted butter, melted
1 tablespoon minced shallot
1 garlic clove, minced
1/2 teaspoon thyme leaves
Kosher salt
Pepper
Two 1 1/2-pound acorn squash, halved lengthwise, seeds discarded
2 tablespoons extra-virgin olive oil
1 tablespoon aged balsamic vinegar
4 cups baby greens (2 ounces)
1/4 small red onion, thinly sliced and rinsed under cold water
One 1/2-pound ball of burrata
Cracked black pepper, for garnish
Flaky sea salt, for garnish
INSTRUCTIONS:
1. Preheat the oven to 425°. In a bowl, combine the butter, shallot, garlic and thyme. Season with salt and pepper. Season the squash halves with salt and pepper also and set on a foil-lined baking sheet. Drizzle with the garlic butter and roast for about 30 minutes, until the squash is golden and tender.
2. While the squash is roasting,in a bowl, whisk the oil and vinegar and season with salt and pepper. Add the baby greens and red onion and toss to coat.
3. Cut the burrata into 4 pieces.
4. After the squash has roasted 30 minutes, place each burrata piece on the squash half as pictured. Slide carefully under a broiler for between 1-2 minutes to soften and toast it. Watch this process carefully.
5. Top each squash half with salad, as pictured and moving the slightly-melted cheese a bit if necessary. Garnish with cracked pepper and sea salt, serve warm and pass extra salad greens.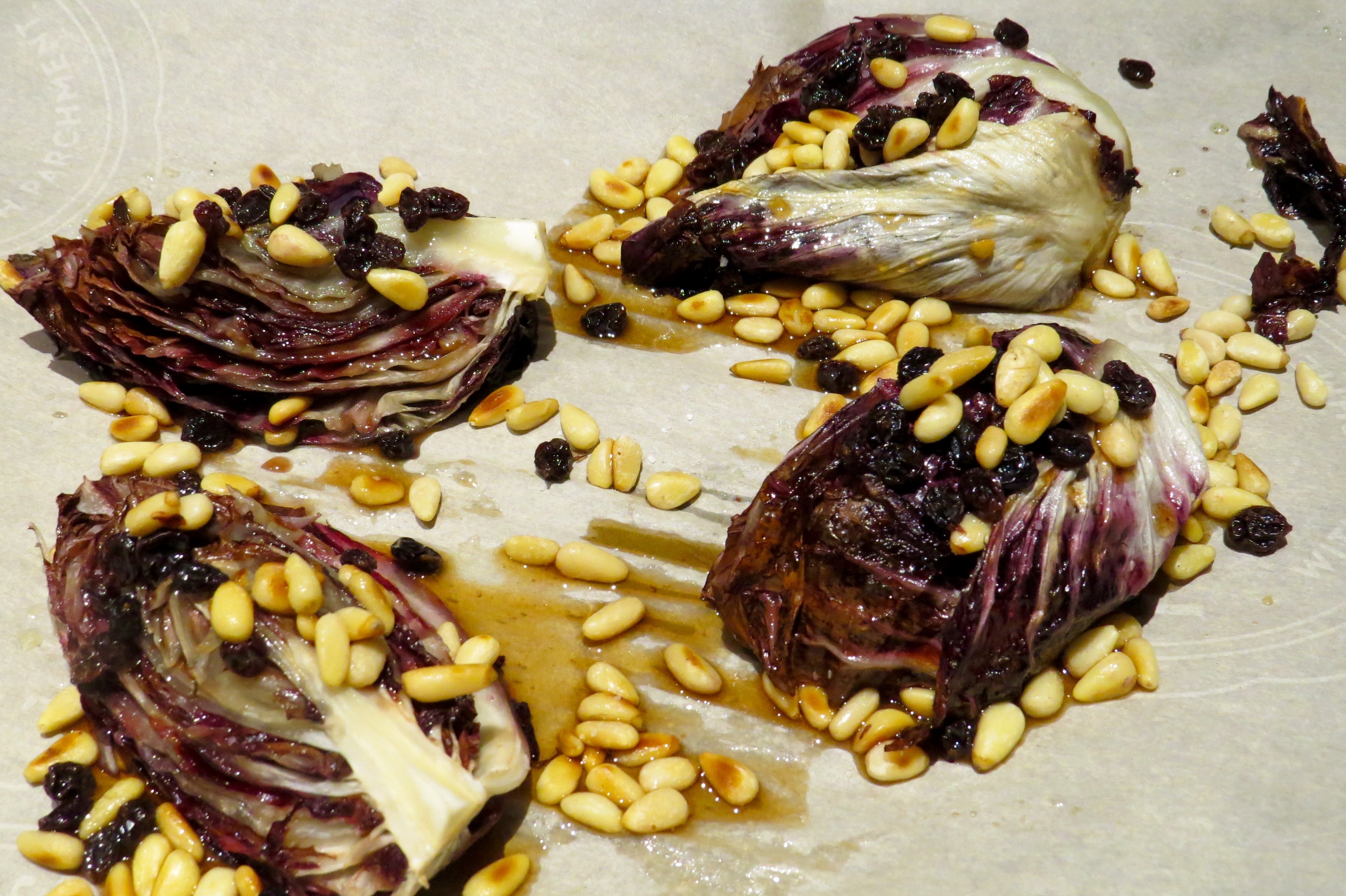 RADICCHIO with PINE NUTS, CURRANTS, and AGED BALSAMIC, by Jody Williams, Buvette, The Pleasure of Good Food
YIELD: Serves 4
INGREDIENTS:
2 small heads radicchio
¼ cup extra-virgin olive oil
¼ cup water
Coarse salt
2 tablespoons toasted pine nuts
2 tablespoons currants
1 tablespoon good-quality aged balsamic vinegar
Balsamic Vinegar Glaze (optional)
DIRECTIONS:
1.Preheat the oven to 450°F.
2. Quarter each radicchio lengthwise. Be sure to leave the cores intact so that you end up with wedges that are held together at the base.
3. Place the radicchio wedges in a roasting dish or a skillet, anything that will hold them in an even layer and that can go into the oven. Drizzle with the olive oil and pour in the water. Tightly cover the dish with a lid or aluminum foil and roast in the oven until tender when pierced with a paring knife, about 20 minutes.
4. While the radicchio is braising, put the currants in the 1 tablespoon (or, slightly more) of balsamic vinegar to plump.
5. Toast the pine nuts.
6. (Optional) When the radicchio is cooked, I also put it under the broiler for 2 minutes for an ever-so-slightly charred effect.
7. Transfer the radicchio to a serving dish and sprinkle with a large pinch of salt. Scatter the pine nuts and balsamic vinegar/currants mix over the radicchio, and drizzle with a tiny amount of glaze if you wish.
8. Serve warm or at room temperature.