Admit it. I can read your mind. You don't need another insanely tasty granola recipe. Because…1) Granola, not a fave food choice; 2) Already have an insanely tasty granola recipe; or, 3) It's an easy purchase at your market.
I plead guilty to #3. Have you counted the various granola cereals on sale at your market? (My answer, "Yes.") When you next visit your grocery store, notice the length of your cereal, bread or tomato products aisle. Here's a statistic. The bread aisle in a Kansas City Walmart Superstore is 45 feet long and 7 shelves high. I know that because Father Jonathan, my Episcopalian priest, mentioned that factoid in last week's sermon. He was suggesting we may be spoiled by too many choices. Ya think?
That's why I felt honor bound to share this recipe with you. Because…1) This granola is a guaranteed palate-pleaser; 2) This may become your only killer granola recipe; and, 3) Here's a one-choice, healthier, preservative-free, sweet and savory granola.
Olive Oil & Maple Granola was created by Nekisia Davis of Early Bird Foods. It's a chosen recipe from Food52 Genius Recipes, 100 Recipes That Will Change The Way You Cook. Since receiving this fabulous cookbook, I've made several thumbs-up, successful recipes. Here's how the writers describe Davis' granola. "Olive oil, maple, brown sugar and salt form a rich, shaggy crust on a wholesome mix of oats, pecans, coconut shards, and various seeds. It leans sweet but olive oil gives it a savory backbone and salt keeps it from being cloying."
I could name-drop, mentioning the famous people swearing by Davis' product or the three Michelin star restaurant that sends every diner home with a jar of this goodness. But since the recipe is posted below, I challenge you to purchase what ingredients are not in your pantry and stir a batch together. If you can stir, you can do Olive Oil & Maple Granola. I've also suggested many variations, riffs on this recipe, experiments dependent on your taste and your pantry.
Life, yours and mine, is also about choices, isn't it? Last week I read "Out of the Woods, A Memoir of Wayfinding" by Lynn Darling. This memoir is about a woman, a writer, a widow who's just sent her only child to college. Although she lived in Manhattan throughout her adult life, she feels lost. So she buys a ramshackle cabin in a remote area in Vermont to find herself. She names her digs Castle Dismal.
Darling is a beautiful writer. She has profound thoughts and observations but, to my mind, she's a woman who was into suffering. That she chose to do this in an uncomfortable environment devoid of friends and family was a choice I wouldn't have made. I'm not about piling suffering on top of suffering.
Life is loss. That's just a sad fact. How we deal with these losses is the difference between residing in Castle Dismal or Castle Joy. I credit my family for steering me towards Castle Joy. Following Michael's death, in their many "just checking in" phone calls and messages, the advice from my daughter, Melissa, and my brother and sister-in-law was always the same. "This is your time now, Mary," my brother's wife, Janie, would say. "You do exactly what you want to do."
Seriously, those three were broken records. Always the same. Never, "Do this. Do that. You should. You shouldn't. Go here. Go there."

Please understand, like all families, there was a subliminal message in those words. It was "Make good choices." Nevertheless, their advice was liberating for me. Remember the Marlo Thomas song, Free to Be Me?
Fortunately my choices during the past three years have worked brilliantly. Thoreau 'went to the woods in order to live deliberately, to pare life down to its essential facts.' I returned to the mountains not only because it was my home but to follow my passions. Cambria, California, was a fortunate stroke of serendipity. Luckily, a wintertime Castle Joy. Since Henderson, Nevada, where we last lived, lies directly between, I can still hold tightly to those who were so good to Michael and me in the most meaningful eight years of my life.
No one is more aware than I that tomorrow this comfortable rug of contentment could be snatched out from under me. Then I will make other choices. As for now, I'm standing in my Castle Joy kitchen and urging you to make this granola!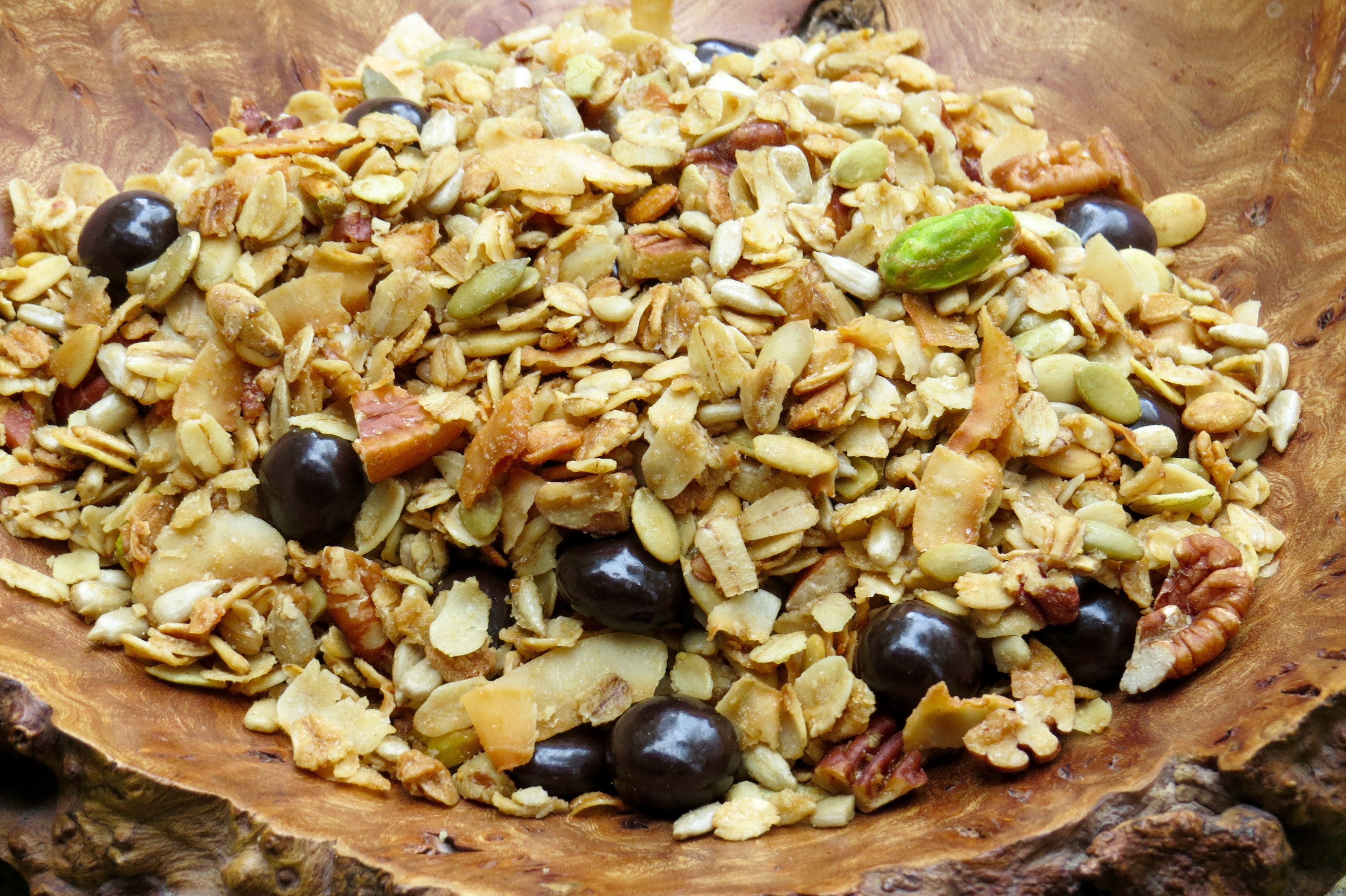 OLIVE OIL & MAPLE GRANOLA by NEKISIA DAVIS, a FOOD52 GENIUS RECIPE
MAKES ABOUT 7 CUPS
INGREDIENTS
3 cups old-fashioned rolled oats
1 cup hulled raw pumpkin seeds
1 cup hulled raw sunflower seeds
1 cup unsweetened coconut chips or natural coconut flakes
1 1/4 cup raw pecans, left whole or coarsely chopped
3/4 cup pure maple syrup
1/2 cup extra-virgin olive oil
1/2 cup packed light-brown sugar
Coarse salt (Do NOT skip the salt.)
DIRECTIONS
1. Heat oven to 300° F.
2. Place oats, pumpkin seeds, sunflower seeds, coconut, pecans, syrup, olive oil, sugar, and 1 teaspoon salt in a large bowl and mix until well combined. Spread granola mixture in an even layer on a rimmed baking sheet. Transfer to oven and bake, stirring every 10 to 15 minutes, until granola is toasted, about 45 minutes.
3. Remove granola from oven and season with more salt to taste. Let cool completely before serving or storing in an airtight container for up to 1 month.
TIPS: If you prefer your granola to be clumpy, stir in 4 beaten egg whites before placing in the oven. I added pistachios to my granola.
VARIATIONS: Any seeds (flax, sesame, toasted wheat germ) or nuts (almonds, walnuts, cashews, hazelnuts, pistachios) or dried fruit (dates, cherries, cranraisins, candied ginger or banana chips) or spice combos can be substituted in this recipe. The olive oil, maple syrup, and salt trio is key.