The Japanese word, Tokimeku, means joy. I'm 100% fully committed to joy. Raise your hand if you're for joy. Good show. Let's move on. This week my life's been about finding magic. Japanese author Marie Kondo has sold over 3 million copies of her book claiming that one's life improves dramatically, the joy thing, just by tidying up. Her bestseller is entitled "The Life-Changing Magic of Tidying Up."
Constrained by my depleted book-buying budget, I resisted. What could this decluttering manual teach me? We'd moved from a 4500 sq. ft. home (Iowa) to 3400' (Colorado) to 2000' (Nevada) to the 940 sq. ft. condo where I now reside. I consider my tidying up credentials unchallengeable. Still, had 3 million readers already gleaned a nugget I hadn't learned? I stopped by our library only to find 133 others patrons had placed Kondo's book on reserve. I bought the book.
Her KonMari Method, massive de-cluttering, has its allure. Having always Leaned In to order, organization and having my ducks in a row, I was still able to add tidying tools to my bucket. (For you, I've made a List.) First, however, I must share what I've made in my tidied up kitchen this week.
Besides cookbooks, I often turn to food bloggers for inspiration and ideas. I needed a salad for our church pot luck so I asked Chris at The Cafe Sucre & Farine for suggestions. Chris, who creates amazing salads, suggested Israeli Couscous (Pearl Pasta) and Roasted Butternut Squash Salad. Perfect. Although we received 4 inches of snow in the mountains this week, I'm still thinking Autumn. Every Fall I bake a seasonal go-to bundt cake…over and over again. I linked to Liz Berg's This Skinny Chick Can Bake blog and spotted an Apple Ginger Bundt Cake. Mmmm
I'm a squash nut – soup, salads, side dishes. This pretty salad's ideal, hot (dinner), room temperature (lunch), or cold, (leftovers). It comes together easily. Think progression party. Yum for Liz's Apple Ginger Bundt Cake which pushes all the right taste buds. Buttermilk not only keeps this cake moist and tender, it also adds little fat. The flavor punch comes from apple and crystalized ginger with streusel providing the razzle-dazzle. Both recipes are below.
While cooking, I de-cluttered my kitchen. Although Kondo suggests we go cold turkey, 'organizing your space thoroughly, completely, in one go,' I went rogue. My Lifestyle and 'in one go' aren't compatible. She suggests we talk to our belongings! Yes, a conversation. Readers: be alert to the possibility of her 3 million readers jabbering to their possessions. For example, "This is the routine I follow every day when I return from work," she says. "First, I unlock the door and announce to my house, "I'm home!" Picking up the pair of shoes left out in the entranceway, I say, 'Thank you for your hard work,' and put them away."
While this seems odd to me, maintaining a running conversation with your home's objects, I'm not tossing the idea. After all, she's the best-selling author. I'm not. That's why I immediately began a relationship with my hiking boots. Pulling on my boots this week, I whispered, "We're going hiking. Please keep me safe." After hauling myself up and down the mountain, I acknowledged my boots, "Thank you for your hard work."
I draw the line with the boots, however, strange but weirdly comforting. Two years ago, by necessity rather than choice, I let go of most of my belongings. It still astounds me how easily I rebounded from that purging. Kondo's book may be bizarre in its approach but she's obviously inspired a growing less is more obsession. If you are into Life-Changing Magic (and, why not), here are my takeaways:
1. De-clutter Alone. Friends and family muddle-up the magic.
2. Tidy by Category, not room. Start with simple stuff, books, clothes, dishes and kitchen equipment, before tackling papers and sentimental tugs.
3. Vertical Storage. While I'll utilize the efficient KonMari folding method when storing clothes, I'm ambivalent about going totally vertical. Kondo stores her carrots by standing them in the drink holders of her refrigerator's door. Seriously?
4. Shoeboxes. Shoeboxes. Shoeboxes.
5. Isabella Beeton, Book of Household Management, 1861, wrote there 'is a place for everything and everything in its place'. Today Kondo's made it her gold-plated tidy mantra.
6. Here are Chrissy Halton's "101 Items to Get Rid of Without Regret," this week's Life-Changing Magic Assignment.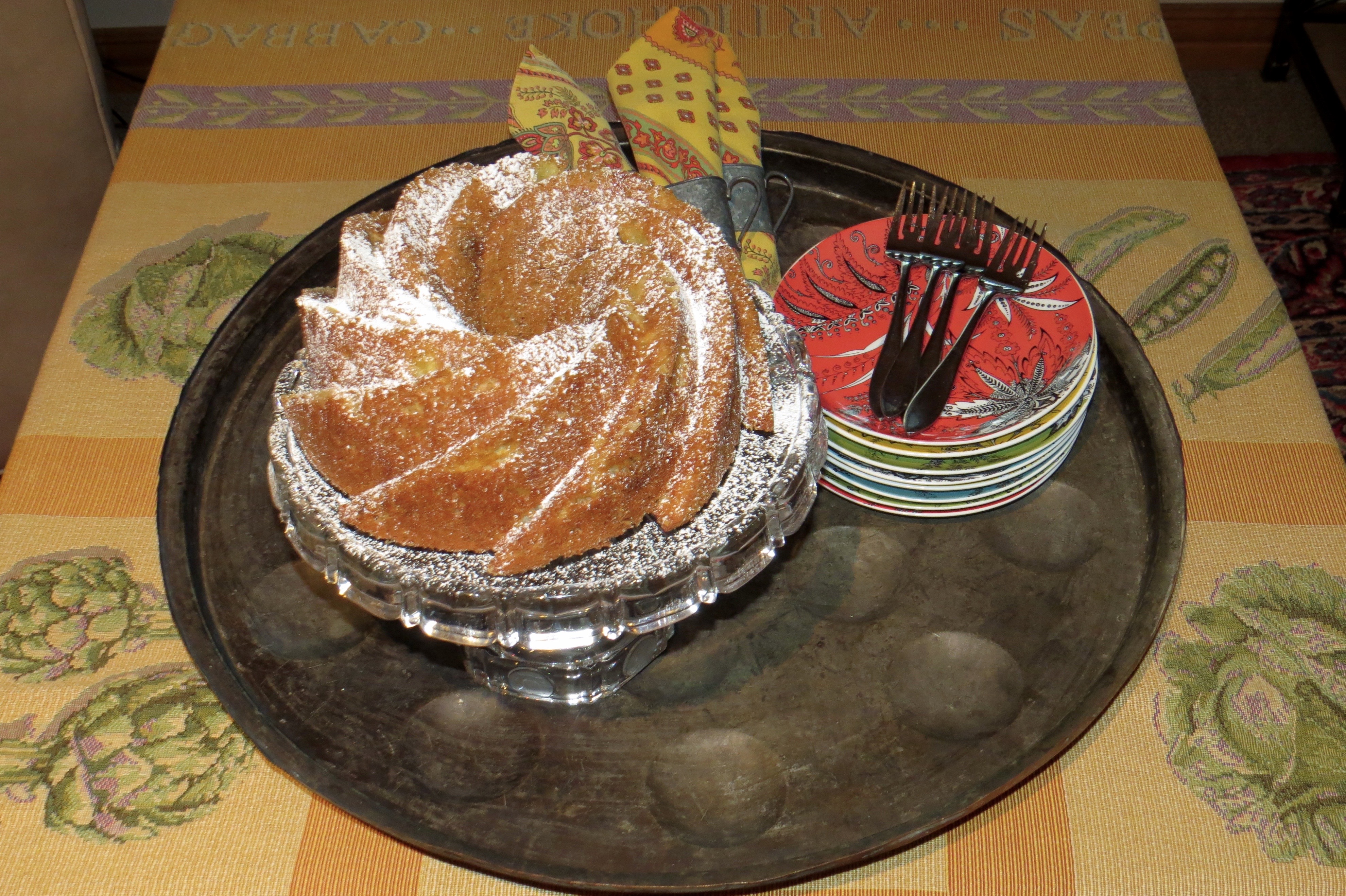 APPLE GINGER BUNDT CAKE, Thanks to Liz Berg, That Skinny Chick Can Bake
Serves 8-10
INGREDIENTS:
Streusel:
⅓ packed cup brown sugar
¾ tsp. ground ginger
¼ tsp. ground cinnamon
3 Tbs. all-purpose flour
¼ cup cold, unsalted butter
⅓ cup finely chopped walnuts
Cake:
10-1/4 oz. (2-1/4 cups) all-purpose flour
½ tsp. ground ginger
1/4 tsp. ground nutmeg
1 tsp. baking powder
1 tsp. baking soda
½ tsp. salt
¼ cup finely chopped crystallized ginger
6 Tbs. unsalted butter, at room temperature
¾ cup firmly packed dark brown sugar
½ cup sugar
2 tsp. vanilla extract
3 large eggs, room temperature
1-1/4 cups buttermilk
1 medium Granny Smith or Golden Delicious apple, cored and chopped coarsely
Confectioners' sugar for dusting
DIRECTIONS:
1. Heat the oven to 350°F. Butter and flour a 10-cup bundt pan and set aside.
2. For the streusel, blend the brown sugar, ginger, cinnamon, flour, and butter with your fingers or a pastry blender until the mixture resembles large breadcrumbs. Mix in the walnuts and refrigerate until ready to use.
3. For the cake, sift together the flour, ground ginger, nutmeg, baking powder, baking soda, and salt into a large bowl. Stir in the crystallized ginger and set aside. In a large mixing bowl, beat the butter with an electric mixer until light and fluffy.
4. Gradually add the sugars, continuing to beat until very light. Add the vanilla and then the eggs one at a time, beating each one in well before adding the next. Alternately stir in the flour and the buttermilk, until the batter is just mixed. Don't over beat or your cake will be tough. Gently stir in the chopped apple.
5. Pour half the batter into the prepared pan. Sprinkle with a third of the streusel. Pour in the remaining batter and top with the remaining streusel. (The streusel will sink a little during baking to make a swirl.)
6. Bake until the top of the cake is firm (a skewer inserted in the center should come out clean), about 40 to 45 min. Cool for 15 min. in the pan on a wire rack. Invert the cake onto a serving platter, dust with confectioners' sugar, and serve slightly warm or at room temperature.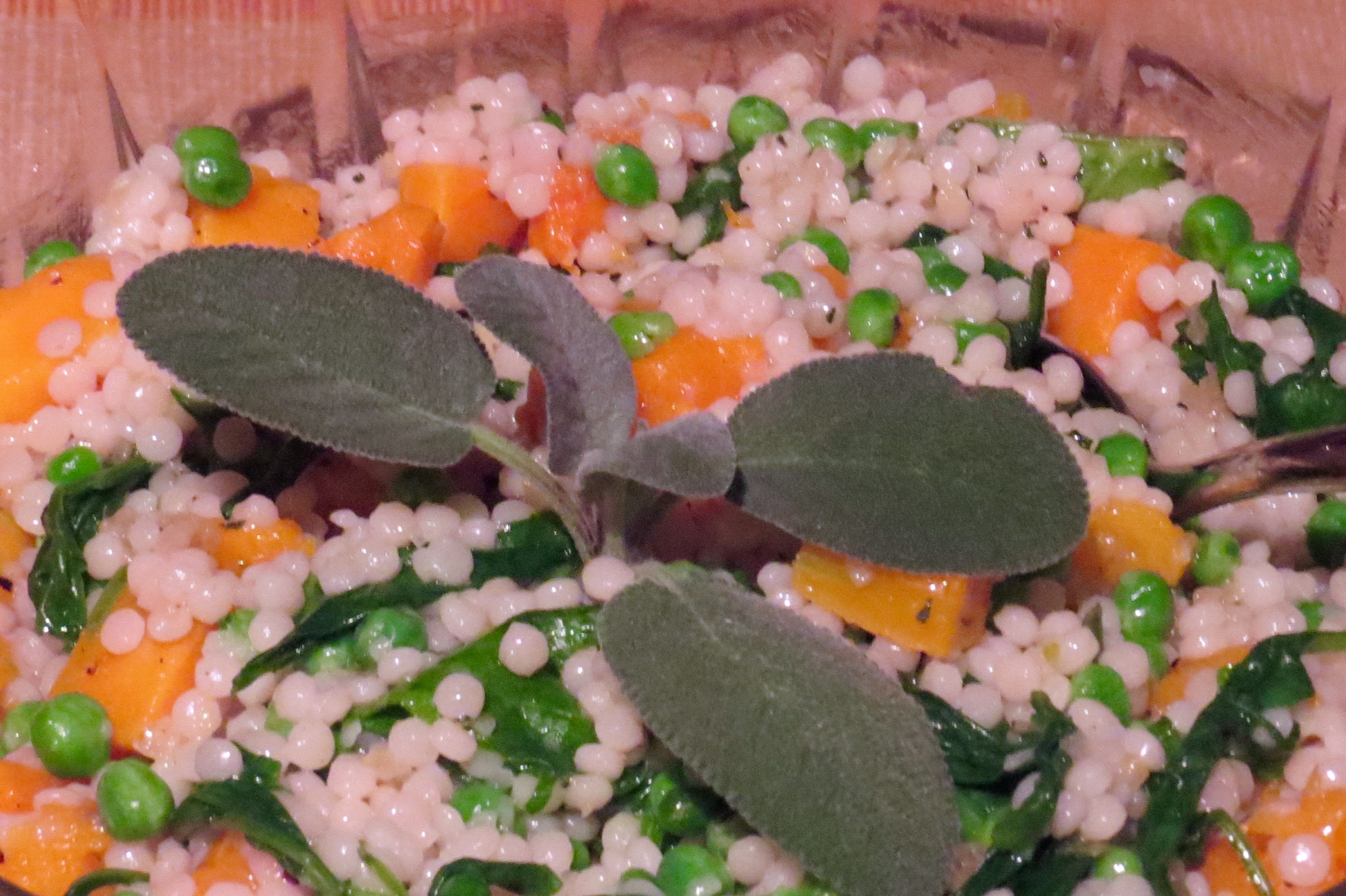 ISRAELI COUSCOUS AND BUTTERNUT SQUASH SALAD, Thanks to Chris Scheuer, The Cafe Sucre & Farine
INGREDIENTS:
3 cups peeled, diced butternut squash, ½-inch dice (about ½ of a medium size squash)
1 ½ TBS extra-virgin olive oil
½ teaspoon sea salt
⅛ teaspoon freshly ground black pepper
3 cups spinach tough (Chris suggests using kale with tough stems removed)
4 cups chicken broth
8 ounces Israeli couscous (pearl pasta), 1 1/2 cups
3 TBS extra virgin olive oil
2 medium shallots, finely chopped
2 TBS finely chopped fresh sage
1½ TBS sherry vinegar
½ tsp sea salt
freshly ground black pepper
1 ½ cups tiny frozen peas, thawed
DIRECTIONS:
1. Preheat the oven to 450°F.
2. Combine the squash and the olive oil on a sheet pan and toss to coat. Sprinkle with sea salt and freshly ground black pepper. Roast for 10 minutes then remove from oven and stir. Roast for another 8-10 minutes or until tender. Set aside.
3. Place sliced spinach (or, kale) in a large bowl and set aside.
4. While the squash is roasting, bring chicken broth to a boil in a medium size pot. Add pearl pasta, return to a boil then reduce to a steady simmer. Simmer for 8-10 minutes or until pasta is al dente. Drain pasta and immediately transfer to the bowl with the spinach. Stir gently for a minute to combine. Cover bowl with plastic wrap for 2-3 minutes until spinach begins to wilt.
5. Heat 3 tablespoons of olive oil over medium-low heat in a small sauté pan. Add shallots and cook for 3-4 minutes until translucent. Then add sage and cook for 30 seconds longer. Add sherry vinegar and stir to combine. Add ½ teaspoon salt and a generous ground of fresh, black pepper. Transfer shallot mixture to the bowl with the pasta. Stir gently.
6. Add peas and butternut squash and stir just to mix.