It's month two of our online cooking group, Cottage Cooking Club. Created by my friend, Andrea, The Kitchen Lioness, we are slicing, dicing and chopping our way through Hugh Fearnley-Whittingstall's "River Cottage Veg" cookbook. I'm slinking quietly onto this page today because I'm late and missed last month's posting deadline. Can we all just pretend it's still June? Please?
Lateness. Being tardy. Running in, harried and breathless, is something I've always tried to avoid. It seems to me that being constantly late – in thought, word and deed – translates into thinking your time is more valuable than those who are left waiting. I've apologized to our leader, who is attempting to manage our unruly gang of bloggers. Luckily for me, Andrea, who is German, is distracted these days by her nation's soccer team face-offs. (Her team is hanging tough. Today Germany meets Brazil in the semifinals.)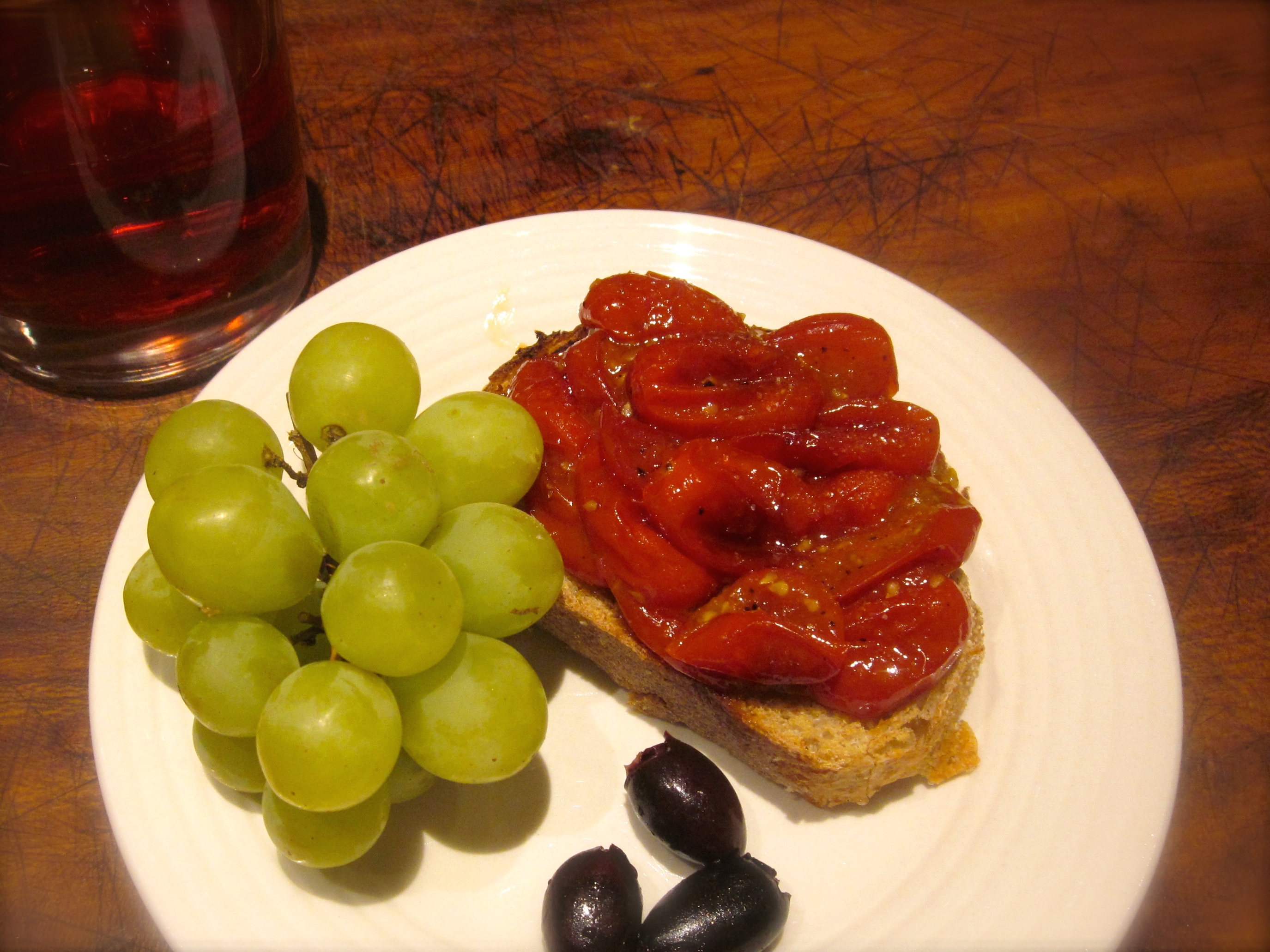 In June I made two "keepers" from this very user-friendly book: Honey-roasted Cherry Tomatoes and Frittata with Summer Veg and Goat Cheese.
Let's first talk tomatoes. I cut 1/2 pound of the little darlin's in half and laid them, face down, on a lightly oiled roasting pan. Then I crushed two garlic cloves, added a pinch of salt, and stirred this mixture into a bowl with one tablespoon of Manuka honey and three tablespoons of Pasolivo Olive Oil. After seasoning with freshly-ground pepper and Pensey's Sunny Paris seasoning, I spooned the sticky goo over the tomatoes. Roast this in a 375-degree oven for thirty minutes or until the tomatoes are shriveled, juicy and bubbly.
Truth in Cooking: After rereading the recipe and before placing the pan into my oven, I realized the tiny tomatoes should be placed cut side up rather than face down. Logical, right? So, one by one, I flipped those babies, putting them to right. To be truthful, the picture of the face down tomatoes was so beautiful, I had to post it. Readers, look at it but don't do it tomato-face down.
Serve these Honey-roasted Cherry Tomatoes over pasta, risotto or scrambled eggs. Like Tomatoes Provençal, they are a delicious side dish for meat, fish, or a compliment to other roasted or grilled vegetables. My favorite lunch idea is the bruschetta, served with whatever else is on hand.
For Christmas, one year, my neighbors, Dominick and Ray, gave me a frittata pan. From that day forward, I became a frittata freak. A June recipe choice – Frittata with Summer Veg and Goat Cheese – caught my eye. Bring it on…asparagus, broccoli, peas, green onions and potatoes. After bringing the potatoes to a boil, throw in the rest of the green veggies and simmer for 3-4 minutes. Sweat the green onions in olive oil until soft, about five minutes, and add to the drained veg mixture. Using fresh eggs, seasoned with salt and pepper, gently make the frittata, your way, adding goat cheese for the last 5 minutes. I topped my frittata slices with my homemade guacamole.
For copyright reasons and because we encourage you to purchase River Cottage Veg, we do not publish the recipes. However, if you'd like to try my three recipes and need more instructions/ingredient specifications, just email me. The Kitchen Lioness, our amazing Andrea, made seven of our June recipe choices. To see her fabulous Post on June's choices, go here. To see what my colleagues cooked in June, go here.