Last summer a good friend returned to Aspen after a week of sifting through, sorting and discarding boxes she'd left behind in her mother's attic. "I had so many dreams and hopes back then," she told me rather regretfully, "that I've never fulfilled."
Color me shocked. As she later acknowledged, her life is privileged and bountiful. And while those early dreams and hopes have been unrealized, I suggested they were just replaced. "Yes," she replied, deciding she would buy into that.
At Thanksgiving dinner my family returned to this same subject. Melissa and Stephen are turning 50 this year. This has brought them up short, of course, a pause for soul-searching. Like many of you readers, they are peddling overtime with businesses, raising two teenage daughters, countless responsibilities. But during our annual "I am thankful for" pre-dinner grace, they both made it abundantly clear there is no place they'd rather be. To their two girls, who do realize they are running their parents ragged, those were reassuring moments.
While I've been somewhat haunted by my friend's revelations, I hadn't had time to run through my personal hopes and dreams checklist until recently. My recent 1,500-mile car trip equaled thinking time. I'll not only share those thoughts but also showcase Wintery French Lentil Soup with bison beef, carrots and red wine. It's a quick and hearty meal adapted from Lori Lynn Hirsch's blog, Taste with the Eyes. For sweets, try my faux Chaussons aux Pommes made easily with homemade applesauce.
Although Lori Lynn and I are not related, I was attracted to her blog because of name coincidence. I subscribed because she is a fantastic cook. Her French lentil soup hit all my buttons and provided a home for my fresh carrots. In trying to introduce more grains to my diet, the lentils, a grain legume, were perfect and, as Lori wrote, 'eating lentils in the new year is said to bring luck and prosperity.'

Another change I'm making in many recipes now is to roast my garlic instead of mincing/sautéing it. Liz Berg at This Skinny Chick Can Bake and Peggy Gilbey at Spiced Peach Blog persuaded me that soft, caramelized cloves are a sweeter, user-friendly addition to cooked food.
Chaussons aux Pommes are a gussied up apple turnovers. Using apples from my Talley Farms Fresh Harvest box, I made one-step, no fuss applesauce and, with puff pastry, baked some sweet nibbles for snacks, dessert and breakfast. The recipes are below.
Now, back to hopes and dreams. In the past three years as I dismantled our home, I cornered the market on that walk down memory lane. While there's been some wishing I'd have done things differently or made wiser choices (don't we all), that's all shoulda, woulda, coulda poppycock. I was a halfwit at 21 when Melissa was born. Now, 50 years later, I consider myself a candidate for Mensa!
Each twist and turn in Life, I guess, is a building block to realizing dreams and fulfilling hopes and handling those damn disappointments and regrets. Frankly, I threw so many hopes and dreams at the wall, the odds were that something was gonna stick.
Today my only shock is that after a big bump or two, I was able to rebuild a happy life again. Perhaps I just put my dreams and hopes in different costumes. After Michael died, all I wanted was to return to my Aspen home and friends. To do that, there were compromises which I elected to make. Then I revisited my passions, writing and the nature gig, and morphed them into possibilities which now consume my daily life. And, what I do best, being a grandmother, is a glorious role I play seriously. That's it. Presently, my hopes and dreams are reimagined in those pursuits.
I might suggest to my friend to be more gentle with herself. Success or failure cannot be measured by something packed in a cardboard box for 45 years. However, her one innocuous comment has given me pause and will also hopefully stimulate some conversation at your house this week.
WINTERY FRENCH LENTIL SOUP
Adapted from Lori Lynn Hirsch, Taste for the Eyes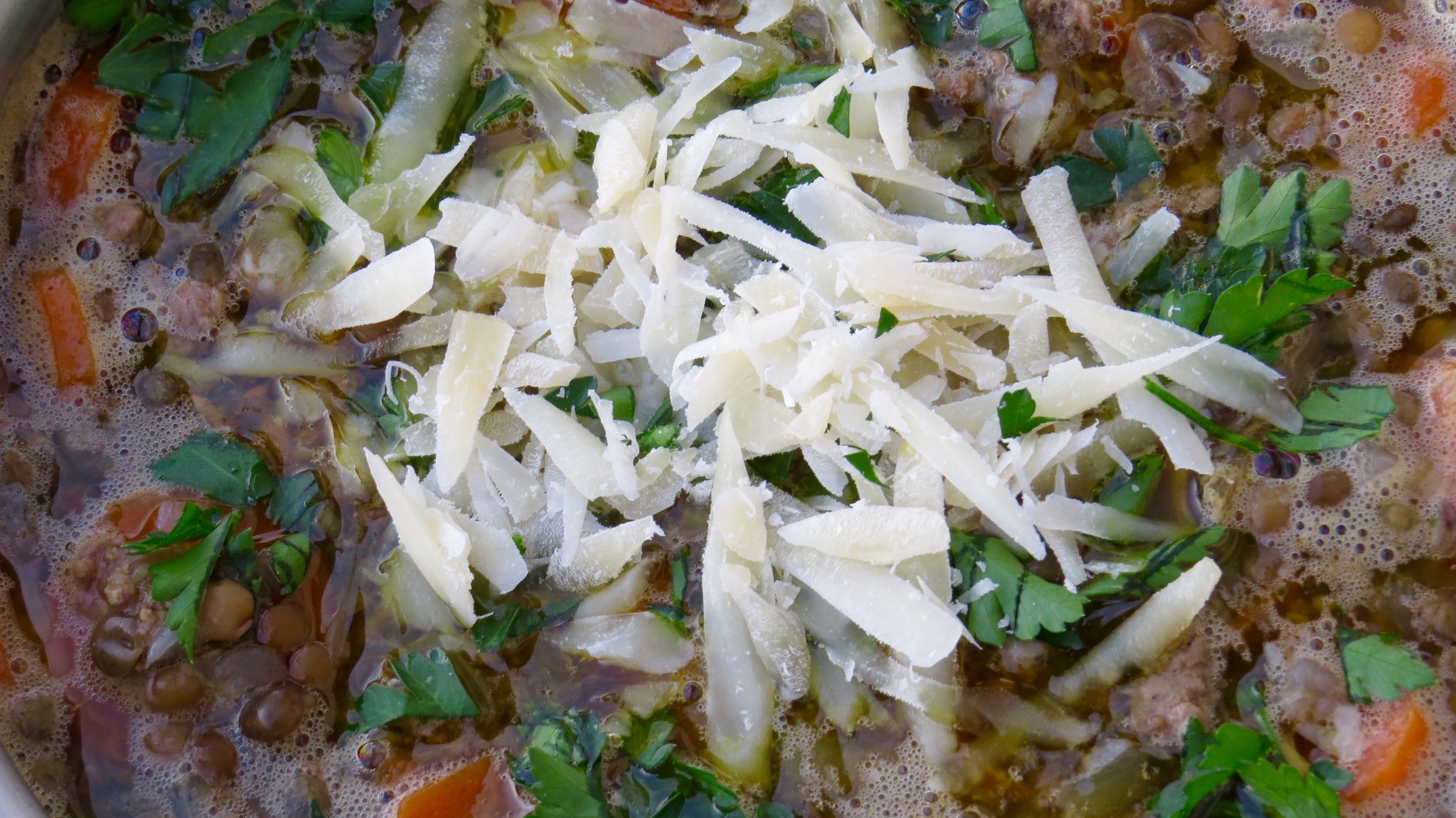 INGREDIENTS:
3 T. olive oil
1 onion, diced
1 roasted garlic bulb
3 carrots, thinly sliced
1 t. ground cumin
1/2 t. chile powder (or to taste)
4 to 5 c. beef stock
1/2 c. of red wine
1 lb. Bison ground meat, cooked and drained
12 oz. french lentils, steamed (I like Trader Joe's pre-cooked)
salt and pepper
parmesan, grated
large handful of cilantro, rough chopped
DIRECTIONS:
1. Roast Garlic (directions below)
2. Heat Oil in Soup Pot. Add onion and cook until soft. (If you'd rather use 4 minced garlic cloves, add them after onions are softened and saute for a minute or two until lightly golden.)
3. Then add carrots, cumin, chile power, softened roasted garlic cloves and beef stock.
4. When carrots are al dente, add Bison meat, cooked lentils and red wine.
5. Simmer for 10-15 minutes
6. Season to taste with salt and pepper.
7. Place soup in warmed bowls. Dust with Parmesan and garnish with parsley or cilantro.
ROASTED GARLIC
INGREDIENTS:
1 whole head of garlic
2 tsp. Extra-virgin Olive oil
DIRECTIONS:
1. Heat oven to 400 degrees.
2. Remove the papery layers off the garlic, keeping the bulb intact.
3. Trim the top off the garlic, as shown (1/4" to 1/3").
4. Drizzle EVOO over garlic bulbs, rubbing your fingers lightly over the top so oil sinks through.
5. Wrap tightly in foil and bake for 45-55 minutes.
6. Let garlic cool before squeezing into the soup.
CHAUSSONS aux POMMES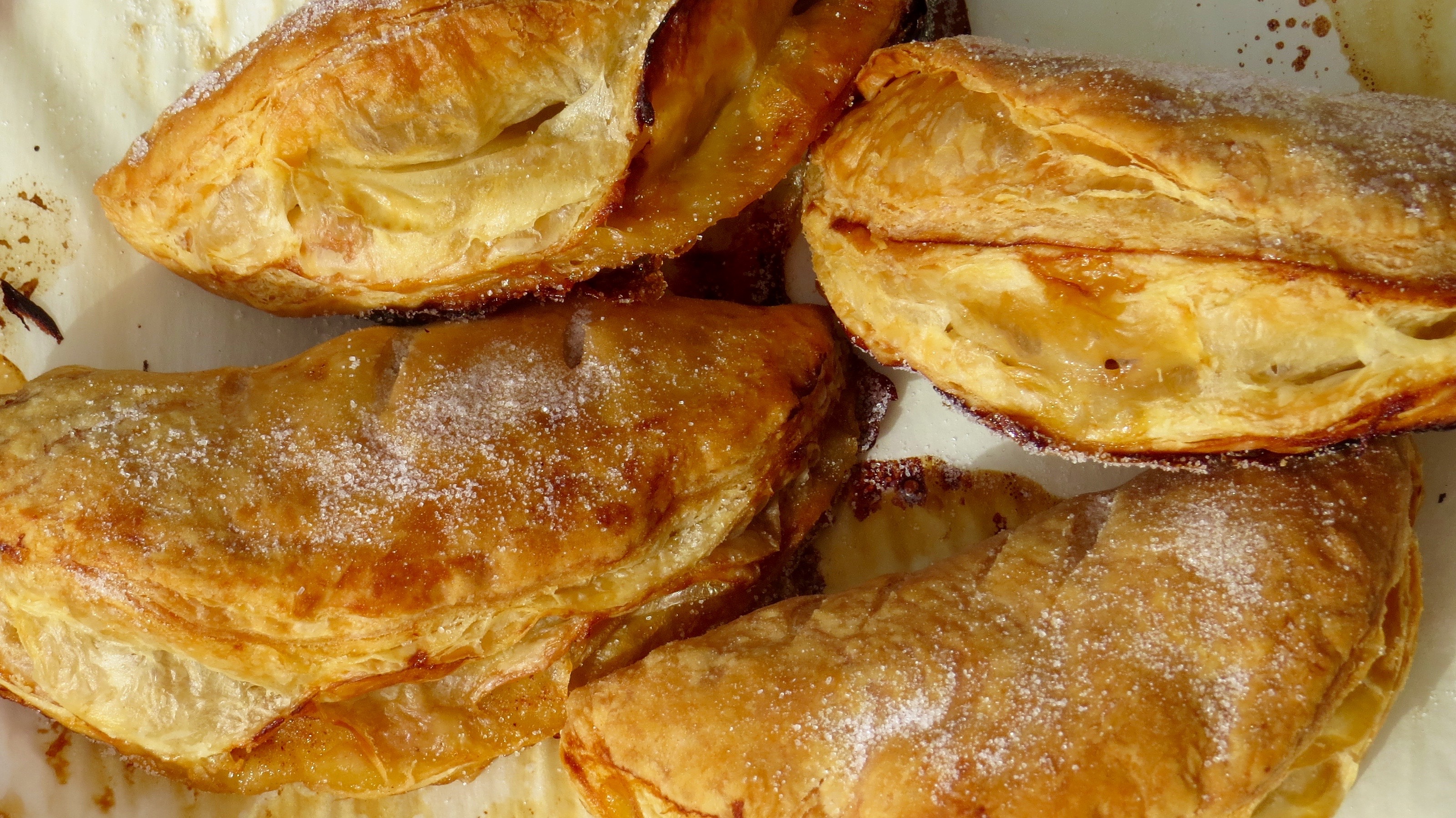 APPLESAUCE
1. Peel 12 Apples (more if you wish)
2. Add Cinnamon Sticks, if you wish.
3. Put in Slow Cooker and add 1/2 cup water.
4. Set at Low and Cook for 8 hours (or, overnight).
CHAUSSONS aux POMMES
INGREDIENTS:
1 sheet frozen puff pastry, thawed per package directions.
1 C. of applesauce
Cinnamon/Sugar
Egg wash (1 egg beaten with 1 teaspoon water)
DIRECTIONS:
1. Heat oven to 400°F.
2. Line cookie sheet with cooking parchment paper.
3. Sprinkle work surface lightly with flour. Roll out thawed puff pastry into 15-inch square.
4. Using a coffee mug, small bowl or large round cookie cutter,
make cutouts with a paring knife.
5. Brush each square with egg wash. Sprinkle lightly with cinnamon-sugar and spoon applesauce in the center as shown.
6. Fold each in half and press edges together tightly to seal.
7. Transfer to cookie sheet.
8. Use a sharp knife to make a few slices in the chaussons WITHOUT slicing completely through the puff pastry.
9. Bake between 20 to 25 minutes or until golden brown.
10.Sprinkle top with plain sugar.
TIP: Let cool. (Applesauce can burn your tongue.) They will de-pouf a small amount.