If weeks had titles, the past one would be called Best Day Ever Week. Do you experience those? Each day gets better and better. Not so often? I get that. Me, too. I have droughts. So when seven great days in a row land in your lap, it's okay to whoop and holler and buy a new shade of lipstick. I'm all over coral-poppy tones this Spring/Summer.
The highlight of a week filled with a pontoon boat harbor cruise on Morro Bay, daily hikes and birding, exploring Cal Poly, the public university in nearby San Luis Obispo, and walking to San Simeon, was Vintage Paso. It's a weekend when 140 local wineries open their gates to celebrate 'Zinfandel and the other Wild Wines of Paso Robles.' Like last year, my friends from southern California, John and Susan Lester, who blog at Create Amazing Meals, were joining me. If you recall, the Lesters and I connected three years ago through French Fridays with Dorie.
I visited them in February when we not only went to the Channel Islands but also made Saturday night's meal together. Admittedly, I plead guilty to couple envy as I watched them navigate through their kitchen chores. More fun than cooking alone, I assure you. Hey, let's do that again. Saturday night dinner at chez Hirsch. Susan and John were game. This time it was my turn to plan the menu, get the ingredients on board, set the table and organize the evening.
Although this is a weekend told more beautifully through pictures, you first need the menu. Last April I received my preordered copy of David Lebovitz's "My Paris Kitchen." Like so many others, it occupied my kitchen cookbook shelf of neglect. So I packed it for my winter in Cambria. When I recently read that author Kate Christensen called Lebovitz's 100 recipes 'swoon-and-drool-worthy.' I decided it was time to give that book some food love.
That's why we cooked-the-cover, Poulet à la Moutarde, chicken with mustard. To accompany this magnificent one-pan entrée, we made Dorie's classic Carottes Râpées, a grated carrot salad tossed with raisins and walnuts. (Both recipes are printed below.) We'll credit the tasty pommes frites and warm French baguettes to Monsieur Trader Joe. During our day's wineries journey we chose a Tablas Creek French-style Rosé. John, the expert on such matters, 'thought its flavor would hold up against the mustard background flavor of the sauce as well as the smoked bacon.' (He was right.) For the perfect dessert Susan surprised this cookie monster with her famous chocolate chip cookies.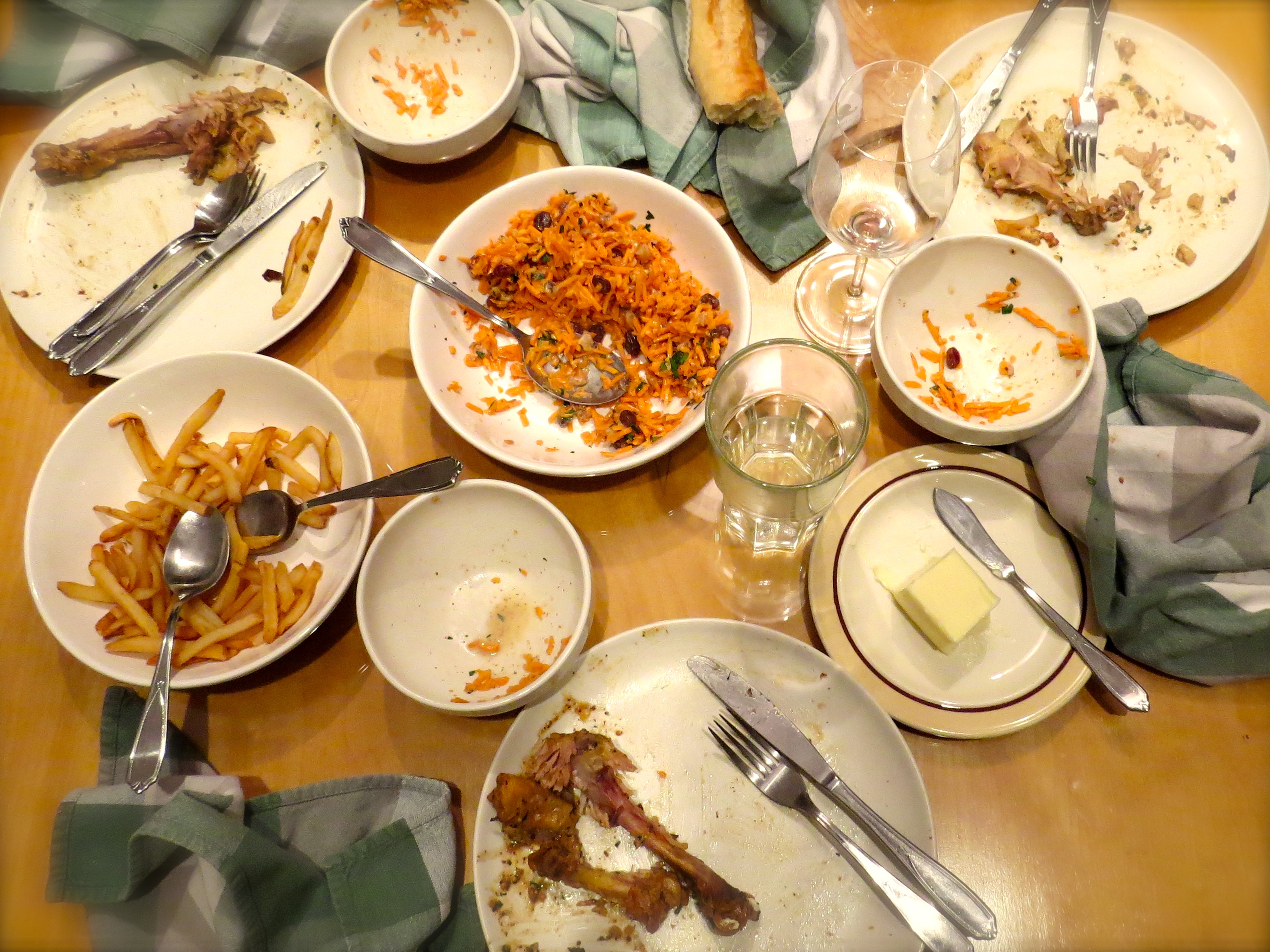 The verdict? We swooned. We drooled. We relished each unbelievably tender and flavorful morsel. The Carottes Râpées, a perfect choice. The pommes frites, of course. Warm baguette slices soaked with sauce, messy. The chocolate chip cookies, as delicious as they look. We were very pleased with ourselves, having pulled off this ambitious evening meal. (Remembering we'd been tasting wine all day.) A merci mille fois to the talented Dorie Greenspan and David Lebovitz who helped make it happen.
POULET à la MOUTARDE by David Lebovitz, My Paris Kitchen
4-8 Servings
INGREDIENTS
1/2 cup plus 3 tablespoons Dijon mustard

1/4 teaspoon sweet or smoked paprika

Freshly ground black pepper

3/4 teaspoon sea salt or kosher salt

8 pieces bone-in, skin-on chicken thighs and legs 

1 cup diced smoked thick-cut bacon

1 small onion, finely diced

1 teaspoon fresh thyme leaves (may substitute 1/2 teaspoon dried thyme)

Olive oil (optional)

1 cup dry white wine

1 tablespoon mustard seeds or grainy mustard

2 to 3 tablespoons crème fraîche or heavy cream

Warm water (optional)

Finely chopped fresh flat-leaf parsley, for garnish

DIRECTIONS
1. Mix 1/2 cup of the Dijon mustard in a bowl with the paprika, a few generous grinds of pepper and the salt. Toss the chicken pieces in the mustard mixture, lifting the skin and rubbing some of the mixture underneath.
2. Heat a large, wide skillet with a cover, or a Dutch oven, over medium-high heat. Add the bacon and cook, stirring frequently, until it is cooked through and just starting to brown. Use a slotted spoon to transfer the bacon pieces from the pan and drain on paper towels. Drain all but 1 tablespoon of fat from the skillet.
3. Add the onion and stir to coat. Cook for about 5 minutes, stirring a few times, until the onion is softened and mostly translucent. Stir in the thyme; cook for a few minutes, until fragrant, then scrape the cooked onion into a large bowl.
4. Add a little olive oil to the pan, if necessary. Place the chicken pieces in the pan in a single layer. If they don't fit, work in two batches. Cook over medium-high heat, ,browning them well on one side. Flip them over and brown them on the other side. Cook until nicely browned, could be 20 minutes or so.
5. Transfer the chicken to the bowl with the onion. Add the wine to the hot pan. Use a sturdy, flat utensil to dislodge any browned bits from the bottom of the skillet. Return ALL the chicken pieces to the pan along with the onion mixture and bacon. Cover and cook over low to medium heat turning the chicken pieces over a few times during cooking, about 15 minutes. To check for doneness, insert the sharp tip of a knife into the meat next to the thigh bone; if the meat is still pink, cook for a few more minutes.
6. When the chicken is thoroughly cooked, remove the pan from the heat. Stir in the remaining 3 tablespoons of Dijon mustard, the mustard seeds and the crème fraîche or heavy cream to form a sauce. If it seems too thick, you can thin it with a little warm water. Sprinkle chopped parsley over the top. Serve.

CAROTTES RÂPÉES by Dorie Greenspan, Around My French Table
6 Servings
1 pound carrots, peeled and trimmed

2 Tablespoons Dijon mustard
1 Tablespoon honey
1/4 cup cider vinegar
1/2 cup of mild oil, canola or grapeseed
Salt and freshly ground black pepper
Moist, plump currants or raisins
Coarsely chopped walnuts
Chopped fresh parsley,
1. Grate the carrots, using a box grater or food processor. Drain any excess moisture from the grated carrots.
2. In a small jar or processor or bowl and whisk, mix the mustard, honey, cider vinegar and oil together. Season with salt and pepper. Whir or shake until blended into a thick, smooth vinaigrette.
3. Toss the carrots with currants or raisins and nuts.
4. Just before serving, pour on the dressing and toss well. Adjust the salt and pepper, if needed. Add the parsley.