If you're of my mindset, you may wish to take a deep-breath, settle yourself and enjoy a time-out. For five or ten minutes, at least. Even the best holidays ever can tax the jolliest among us. That's why my last blog post of the year is a recipe-of-relief. Ready for a break from richness, sugar and sweets, calorie-laden fare and stuffing yourself? Add this easily-made entrée to your menu plan for this coming week.
Happy New Year from Me to You.
Corner Shop Spanakopita is a recipe from Englishman's Hugh Fearnley-Whittingstall's' River Cottage VEG cookbook. Every month the Cottage Cooking Club, an international circle of Hugh-groupies, choose ten recipes to share with our readers. While I cooked several vegetable dishes this month, I am posting only one because I really, really (the word fervently works here) want you to try this.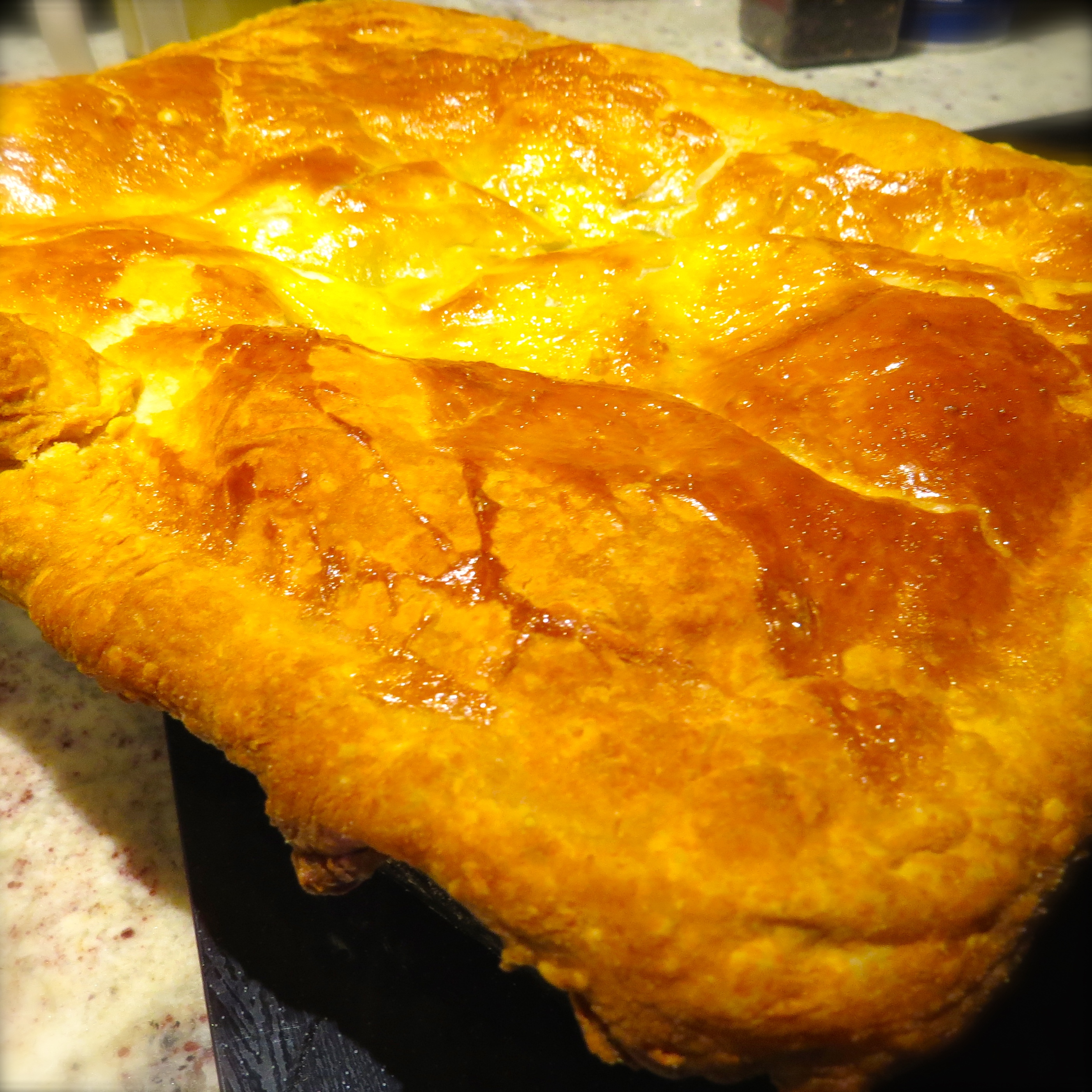 Spanakopita is a classic Greek speciality and featured in my favorite chapter of River Cottage VEG entitled Comfort Food & Feasts. It's spinach & feta pie. Hugh was challenged by friends to simplify this recipe, using only ingredients available from the average convenience store without losing any of its taste or flavor.
To loosely paraphrase fellow Brit, Eliza Doolittle, "I think he's got it". Corner Shop Spanakopita has a clean, pure taste. Peculiar adjectives for an entrée, huh, but that's what comes to mind. Served with a crispy green salad or fruit bowl, this is a perfect respite from holiday overkill.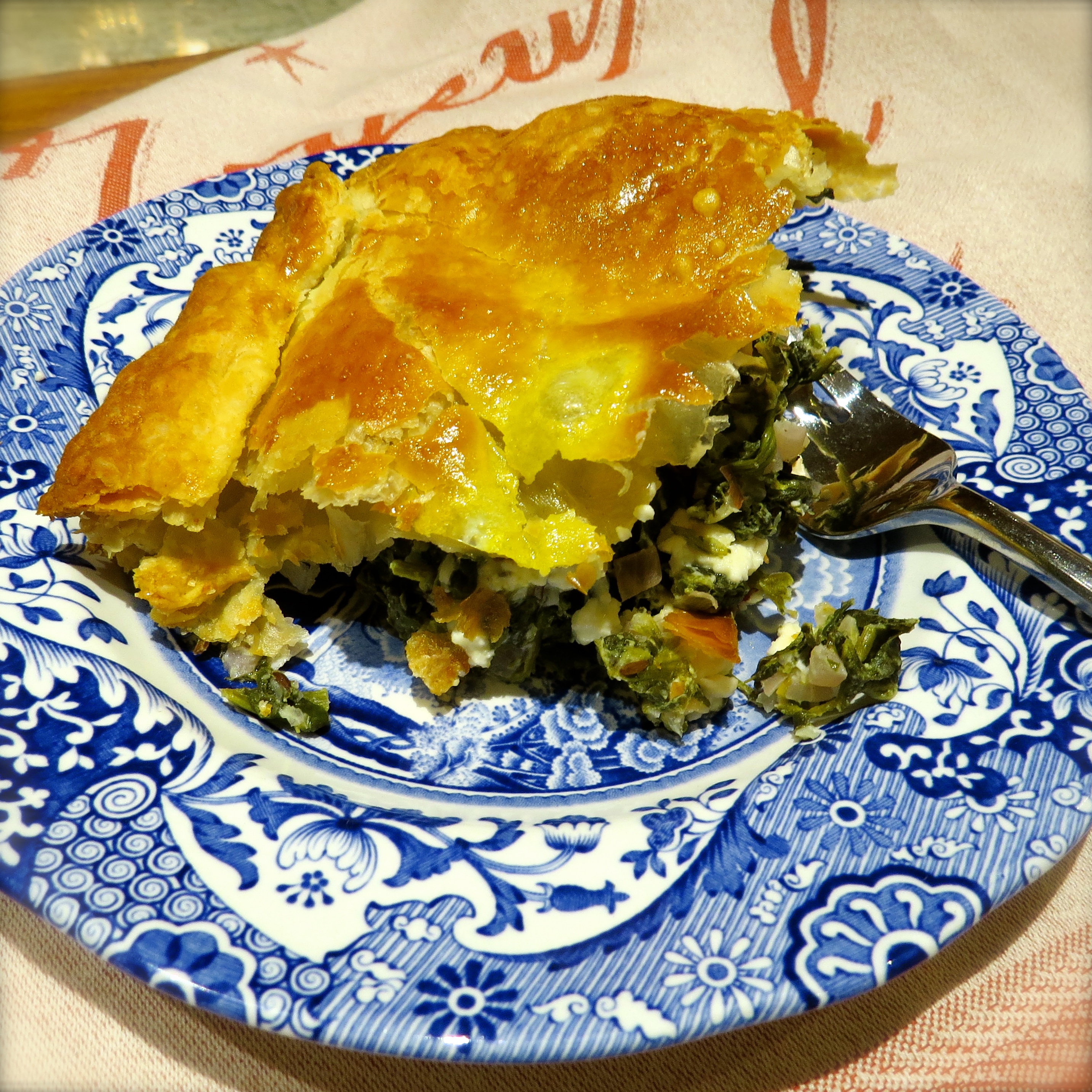 Because this recipe is already posted on the Internet, I can provide it to you.
Corner Shop Spanakopita
River Cottage VEG cookbook by Hugh Fearnley-Whittingstall
Serves 4
INGREDIENTS
1 (2-pound) bag frozen whole-leaf spinach
2 tablespoons olive oil
1 teaspoon cumin, fennel, or caraway seeds (whichever is handy)
1 large onion, halved and thinly sliced
1/2 teaspoon dried thyme or a few sprigs of fresh thyme, leaves only, chopped
A squeeze of lemon juice
Sea salt and freshly ground black pepper
2 large eggs, lightly beaten
3 1/2 ounces soft goat cheese or feta, broken into small chunks
1/4 cup pine nuts, toasted (or coarsely chopped cashews)
13 ounces all-butter, ready-made puff pastry (ideally ready-rolled)
METHODS
1. Preheat the oven to 400 F.
2. Put the frozen spinach into a saucepan with a splash of water. Cover and heat gently stirring from time to time, until completely defrosted. Tip into a colander or sieve to drain off all water, pressing with a wooden spoon to help it along.
3. Heat the olive oil in a frying pan over medium heat. Add the spice seeds and let them cook for a minute or two, shaking the pan frequently, then add the onion and sauté for 5 to 10 minutes, or until soft and golden. Add the thyme. Remove from the heat.
4. When the spinach has cooled a little, squeeze as much liquid out of it as you can with your hands, then chop it coarsely. Combine it with the onion, along with a squeeze of lemon juice and plenty of salt and pepper. Set aside 2 to 3 tablespoons from the beaten eggs for the glazing and stir the remainder into the spinach and onion mixture.
5. Spoon half the spinach mixture into an 8 by 10-inch or a 9 by 9-inch ovenproof dish. Scatter over the cheese and toasted pine nuts, then top with the remaining spinach. Brush a little of the reserved beaten egg around the rim of the dish.
6. On a lightly floured surface, roll out the pastry to a thickness of about 1/4 inch if it's not already rolled. Lay the pastry over the dish and trim off the excess overhanging the rim. Press down the edge of the pastry so that it sticks to the rim of the dish. Brush the pie with the reserved beaten egg and bake it for about 25 minutes until the pastry is puffed and golden brown.
Serve immediately.
The Cottage Cooking Club is a virtual international group cooking its way through Hugh Fearnley-Whittingstall's excellent River Cottage VEG cookbook. Please join us in our adventure if you wish. To see what delicious fare my colleagues created this month, go here.