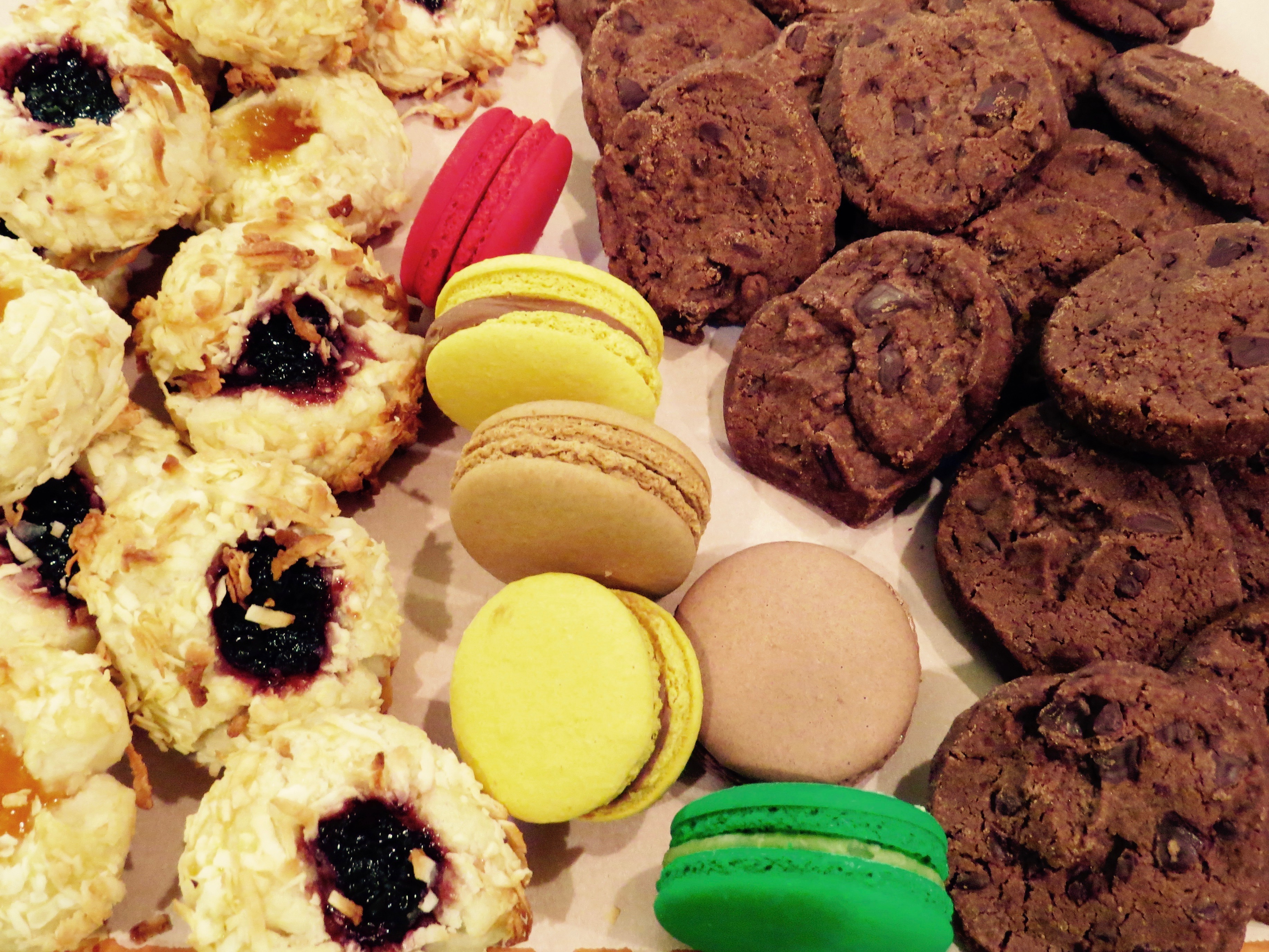 In the mood to feel good? Need to unplug for a moment? I can magically make that happen: (1) Read my blog; (2) While still (hopefully) chuckling from Dorie & Ina: The Art of Fierce, drive to to your local theatre to see "La La Land". If you're not happy after (1) and (2) then, apparently, you don't do happy.
One afternoon, during the Thanksgiving holiday, my son-in-law asked if I wanted some coffee. It wasn't 5 o'clock anywhere so coffee sounded like a good substitute. "I've got a new cup for you, Mary," he said as he reached into the cupboard.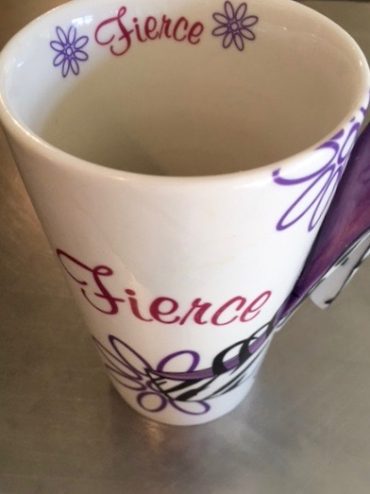 He set the "new" cup in front of me. As you can see, it says, FIERCE. Melissa, standing nearby, watched as I morphed into my 'hurt feelings' position. You know, head down, shoulders rounded, going mum. Realizing her mother was of a different generation, she jumped in, "Mom, mom, that's a good thing. It's a compliment. My friends just gave it to me and we thought you'd like to use it."
"You mean being a fierce woman is a good thing?" I questioned, somewhat amazed.
"Yessssss," Missy emphasized. "They – gave – it – to – me – as – a – compliment."
"It's good, Grandma" Emma chimed in, with the entire family shaking their heads in agreement. (I knew Clara, who remained silent, was thinking, "Whew, that was close.")
So I'm all over this but discovered via Google I was fiercely ignorant in the urban slang department. The first twisted version of fierce grew up in the 1990s and later evolved into a fashion statement. Six years ago model/television personality Tyra Banks hijacked it and social media went nuts.
Today fierce, in its affirmative form, seems to have landed between 'the combination of a positive mental spirit, bold words and unapologetic actions used collectively' and women 'who are on fire and possess too much swag for the common man or woman to handle.'
Take your pick.
However you phrase its definition, Baking Icon Dorie Greenspan and renown television personality and author Ina Garten are double-digit fierce. That's why I'm featuring them and their favorite cookies in today's post. Both are incredibly hard-working and classy women who, for thirty-some years, have shared their lives and talents with us. This special season is an opportune time to reign glory on Dorie and Ina. Let's do it.
The seemingly indefatigable Greenspan, an IACP/James Beard award-winning cookbook author, just published her 12th cookbook. Greenspan was the French Fridays with Dorie guru of our virtual group which cooked through all her recipes in Around My French Table, More Than 300 Recipes from My Home to Yours. This week-end I baked her renown World Peace cookies featured on the cookbook's cover. All recipes below.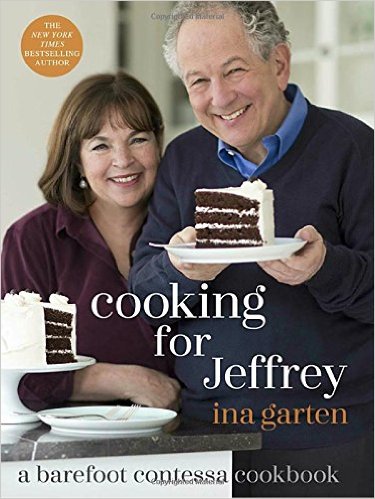 Then there's the Barefoot Contessa, Ina Garten, whose tenth cookbook, Cooking for Jeffrey, just hit the bookstores. Having always been an Ina fan, I already own most but am trying to fill in the gaps by haunting favorite used book and thrift stores. Long ago I bookmarked her Jam Thumbprint cookies from her Family Style cookbook. Fun to mix together and a tasty morsel.
As I end this post, my last for 2016, I thank you for loyally following my blog. It seems amazing that my subscriber list continues to grow with other readers stopping by occasionally. I appreciate your comments and personal e-mails. Know these two things for sure: 1) I love writing this blog; 2) LOBNB's Readers are FIERCE.
Sending kindness and good wishes to All.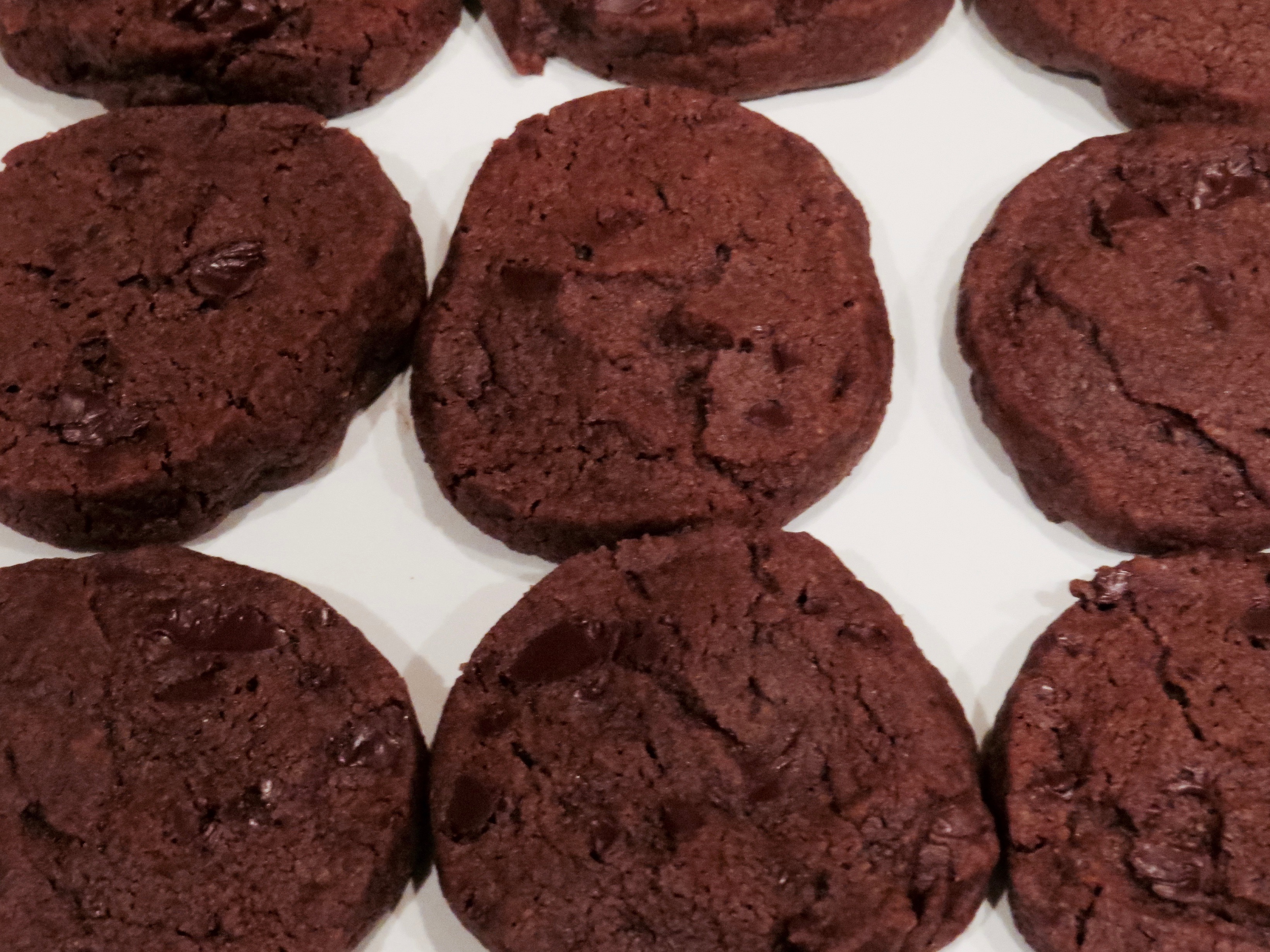 WORLD PEACE COOKIES by Dorie Greenspan, Dorie's Cookies
Makes about 36 cookies
INGREDIENTS:
1 1/4 cups all-purpose flour
1/3 cup BEST-QUALITY unsweetened cocoa powder
1/2 teaspoon baking soda
1 stick plus 3 tablespoons unsalted butter, cut into chunks, at room temperature
2/3 cup packed light brown sugar
1/4 cup sugar
1/2 teaspoon fleur de sel or 1/4 teaspoon fine sea salt
1 teaspoon pure vanilla extract
5 ounces best-quality bittersweet chocolate, chopped into irregular sized bits
DIRECTIONS:
1. Sift the flour, cocoa and baking soda together.
2. Working with a stand mixer fitted with the paddle attachment, or in a large bowl with a hand mixer, beat the butter and both sugars together on medium speed until soft, creamy and homogenous, about 3 minutes. Beat in the salt and vanilla.
3. Turn off the mixer, add all the dry ingredients and pulse a few times to start the blending. When the risk of flying flour has passed, turn the mixer to low and beat until the dough forms big, moist curds. Toss in the chocolate pieces and mix with beater on low to incorporate. Sometimes the dough is crumbly and sometimes it comes together and cleans the sides of the bowl. Happily, no matter what, the cookies are always great.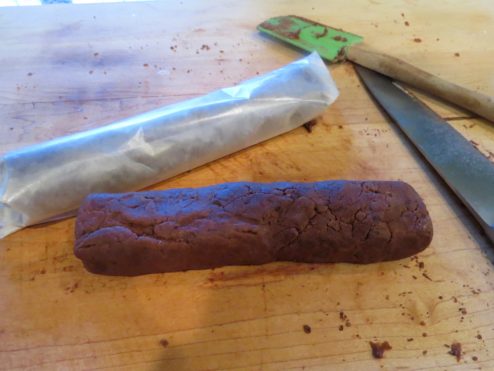 4. Turn the dough out onto a work surface and gather it together, kneading it if necessary to bring it together. Divide the dough in half. Shape the dough into logs that are 11/2 inches in diameter. (Use a ruler for a correct measure.) Don't worry about the length — get the diameter right, and the length will follow. Wrap the logs in plastic wrap and freeze them for at least 2 hours or refrigerate them for at least 3 hours.
5. When you're ready to bake: Center a rack in the oven and preheat it to 325 degrees F. Line two baking sheets with parchment paper or silicone baking mats.
6. Working with one log at a time and using a long, sharp knife, slice the dough into 1/2-inch-thick rounds. (The rounds might crack as you're cutting them — don't be concerned, just squeeze the bits back onto each cookie.) Arrange the rounds on the baking sheets, leaving about 2 inches between them. Slide in the fridge for 15 minutes before baking. Cut the second log and put in the fridge while you bake the other.
7. Bake the cookies for 12 minutes — don't open the oven, just let them bake. When the timer rings, they won't look done, nor will they be firm, and that's just the way they should be. Leave the cookies on the pan and transfer the baking sheet to a cooling rack and let the cookies rest until they are only just warm, at which point you can munch them, let them reach room temperature or put them in an airtight container.
STORING: The dough can be refrigerated for up to 3 days or frozen for up to 2 months. If you've frozen the dough, you needn't defrost it before baking — just bake the cookies 1 minute long.
JAM THUMBPRINT COOKIES with TOASTED COCONUT
by Ina Garten, Barefoot Contessa, Family Style cookbook
Yield:32 cookies
INGREDIENTS:
3/4 pound (3 sticks) unsalted butter, at room temperature
1 cup sugar
1 teaspoon pure vanilla extract
3 1/2 cups all-purpose flour
1/4 teaspoon kosher salt
1 egg beaten with 1 tablespoon water, for egg wash
7 ounces sweetened flaked coconut
Apricot preserves and Blackberry preserves or filling of your choice
DIRECTIONS:
1. Preheat the oven to 350 degrees F.
2. In an electric mixer fitted with the paddle attachment, cream together the butter and sugar until they are just combined and then add the vanilla.
3. Separately, sift together the flour and salt. With the mixer on low speed, add the flour mixture to the creamed butter and sugar. Mix until the dough starts to come together.
4. Dump on a floured board and roll together into a flat disk. Wrap in plastic and chill for at least 30 minutes.
5. Roll the dough into 1 1/4-inch balls. (If you have a scale they should each weigh 1 ounce.) Dip each ball into the egg wash and then roll it in coconut. Place the balls on an ungreased cookie sheet.
6. Press a light indentation into the top of each with your cookie ball with your finger. Drop 1/4 teaspoon of jam into each indentation.
7. Bake for 20 to 25 minutes, until the coconut is a golden brown. Cool and serve.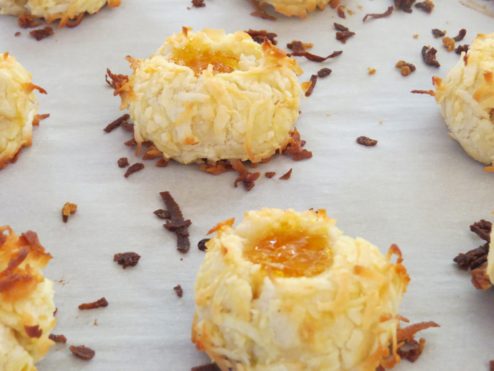 TIP: 1. Use your food scale to gauge a 1-oz. ball of dough.
2. After making the thumbprint cookies, slide the entire pan in the refrigerator for 15 minutes before baking.
3. These cookies freeze well.